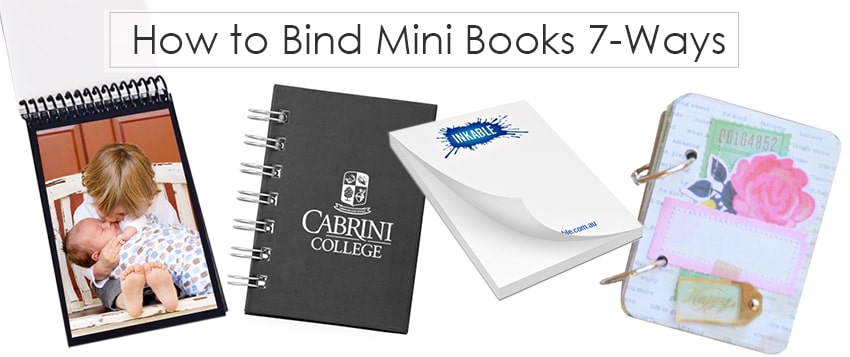 There are several ways to bind mini pages to create mini books. Just some include with binding coils, wire-o twin loops spines, combs, loose leaf rings, and more. No matter which option you choose, you can make a cute little booklet fairly easily and quickly, but the method of which you do so will depend on your volume. For example, if you are an individual who wants to make booklets for fun and gifts, you may not have the volume to warrant buying a punch machine, but if you work in an office or are selling books on your Etsy shop, then you likely would. This particular guide is going to consider mini book binding from a small-office perspective, with mentions for lower and higher volume users).
Now let's get on with it! Check out these 7 ways to bind mini books...
1. Mini Spiral Books

Making a mini coil-bound or spiral-bound book is really simple because the coil is easily cut down and crimped with the same cutter/crimper pliers that you would use for a standard size page. You can either use standard 12" long coils, or the extra long 36" coils; it doesn't really matter, and will just depend on your mini book size and how it will divide into the longer piece. You can also order custom-cut length coils, if you prefer.
What you need:

Tips: We also offer some pre-punched paper and binding covers that you may be able to cut down to size using a paper cutter. If your volume warrants it, you can also consider using an electric spiral coil inserter. The "disengageable pins recommended" note above (which you will find on some of the below binding methods too) means that you can stop your punch from punching specific holes. This is very helpful when making mini books as it stops the possibility of a half-hole and gives you more control.

How to bind a mini coil book:

1. Make sure your coil is at least 1" longer than your mini book pages (so there is 1/2" on each side to allow for cutting/crimping)
2. Punch your pages with our coil binding punch or use pre-punched coil paper cut down to size
3. Roll you coil through the holes
4. Crimp the ends of the coil with the crimpers -- and you're done!

2. Mini Wire Books
Making a mini wire bound book is easy too! The binding wires are stocked in an 11" letter size length, and they are easily cut down to any size with any basic wire cutters, or you can get custom cut lengths. Wires are a little different in that there are two different punching patterns to allow for the full range of sizes; but for mini books, you will likely just need a 3:1 which is the pattern made for thinner books.
What you need:

Tips: Most binding punch machines will have a wire closer on them already. If you have a comb punch but also want to make mini wire books you can use spiral-o wires instead, which have a hole/loop pattern to fit into a comb punch. Pre-punched covers are available for wire bindings.

How to bind a mini wire book:

1. Cut your wire binding spine down to size to fit your pages
2. Punch your pages
3. Place your wire into the punched holes
4. Close your wire around the pages with your wire closer

3. Mini Ring Books

Making a mini book with binding rings is probably the fastest and easiest option. You don't need any special punch machine, just a standard hole puncher. For most mini books you can just use a single hole punch, or you can consider a 2-hole or adjustable hole punch. Since the rings just snap open and closed, you can also edit your little booklet as many times as you want. And since they are a loose leaf binding, you can use as few or as many as you want, so you don't need to cut anything to length.
What you need:

Tips: Loose leaf rings come in so many styles! Metal loose leaf are the most popular, but you can also use plastic book rings, which are great for lightweight mini booklets.

How to bind a mini book with rings:

1. Punch your pages however you want
2. Put your ring(s) through the holes and close them

4. Mini Post-Bind Books

Binding a mini book with screw posts is similar to with book rings in that there is no specific hole pattern or punch machine required. Instead you can punch any number of holes in your booklet and use that many binding posts to secure them together. Because posts don't allow your pages to separate as they flip, though, some users may want to crease their pages to allow for opening without risking tearing them. Hint: If you use just 1 screw post, you can twist your pages around, rather than flipping them.
What you need:

Tips: Something cool about binding posts is that you can make them longer and add pages with an extension (for aluminum or steel only). You can also use our plastic posts, which are a bit more secure and perfect for books that you don't want to edit.

How to bind a mini screw post book:

1. Punch your pages however you want
2. Crease your pages to allow for flipping (optional step)
3. Put your post(s) through the holes and close them

5. Mini Binders

Another way to bind mini sheets that is growing in popularity is with a mini ring binder. Also called a half size 3-ring binder, these will bind an 8.5" x 5.5" sheet (half of a letter size sheet). These are becoming a standard size in the industry, and very popular with churches and outdoor organizations. You can also get a custom 6-ring memo size binder that is even smaller for 6" x 4" paper. One of the great things about small ring binders is that the rings can be opened/closed as many times as you need to allow for adding and editing. You can also incorporate index tab dividers to organize your pages.
What you need:

Tips: The view binders have a clear cover so you can label your books while the poly ones are flexible. The poly also comes in a few different thicknesses. Custom binders can be made in any size or ring-configuration you need.

How to bind with a mini binder:

1. Open the rings
2. Insert your pages
3. Close the rings

6. Mini Comb Books
Mini comb-bound books are simple. The combs are easy to cut with scissors, or you can always get custom length combs made special as well. One of the benefits of a comb book is that we can also custom print on them for you, so we can label your binding spine for whatever book you would like.
What you need:

Tips: Combs are great because you can cut them with scissors to any size you need. Most comb punches will already have a comb opener (also called comb spreader) attached to it, but you can also buy a separate unit if you want an assembly-line process. Pre-punched covers and paper are available if you don't have a punch machine.

How to bind a mini comb book:

1. Punch your pages
2. Cut your combs to size with scissors
3. Open the combs with your spreader and insert your pages
4. Close your comb

7. Mini Notepads
Making a mini notepad is super simple, and only takes a couple of steps. What is cool is that you can make them as thin or thick as you want, as well as any size, without any special machine. You just basically clamp your pages together (if making several notepads you can separate them with a chipboard backing), put glue on the end, and let it dry. You can then use a knife to cut through the glue to turn your one glued stack into many notepads.
What you need:

Tips: Individuals or small businesses who only need to make a couple of notepads at a time could get away with using some binder clips or table clamps as an alternative to a padding press. As long as you can get your pages pressed together for proper binding, you can use any method that works for you; even if you just place some heavy books or blocks on your pages. For larger volumes, a padding press is highly recommended though; it makes making large batches much faster and easier. Keep in mind that the glue needs to dry for about half an hour, depending on the compound you are using, so you won't be able to bind book after book and, instead, you will bind in batches. Easily make your notepad magnetic with magnet strips.

How to bind a mini notepad book:

1. Clamp your pages with either a clamp (like a table clamp or binder clips) or padding press
2. Brush the glue on the binding edge & allow to dry
3. Cut the glue to crease multiple notepads from your one padded stack, if necessary

Questions or need help making a mini notebook in one of these styles? Call us at (866) 537-2244 for one-on-one assistance.

About the Author • Mallory Morsa has been a part of Binding101 since 2008 and has experience in several departments within the company. She began in customer service and sales where she honed in her skills to provide the customer with professional, fast, and accurate information. Shortly after, she was promoted to sales supervisor and also took on the role of product expert, training the team on new products. Throughout this time, she also wrote content for the site, as well as contributed stock photography and videography. As the team grew, she moves to an official position as the content specialist and social media manager. Her skills in these variety of areas give her the unique expertise to not just create content for the web, but to create content for you, the customer. She has a Bachelor's degree in business management and marketing, was on the Dean's List each year, and graduated Summa Cum Laude. In her free time, Mallory's favorite things to do include volunteering at the animal shelter by bottle feeding neonatal kittens, reading at the park, cooking plant-based meals, playing board games, and binge streaming TV shows with her 3 furbabies and family beside her.