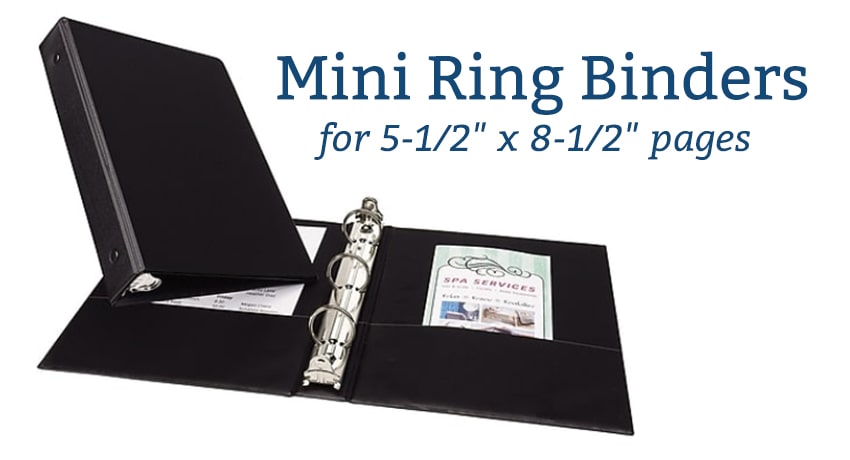 Mini binders will hold paper that measures 8.5" H x 5.5" W. Also called half size binders, these sheets measure exactly half of a letter size sheet. They combine a classic and practical paper storage solution with a more compact design that allows them to fit easily into bags, briefcases, boxes, and on shelves.

At Binding101 we offer mini binders in two different styles: either view binders with clear pockets so you can slide in your own cover pages, or poly binders that are made of a durable and flexible plastic. Mini ring binders are most popular with churches, nature groups, and individuals making their own recipe books. They feature three rings that are spaced 2 ¾" apart and will keep your pages secured and protected. Ring sizes range from 1/2" to 2" and will hold as many as about 450 sheets of standard copy paper. Poly binders also come in different gauges, which is the actual thickness of the material; so you can get a flexible economy binder, a medium-weight standard binder, or a premium rigid and sturdy one, depending on your budget and intended use. No matter your choice, these mini ring binders are an excellent tool for organizing notes, presentation documents, assignments, recipes, music, references, and so much more.
| | | |
| --- | --- | --- |
| Binder Type | View Binders | Poly Binders |
| Material | Vinyl and/or poly wrapped around Chipboard | Solid poly (plastic) |
| Colors Available | Black, white, silver, dark gray, ivory, brown, forest green, kelly green, teal, sky blue, royal blue, purple, burgundy, red, orange, yellow + custom colors | Black, white, natural (semi-translucent), gray, ivory, green, colonial blue, royal blue, maroon, red, orange, yellow + custom colors |
| Outer Pockets | Clear outer pockets on front, spine, & back covers | None (custom available) |
| Inner Pockets | 2 Inner pockets (same color as binder) | None (custom available) |
| Binder Cover Thickness | 7-12 gauge wrap around 90pt chipboard | 23, 35, or 55 gauge poly |
| Ring Sizes Available | 1/2", 3/4", 1", 1 ½", 2" (depending on color) | 1/2", 3/4", 1", 1 ½", 2" (depending on poly thickness) |
Both options come in a ton of colors to choose from. So you can buy mini binders in a practical and classic black or white, or go colorful with a bright yellow, red, or any of several different blues. Poly binders even have a semi-translucent option. PLUS if you don't see the specific color you want, or if you want to try a specialized or textured material, or if you simply want to add custom printing, we offer a huge variety of custom ring binders with nearly limitless personalization opportunities. We can print your company logos, full color photos, add clear pockets, and much more. Here are some samples of custom printed mini binders we have made in the past:

Looking for something a little different? Here are a variety of other mini binders you may be interested in:

Mini Coil Binders | Mini Wire Binders | Mini Comb Binders | Mini Binder Rings | Mini Notebooks | Mini Hard Covers

About the Author • Mallory Morsa has been a part of Binding101 since 2008 and has experience in several departments within the company. She began in customer service and sales where she honed in her skills to provide the customer with professional, fast, and accurate information. Shortly after, she was promoted to sales supervisor and also took on the role of product expert, training the team on new products. Throughout this time, she also wrote content for the site, as well as contributed stock photography and videography. As the team grew, she moves to an official position as the content specialist and social media manager. Her skills in these variety of areas give her the unique expertise to not just create content for the web, but to create content for you, the customer. She has a Bachelor's degree in business management and marketing, was on the Dean's List each year, and graduated Summa Cum Laude. In her free time, Mallory's favorite things to do include volunteering at the animal shelter by bottle feeding neonatal kittens, reading at the park, cooking plant-based meals, playing board games, and binge streaming TV shows with her 3 furbabies and family beside her.