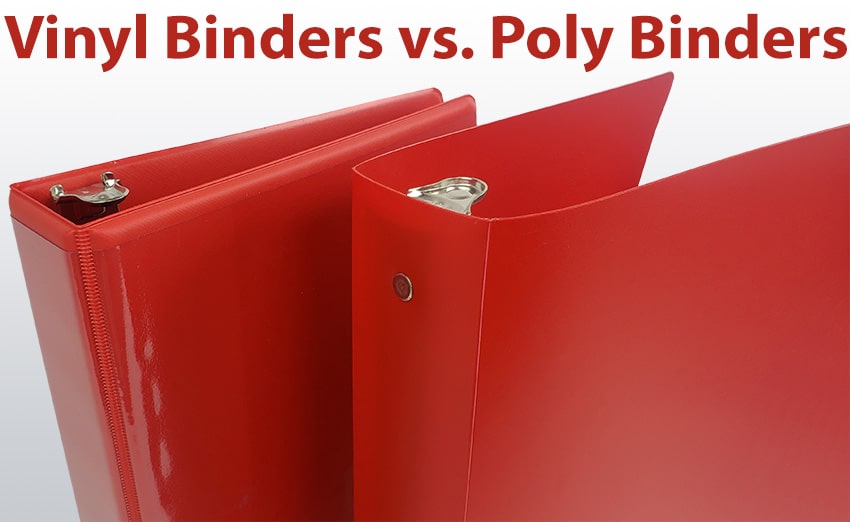 So you need a quick and simple way to organize and bind your paperwork, and you've settled on a traditional ring binder. But now you have to choose the material and binder style. Who knew buying a three ring binder could be kind of complicated? Let us help eliminate the question marks by comparing the two most popular kinds of standard binders: vinyl binders and poly binders.
OVERVIEW
Vinyl Binder Basics
Vinyl binders are typically what users picture when they think of a binder. They are made from chipboard covers that are wrapped with a vinyl material to create the binder shape. Often times vinyl ring binders also have clear pockets on the outsides, as well as inner pockets for additional paper storage. Vinyl binders are sturdy, which is a major benefit; they can stand on their own, even with paper in them. The covers are not flexible and, instead, are rigid and strong. The ring sizes available range from thin 1/2" binders to very large 4 ½" slant d ring binders, and many sizes in-between.
You can get letter size vinyl binders or half size mini vinyl binders.
Poly Binder Basics
Poly binders are made of a plastic material with no wrapping. They start from a one-piece solid polyethylene (or polypropylene) and are creased with large equipment to create the binder shape. Poly binders do not come with pockets on the outside or inside, though custom pockets can be added. Poly binders are easy to wipe clean and durable to resist tears and cracks. There are several different material thicknesses to choose from, so you can choose a flexible binder or a rigid binder. Ring sizes are a bit more limited, ranging from 1/2" to 2", depending on the thickness you choose.
You can get letter size poly binders or half size mini poly binders.
Key Differences
This chart makes it easier to see and compare the key features of poly and vinyl binders side-by-side.
Binder Type
Vinyl Binders
Poly Binders
Make
Vinyl wrapped around chip board
(Custom thick/special vinyls available)
Polyethylene
(Custom tinted colors, polypropylene)
Page Sizes
Letter Size (8.5" x 11")
Half Size (8.5" x 5.5")
Custom Sizes
Ring Sizes
1/2", 3/4", 1", 1 ½", 2",
2 ½", 3", 3 ½", 4", 4 ½"
1/2", 3/4", 1", 1 ½", 2"
Colors
Black, White, Silver, Dark Gray, Ivory,
Yellow, Orange, Red, Burgundy, Royal Blue, Sky Blue,
Kelly Green, Forest Green, Teal, Purple, Brown
+ Custom Colors/Materials
Black, White, Natural (See-Through Gray),
Gray, Ivory, Yellow, Orange, Red, Maroon,
Royal Blue, Colonial Blue, Green
Ring Configuration
3-Ring Standard
6-Ring, 2-Ring, + More Custom
Rivets
Concealed or Exposed
(Ours are Concealed)
Always Exposed
Outer Pockets
Yes on Front, Spine, & Back
(Clear Overlay)
No
(Custom only)
Inner Pockets
Yes, 2 Inner Pockets
No
(Custom only)
Thickness*
90pt Chipboard with 7-12 Gauge Vinyl Wrap
23, 35, or 55 Gauge (75 Gauge Custom)
PROS & CONS
Vinyl Binders
Pros: Vinyl binders are often considered to be more visually appealing. The rigid chipboard base makes them incredibly strong and easy to stand up on their own, as well as very durable against bending. Their rigidity combined with the premium vinyl wrap make them look and feel expensive. Vinyl binders also come standard with inner pockets for extra paper storage, as well as clear overlay pockets on the outside front, spine, and back so you can insert your own custom sheets. The rivets on the spine are nearly always concealed underneath the vinyl (exposed is an option) which adds to the clean and professional look.
Cons: Vinyl binders that are stored indoors with temperature control will last a very long time, but if storing outdoors with extreme temperature fluctuations, the vinyl can potentially warp or crack. Vinyl binders are also more expensive than poly binders, in general.
Poly Binders
Pros: Poly binders are great because they offer more flexibility in stability. You can choose from the three standard thicknesses of poly depending on your budget and the use of the binder and, no matter which, the poly is incredibly strong to resist tears. Polyethylene ring binders are often used in medical facilities and at animal rescues where frequent sanitation and cleaning are important.
Cons: Poly binders are not as sturdy as vinyl binders, in general. They also don't come with standard pockets. They are available in more limited ring sizes.
CUSTOM OPTIONS
If you're wanting something more unique, then consider a custom binder instead. We can create custom printing, custom ring configurations, special sheet sizes, and more.
Material: Traditional vinyl is one way to customize your ring binder, but specialty vinyls are also available. Thicker vinyls, different textures, and many colors and patterns are also options.
Printing: Decoration is, arguably, the most important factor of personalizing a ring binder. Silk screen printing can be accomplished in one-, two-, three-, and full-color printing anywhere on the binder; anything from a single color logo to a full color photograph. We can also foil stamp for a single color metallic look, as well as deboss your design for an exceptionally classy finish (embossing requires a thicker vinyl material). For a more affordable way to customize, you can choose an entrapment binder in where we digitally print your cover pages and seal them underneath a clear overlay.
Pockets: Basic inner pockets are pretty standard, and we can also add business card pockets, larger pockets, and more.
Minimum: Starts at 50 binders, depending on the style and customization.
Material: Polyethylene is the standard material for poly binders. It is generally opaque, though some colors are slightly see-through in the thinner options. There is one translucent polyethylene option called "natural" that looks a bit like a plastic jug. Thicknesses for polyethylene are 23G, 35G, 55G, and 75G. In addition, you can get custom polypropylene binders, which are tinted are even very clear transparent. Thicknesses for polypropylene include 20G or 30G.
Printing: We can print poly binders with 1-color, 2-color, 3-color, and 4CP full color printing. Printing binders is available for the outside and inside; just note that the rivets on the spine will always be exposed, do your designer should consider that.
Pockets: We can custom-seal clear pockets onto your poly binders in many sizes. You can also get self-stick pockets to put on yourself, if you prefer.
Minimum: Starts at 50 binders, depending on material the customization

About the Author • Mallory Morsa has been a part of Binding101 since 2008 and has experience in several departments within the company. She began in customer service and sales where she honed in her skills to provide the customer with professional, fast, and accurate information. Shortly after, she was promoted to sales supervisor and also took on the role of product expert, training the team on new products. Throughout this time, she also wrote content for the site, as well as contributed stock photography and videography. As the team grew, she moves to an official position as the content specialist and social media manager. Her skills in these variety of areas give her the unique expertise to not just create content for the web, but to create content for you, the customer. She has a Bachelor's degree in business management and marketing, was on the Dean's List each year, and graduated Summa Cum Laude. In her free time, Mallory's favorite things to do include volunteering at the animal shelter by bottle feeding neonatal kittens, reading at the park, cooking plant-based meals, playing board games, and binge streaming TV shows with her 3 furbabies and family beside her.
* Note that thickness listed is for our ring binders. Other supplies may not have the same durable thicknesses.