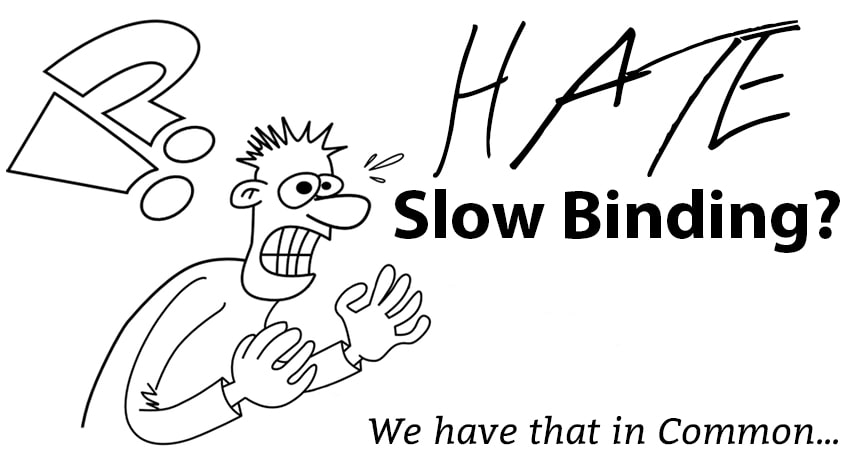 Hate slow binding? We have that in common! It is a popular thought among users of all kinds that bind books. Whether an individual making journals to sell on Etsy, a business binding presentation materials for meetings, or a print shop making hundreds of books for your various clients, slow binding processes are a pain the 'you know what'.
So let's talk about a solution: Coverbind thermal binding. Before we dive into the specific details, check out this comparison video where you can see how the speed compares to popular wire binding...
The above binding video shows a side-by-side speed comparison of the lowest-level Coverbind machine (meaning there are faster models available), versus an average wire binding machine. The gentleman working with the wire already has the machine set-up with his wire hung to accept pages, and his page alignment guides prepped for his paper, so a more accurate depiction would actually add about another minute to his time. You can watch as the woman walks into the office while he is already working, and begins placing her printed pages into the 8 thermal binding covers. She then binds all eight of the covers at once and, while it is automatically binding, she works on her laptop, and makes a phone call, all while the gentleman is still binding his first book. Did you catch that? She makes 8 thermal bound books in the same time that it takes him to make 1 wire bound book. Now THAT is some serious speed!
Thermal binding is truly the fastest way to bind professional books. And what's even better is that there are a ton of different thermal binding cover options to choose from, which gives you immense versatility for your finished book look. You can make classic presentations with a clean linen weave cover, using the cut out window on the front to display your document title or your client's information. Or you can make a premium hard cover presentation that will impress even the most picky of customers. You can also get on-demand thermal binding covers that are easily printed on using your basic office printer, so no special equipment is needed to make a truly customized look. Whatever finished look you decide, Coverbind thermal binding supplies are the best in the biz. And here's why...
Strong Bind - Coverbind has improved the strength of their thermal bind by perfecting the glue formulation, application, and adding a unique mesh strip into the glue that helps to hold your pages in tight, whether your first, last, or any page in-between.
Easy Bind - Coverbind thermal binding machines are easy to use. There is no need to apply glue, punch holes, or insert binding spines. Just put your pages into the cover, put the cover in the machine, and walk away.
Fast Bind - Coverbind thermal binding machines, depending on the model, can bind your books as fast as 120 documents per minute. That is not a typo...120 books per minute.
Versatile - The large selection of thermal bind cover supplies make your option for the finished look quite versatile.
Compact - The Coverbind thermal binding machines are fairly small, unheard of for a machine this fast.
Professional - Coverbind covers are sleek and professional, especially when compared to competitive covers.
Eco-Friendly- Coverbind covers can be recycled.
Ready to get in the thermal binding game? Ready to increase your binding speed 10-fold, reduce labor time and costs, and expand your presentation looks? Check out the below Coverbind thermal binding machines.
First off is the Accel Flex; this machine is the newer model of what was featured in the video above. The new design is sleek, and improvements in thermal plates make it even better than before. Books are placed onto the heat plates, and then moved to the cooling rack when the machine tones. Next up we jump into the more automatic thermal binding machines. The Accel Cube and the Accel Ultra both have a continuous-load design that allows for the fastest thermal binding in the world. The covers bind as they move through the machine, and exit on the other end, bound and complete. The Drop&Go tech means you literally just drop your book into the machine, and walk away while it binds and cools.

About the Author • Mallory Morsa has been a part of Binding101 since 2008 and has experience in several departments within the company. She began in customer service and sales where she honed in her skills to provide the customer with professional, fast, and accurate information. Shortly after, she was promoted to sales supervisor and also took on the role of product expert, training the team on new products. Throughout this time, she also wrote content for the site, as well as contributed stock photography and videography. As the team grew, she moves to an official position as the content specialist and social media manager. Her skills in these variety of areas give her the unique expertise to not just create content for the web, but to create content for you, the customer. She has a Bachelor's degree in business management and marketing, was on the Dean's List each year, and graduated Summa Cum Laude. In her free time, Mallory's favorite things to do include volunteering at the animal shelter by bottle feeding neonatal kittens, reading at the park, cooking plant-based meals, playing board games, and binge streaming TV shows with her 3 furbabies and family beside her.