Here at Binding101 we stock a huge selection of top-quality ring binders to meet all of your filing and organizing needs. A rainbow of colors is available, making for easy brand matching or color-coding various kinds of binders within your organization. Various materials are also available, such as a standard vinyl binder with clear-view covers, or a poly plastic binder that is flexible and economical.
In this video, we quickly overview these binder styles, as well as essential binder accessories to go along with them. If you're ready to shop the best binders online, scroll down and click on the category you want to browse.
We offer two primary styles of ring binders: vinyl clear-view or poly plastic. These two styles come in a huge selection of colors and offer their own benefits and pitfalls that you should consider before you choose which one is the best option for you. We also offer custom binders that can be tailored to your exact specifications. Take a look at some of the key features below.
Presentation View Binders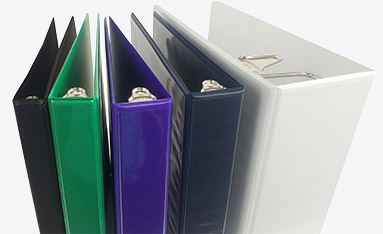 Clearview binders are the most popular solution. They are what most people picture when they think of a binder. These premium filing tools are made of thick, rigid chipboard that is wrapped with a clean vinyl, available in various colors. On the outside are clear pockets on the front, spine, and back so you can slide-in your own printed sheets and labels.
Sheet Size
Half (5.5 W x 8.5 H)
Letter (8.5 W x 11 W)
Rings
3-Rings
Ring Size
1/2" to 4-1/2"
Ring Shape
Round & Slant-D
Colors
Black, White, Purple, Sky Blue, Royal Blue,
Silver, Dark Gray, Yellow, Teal, Red, Burgundy,
Orange, Kelly Green, Forest Green, Ivory, Brown
Outer Pockets
Yes, Clear
Inner Pockets
Yes, Same Color as Binder
Quantity
12 or 24 Binders / Box
In-Stock
Black & White Stocked
Colors have a 6-7 Business Day Production Time
Poly binders are a more economical solution, with unbeatable per-unit pricing. These binders are made of a solid piece of durable polyethylene plastic that does not have any pockets. One of the benefits is that they come in a thin and flexible option, a medium weight, or a heavy weight more rigid feel. They come in round rings up to 2 inch and letter or half-size sheets.
Sheet Size
Half (5.5 W x 8.5 H)
Letter (8.5 W x 11 W)
Rings
3-Rings
Ring Size
1/2" to 2"
Ring Shape
Round
Colors
Black, White, Natural, Colonial Blue,
Royal Blue, Gray, Yellow, Red,
Maroon, Orange, Green, Ivory
Outer Pockets
No
Inner Pockets
No
Quantity
100 Binders / Lot
In-Stock
Made To-Order
6-7 Business Day Production Time
Custom binders are just that...custom! This means that the options for the finished look, feel, and presentation are completely personalized. This unique ability to manufacture exactly what you imagine for your business makes our custom binders perfect for corporations and small companies of all kinds. There is a huge selection of styles of binders.
Sheet Size
Half (5.5 W x 8.5 H)
Letter (8.5 W x 11 H)
Memo Size (4" W x 6" H)
Custom Sizes
Rings
3-Rings, 2-Rings, 6-Rings, 4-Rings
Ring Size
1/2" to 4-1/2"
Ring Shape
Round, Slant-D, Straight-D
Colors
Any Color
Outer Pockets
Optional
Inner Pockets
Optional
Quantity
50 Binder Starting Minimum
In-Stock
Made To-Order
Production Time Varies
Do you still need a bit more help figuring out the differences between poly and vinyl ring binders? Watch our video that gives you a short overview, showing you both options from various angles and close-ups, all while reviewing the key features of each so you can make the most educated decision for your individual business needs.
Custom Printed Ring Binders
Custom ring binders are the perfect choice for businesses that need at least 50 ring binders that are personalized to meet specific, specialty requirements. At Binding101 we offer a huge selection of custom binder styles, and in this video, we will briefly discuss each in the video and text below so that you can better decide which style is best for your needs. Or you can click on the style you want below to learn more about that particular option.
First, let's talk about vinyl binders. They are the most popular option, and what most people picture when they think about the word "ring binder". They feature a vinyl material that comes in a huge variety of colors and is wrapped around chipboard to create a stand-up, sturdy display. The minimum order requirements for vinyl binders start at 50 pieces*, and they can be customized with 1, 2, or 3 color printing, 4 color process, foil stamping, padding, debossing, and more.

Next, we have poly binders, a close second in popularity. They are made of a plastic material that comes in different thicknesses, so you can choose from flexible or rigid styles. The variety of colors is huge, and minimum orders start at 100 pieces*. Poly ring binders can be personalized with 1, 2, or 3 color printing, 4 color process, and foil stamping. We can also add clear pockets.
We also offer turned edge binders, with are premium wrapped binders with minimum order requirements starting at 50 pieces*. They offer an upscale appeal and can be wrapped in textured linens, thick vinyl, and even genuine leather. Turned edge binders can be customized with 4 color process printing, foil stamping, debossing, and more. They can also be laminated with a variety of finishes.

An entrapment binder is a style of vinyl binder that features a full color printed sheet embedded underneath a clear cover. These are a great alternative for when you want the premium look of full-color printing, without the premium price point. Minimum orders start at just 50 binders*, and they can be customized with 4 color process printed sheets, and optional padding.

Chipboard binders are a great eco-friendly solution. They can be made from thin and flexible boards or thick boards with a minimum starting at 50 pieces*. No matter which you choose, they are made of 100% recycled chipboard, which means that the color of the board itself will vary from brown to gray, and may have little speckles in it. They can be custom printed with 1, 2, or 3 colors, or 4 color process. Thicker chipboards can also be made with a euro-hinge rounded spine.

Paperboard binders are another option that we have, and their minimums start at 250 pieces*. They are made of flexible paperboard material and are most commonly printed with 4 color process. They can also be all-over laminated with various coatings.

We also offer custom easel binders, also known as a stand-up or flip-chart binders. Easel binders are usually made with vinyl or turned edge materials --so can be customized in the same way as those binders-- and are available in either horizontal or vertical styles.

Lastly, we offer slipcase and binder sets, which contain both a ring binder and a box to hold the binder. They can be built to hold a single binder, or many binders, depending on your needs. Slipcases are most commonly made in the turned edge style, and minimums start at 50 pieces*.

Any of our binders can be made in standard or custom sheet sizes, including letter size, half size, legal, memo, and more. We also have 3-ring, 2-ring, 6-ring, and specialty rings available. Check out the links in the description to learn more, or call us today at (866)537-2244 for a competitive quote.
Our custom ring binders are manufacturing in the USA to offer premium finishing, unmatched quality control, and fast transit times across the country. When you buy printed binders at Binding101 you stimulate the American economy and support American jobs. For the best quality customized binders, look no further. Call a sales specialist at (866)537-2244 to request a quote or place your order today.
State of the Art, Nation-Wide Production Facilities
We have nation-wide production plants with state of the art equipment that ensure a clean, accurate finish of your personalized binders. Our equipment is upgraded to handle a huge variety of personalization opportunities, so we can address nearly any need you have with beautiful finishing. This, combined with our expertly trained operators, premium manufacturing materials, and knowledgable sales team, ensures you receive the perfect custom binding supply for your individual needs.
Resale & Dealer Partnerships
We are dedicated to our customers of all kinds; this includes dealers and distributors. If you need a quote for a custom product for your own client, let us know at the time of the quote that you are re-selling the product, send us your government-issued resale certificate, and we will work with you on a dealer price discount while protecting your customer relationship. Our dedication to partnerships in both the B2B and B2C markets can help you rest easy knowing your clients will receive products that match your company image.
Nearly 90 Years of Industry Experience
Binding101 has nearly 90 years of experience in the industry; so when you buy your binder customizations here, you are assured quality craftsmanship from start to finish. Repeat orders are a breeze as we keep your artwork on-account and ready to go for your next inventory replenishment. You can rest easy knowing that we will nurture your order from quote to delivery to ensure complete satisfaction.
Accessories are the perfect fit for your new ring binders! We offer a variety of various filing accessories, including a huge assortment of index tab dividers (both blank/printable and printed), hole punchers (electric, manual, 2- 3- and 5-hole), page protectors (binder pocket inserts), and ring mechanism spines (the binder spine part without any covers attached).