Binding101 Coupon Codes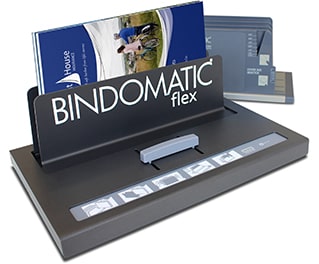 10% Off Coverbind
Thermal Binding
Use coupon code: coverbind10
Orders must be placed before February 28, 2019.
$25 Off Custom Pocket
Folder Orders
Use coupon code: 25folder
Orders must be placed before February 28, 2019.
Clearance – Save up
to 80% off
Everything must go! While supplies last!
New products added this month!
This February you can get the best Binding101 coupon codes right here on our monthly specials page. Save big on innovative new Coverbind thermal binding machines and supplies, custom printed pocket folders, and our closeout deals. We also have many more ways to save, so read on for more details...
• 10% Off Coverbind -
You can use this deal for any Coverbind thermal binding machine or Coverbind thermal binding cover/supplies. These innovative thermal binders are the premier choice and have unmatched quality of finish, as well as a wider variety of cover choices so you have the most versatility.
• $25 Off Custom Pocket Folders -
Custom pocket folders create a beautifully unique presentation and storage solution. We have an extensive production facility that allows us to create a completely customized and one of a kind product for you, including even custom shaped pockets. We can punch windows, create special closures, and so much more. In addition to those more specialized customization options, we can accomplish all of the popular standard customizations as well, such as full color printing, business card holders on the inside pockets, and a variety of standard and custom folder sizes.
• Clearance Sale -
Everything must go! Find discounts up to (and beyond) 80% off retail pricing! Whether you need
binding supplies
,
binding machines
,
report covers
,
binding posts
,
lamination film
, general office supplies, or other items, remember to check our closeout sales before you pay full price. Our inventory of clearance deals change daily and products are only available while supplies last, so now is the time to buy.
• Get a Different Coupon -
Sign up for our email list
to get new deals weeks, exclusive only for our subscribers. When you sign up you will receive promo codes, freebies and giveaways, tips and tricks, helpful articles, and more. Give us a try and we will send you a $10 off coupon that you can use immediately. You can unsubscribe at any time.
• Follow us on Social Media -
Plus, you can also
follow us on Facebook
,
LinkedIn page
,
Instagram
,
Twitter
, and
YouTube
for exclusive offers only available to our social media fans.
Questions? Call us at (866)537-2244 (866)537-2244 or click live chat on your screen for help.
The Fine Print: Binding101 coupon codes are subject to change without notice. Coupons (whether listed on this page or elsewhere) cannot be combined with any other offers or discounts, including (but not limited to) additional coupons, bulk discounts, clearance prices, special discounted quotes, price match quotes, resale or wholesale quotes, etc. Coupons must be used during the ordering process, and cannot be applied to any order after it has been placed, shipped, or delivered. Void where prohibited by law.