Steel Screw Posts (Pack of 100)
Steel Screw Posts (Pack of 100)
FAQ:
1 Questions, 1 Answers
Made of zinc coated steel
Comes in a large selection of sizes from 1/4" to 2"
Post Diameter: 1/4"
Head Diameter: 7/16"
SWIPE FOR MORE IMAGES
0
1
2
3
4
5
6
7
8
9
10
11
Overview
If you need an extremely durable way to bind documents, then buy steel screw posts online. They come in a large selection of sizes from 1/4" to 2", as well as the option of a 1/2" extension to make them even longer. Made of zinc coated steel, these binding posts are a popular solution for engineers and construction companies as a way to hold together blueprints and plans in the field where they are handled frequently. They feature a standard silver finish that looks great with any application. Also called Chicago screws, these metal screw posts are threaded all the way through, offering a tight bind that is stronger than traditional aluminum screw posts. Easy to use, just screw the screw piece (male side) into the post piece (female side) - that's it! They can easily be unbound and bound again when the pages need to be edited. They are cross-slotted on both sides to allow for use with Phillips head screw drivers, with one of the slots being long enough to also handle flat head screw drivers. These metal book binding screws are also sized to work perfectly with standard hole sizes about 5/16", so they work well with any traditional hole puncher. Steel screw posts are packaged with 100 sets per pack (extensions with 100 pieces per pack).
Specifications
Item #
SPSTEEL-GRP
Manufacturer
Binding101
Manufacturer Part Number
SPSTEELGRP
Quantity
100 Sets
Color
Silver
Capacity*
Varies; Available in Many Lengths
Material
Steel
Binding Style
Screw Posts / Chicago Screws
Post Diameter
1/4"
Post Length
Available in Many Lengths
Head Diameter
7/16"
Slotted
Post: Hole (Sizes 1/4", 3/8"), Slotted for Phillips & Flat Head
Screw: Slotted for Phillips & Flat Head
Description
Known throughout the industry as the most durable binding posts available, steel screw posts come in sizes from as small as 1/4" up to as large as 2". You can easily create even longer binding capacities by adding one or more extension pieces in between the screw and post. They work perfectly with any standard hole punch that creates holes measuring about 5/16", and feature slots for both Phillips and flat head screw drivers on both sides. Although they can be used with these screw drivers, most clients choose to just screw them together by hand, as it tends to be faster and simpler.
In addition to being easy to attach together, a benefit of screw post binding over traditional book binding methods is that they can be quickly taken apart to add, remove, or edit the bound pages by just unscrewing them, making the edits, and screwing them back together. Expensive and difficult-to-use binding machines are not needed.
What makes steel screw posts different from traditional aluminum posts? In addition to the material being a zinc coated steel for extra strength and durability, steel binding posts feature threading all the way through the post, which allows for the tightest and most secure hold to prevent unintentional de-binding.
For the premier choice in screw post binding, buy steel screw posts online; they are a heavy duty binding post that is unmatched.
Videos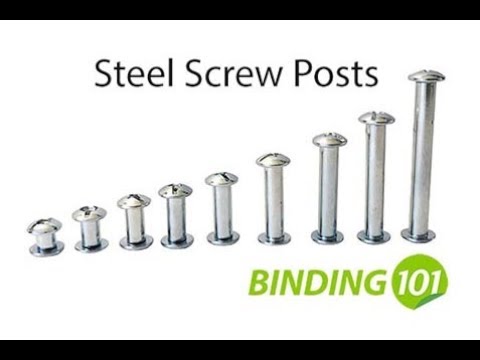 Steel Screw Posts | Metal Chicago Screw Binding Posts | Binding101
Transcript:
If you need a durable way to bind documents that are easy to edit, check out our steel screw posts in this video.
If you need a durable way to bind documents that are easy to edit, check out our steel screw posts in this video.
Q
Are they stainless steel?
A
No, our steel screw posts are a zinc-coated steel.