Rhin-O-Tuff ONYX HD7500 Interchangeable Electric Binding Punch
5999
NewCondition InStock
Rhin-O-Tuff ONYX HD7500 Interchangeable Electric Binding Punch
Overview
The Rhin-O-Tuff® ONYX HD7500 is an ultra heavy-duty book binding punch that has the ability to horizontally punch extra large sheets up to 24" wide. The open ended edge even allows for longer documents too. With a large capacity of up to 40 sheets, depending on the paper stock and punching pattern, the HD7500 makes a great addition for commercial print shops who bind calendars and more. Die change is extremely easy and fast, so you can turn this single punch machine into a wire punch, coil punch, comb punch, and much more. You can choose the die or dies you would like initially, and expand your possibilities in the future with additional
heavy duty punching dies
.
Specifications
Item #
04HD7500PU
Manufacturer
Performance Design, LLC
Brand Name
Rhin-O-Tuff
Manufacturer Part Number
7500H ONYX
Suggested User
Large Office
Binding Style
Multiple Binding Styles
Operation: Punching
Electric
Capacity: Punching
40 Sheets
Compatible Supplies & Accessories
Rhin-O-Tuff ONYX HD7500 Punch Dies
Rhin-O-Tuff ONYX HD4170 Electric Rhin-O-Roll Coil Inserter Module
Rhin-O-Tuff ONYX HD8000 Heavy Duty Wire Closer
Rhin-O-Tuff ONYX HD4470 14" Manual Plastic Comb Opener
Power Voltage
115V
Speed
Up to 25 punches per minute
Dimensions
32" W x 20" D x 17" H
Certifications
UL, CE
Manufacturer's Warranty
3 Year Limited
Country of Manufacture
Made in the USA
Punch & Bind Capability
No - Punching Only
Maximum Binding Edge
24"
Open Ended Punch
Yes (Allows for Documents up to 48" Wide)
Disengageable Pins
Yes; Fully Disengageable Pins
Product Weight (lbs)
148
Shipping Weight (lbs)
268
Shipping Information
This item ships via Truck (Common Carrier). It is the responsibility of the Consignee (receiver) to remove the product from the truck. If you do not have a loading dock or any other means to lift the freight off the truck and/or you need assistance bringing the product inside of your location please call (866) 537-2244. Click here for full details.
Description
The Rhin-O-Tuff ONYX HD7500H, Wire, Comb, & Coil Electric Binding Punch is a heavy duty machine with a 24" open throat for larger binding applications such as calendars. The open throat allows for binding edges up to 48" to be punched. Rhin-O-Tuff has been a leader in the binding equipment industry for decades. Their punches are the highest quality and most durable on the market. They back their product with a 3 Year Manufacturer's Warranty.
The HD7500 is capable of punching a variety of common hole patterns using interchangeable dies. The standard dies punch holes for the three most common types of binding; wire binding, spiral coil binding, and plastic comb binding. A velo binding die and 3 hole punching die are also available. Each die has fully disengageable pins so that you can punch both standard and unusual sheet sizes. It is simple to insert and remove the dies as needed; taking only seconds to switch hole patterns. The punch also comes with a built-in die storage that holds two, 24" dies.
This rugged machine and its two powerful twin motors can punch up to 40 sheets of 20lb. paper at once, saving time and money. Rhin-O-Tuff has made the HD7500 extremely user friendly with features such as easy set-up and pre-set paper stop positions.
Features
Pull-out extension table for larger size papers. Reduces the overall footprint when not in use.
Patented "QCDS," Quick Change Die System.
Up to 25 Cycles per minute.
24" open-ended punch throat allows for wider applications.
All punch pins disengageable, perfect for unusual paper sizes.
Standard foot-pedal operation. Optional versa switch or palm switch available.
Smooth, quiet and powerful performance on-demand.
Extra high-capacity waste tray. Large slide-out container. Never worry about over-fills.
All metal construction for durability.
Built-in storage for up to 2 standard 24" punching dies behind machine.
Die Capacities
| Die | Sheet Capacity* |
| --- | --- |
| Wire-O (Round Holes) | 39 Sheets |
| Wire-O (Square Holes) | 39 Sheets |
| Spiral Coil | 39 Sheets |
| Comb | 46 Sheets |
| Velo Bind | 55 Sheets |
| 3-Hole Binder | 55 Sheets |
*Sheet capacity is an approximation based on standard 20 lb. bond copy paper. The precise capacities will vary depending on the die punch pattern, paper stock used, and other factors.
Videos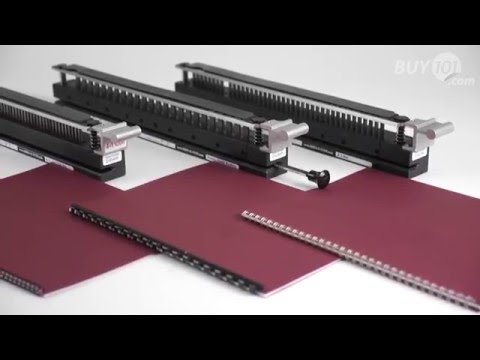 Rhin-O-Tuff Quietized Die Demo
Transcript:
This video demonstrates the noise level difference between the Rhin-O-Tuff® ONYX line with quietized dies and traditional punching machines without this unique feature.
This video demonstrates the noise level difference between the Rhin-O-Tuff® ONYX line with quietized dies and traditional punching machines without this unique feature.
Expert Reviews
Expert Product Review: HD7500 by Mallory Morsa





Hi everyone! My name is Mallory Morsa, and I am the product expert at Binding101. I have been a part of the Binding101 team since 2008, where I started out in service and sales, learning our customers' needs and how to offer truly exceptional service. After a of couple years, I moved into a role of product management that required in-depth product research, as well as training of our staff. And in my honest expert reviews, I am proud to share that extensive knowledge with you. Take a look at the product review below, which will highlight both the pros and the cons, as well as identify the ideal customer. If you have any questions or need more information, please call our customer care team at (866)537-2244. Thank you for stopping by, and please check out our Binding101 social media channels by clicking the icons above.
I RECOMMEND THIS FOR:
The HD7500 is similar to the HD7000 in motor and capabilities, except it features an extra-wide punch opening that allows for fast and convenient punching of longer books up to 24" (and even longer with the open-end). With this added length and the same standard for durable machinery that is made in the USA by Rhin-O-Tuff®, and the extra versatility it offers, the HD7500 makes a great fit for print or copy shops with medium-duty workloads that may need to punch many different sheet sizes throughout the entire work day.

THINGS I LIKE ABOUT IT:
As is true for all of the Rhin-O-Tuff® ONYX line of binding punch machines, I believe the most appealing feature of the HD7500 is the versatility that is offered with the ability to punch holes for Wire-O, plastic coils / spiral bindings, plastic combs, and much more. And to top it off, the dies are extremely easy to change out as-needed by just releasing the quick-die handles, sliding your old die out and your new die in, and then pressing the handles back into the locked position; it is very fast and can be done in just seconds, reducing any down time between jobs.

As if removable dies were not enough, you can also disengage specific pins within the die to prevent the machine from punching those particular holes. This added versatility opens the possibility to not only customize your punching pattern in a unique way, but also helps with perfect hole alignment and placement on non-standard sheet sizes, preventing any half-holes from being punched on the edge of your sheet and allowing for more wiggle room on the margins. I, for example, love the unique punching patterns that are on some manufactured journals…like this one that is only punched and bound in the center of the book, and this one that has 4 holes, then a 6 hole gap, then 4 holes, then a 6 hole gap, etc.

In addition to the versatility, the sleek look of the machine is appealing to the eye, and looks expensive to your customers, alluding to the fact that they can produce high-quality documents. This design choice was a smart decision and does not disappoint, especially when you compare it to the traditional tan and white machines (yuck). And the noise that the HD7500 makes is so quiet compared to other similar heavy duty machines (even the previous version before the ONYX upgrade) that it won't disrupt your workers or your customers while they punch. Just watch this video to compare how quiet the new, unique dies in the ONYX HD7500 are as compared with the previous model.

Keeping your ONYX HD7500 running at full potential is easy with just simple preventative maintenance. To remove paper dust and keep the pins nice and sharp, punch a few sheets of steel wool from time to time. To prevent any paper jams and back-ups into the machine, empty the waste tray as often as your volume requires. And if your pins are not as sharp as they used to be, but you are not ready to invest in a whole new die, consider replacing just the pins by buying a Rhin-O-Tuff® pin set. In addition to these simple preventative maintenance tasks, it is comforting to know that Rhin-O-Tuff® backs an unheard of 3 year warranty on this machine; they really stand behind their product, because they know it is made in the USA to meet the highest quality standards.

THINGS TO CONSIDER:
Because the HD7500 is a wide punch for 24" books, it is a rather large machine that takes up a decent amount of table space, measuring 32" W x 20" D for the footprint. The large size also means it is heavier than other machines, weighing about 148 lbs; so it could be difficult to move around, when required.

It should also be noted that, as is true with all Rhin-O-Tuff® punches, the HD7500 is a punch-only machine, and does not come with a binding module attached or included. The reason for this is because of the versatility offered by the punching dies; Rhin-O-Tuff® doesn't want to attach a wire closer when a customer would be using it for just coil and comb. Instead, they offer separate modules that can either work side-by-side to the machine, or be mounted onto it with an optional mounting kit (not included). They offer the HD4170 Electric Coil Inserter, the HD8000 Wire Closer, and the HD4470 Comb Opener. Now, you don't have to invest in the Rhin-O-Tuff® modules and can buy cheaper ones, however, these are built specifically for the medium and heavy duty workloads to go hand-in-hand with the punch, so I do recommend them. Either way, an additional investment into a binding module is required.

THE BOTTOM LINE:
I am impressed with the Rhin-O-Tuff® ONYX HD7500 binding punch. It really is the perfect solution for small to medium sized print and copy shops that need to be able to offer their customers versatility to punch for many different kinds of books, as well as offer quick job change-over, and an easy-to-use machine. The astounding quality of this USA-made binding machine is really remarkable, and this fact is supported by their long warranty period.