Rhin-O-Tuff® ONYX HD8000 Heavy Duty 14" Wire Closer
Rhin-O-Tuff® ONYX HD8000 Heavy Duty 14" Wire Closer
Overview
For one of the most durable and heavy duty wire closing machines on the market, buy the Rhin-O-Tuff® ONYX HD8000 wire closer online. This high-quality, manual closing tool will work well with the full range of Wire-O® sizes from 1/4" through 1 ¼" in both 3:1 and 2:1 pitch options. The closer has a horizontal design with front legs that can be screwed partially out, so you can create the ideal angle for your individual users. The wire hanger on the front of the machine offers a convenient way to place pages onto the open wire prior to closing. The opening is 14" wide to easily handle up to legal size documents, but also has open ends for no limitations in sheet size - if using a larger sheets, you will just need to close the wire on each 14" portion of your book. The handle can be mounted on either the right or left side of the machine to fit the needs of every user, and the entire module can be mounted onto a variety of Rhin-O-Tuff® ONYX heavy-duty tabletop punches using a specialized mounting kit (sold seperately). An upgraded version of the HC8000 closer, the HD8000 ONYX is made in the USA and built to last.
Specifications
| | |
| --- | --- |
| Item # | 04HD8000WC |
| Manufacturer | Performance Design, LLC |
| Brand Name | Rhin-O-Tuff® |
| Manufacturer Part Number | HD8000 |
| Suggested User | Medium Office, Large Office |
| Binding Style | Wire-O Binding |
| Operation: Binding | Manual |
| Compatible Supplies & Accessories | Wire-O® Twin-Loop Binding Supplies |
| Dimensions | 19" W x 18" D x 9" H [Handle in Upright Position] |
| Certifications | UL, CE |
| Manufacturer's Warranty | 3 Year Limited |
| Country of Manufacture | Made in the USA |
| Maximum Binding Edge | 14" |
| Product Weight (lbs) | 22 |
| Shipping Weight (lbs) | 23 |
Description
The Rhin-O-Tuff HD8000 is a heavy duty wire closer that is a new and improved version of the very popular, HC8000. Made in the USA, the HD8000 has been manufactured for quality. It has been renamed to stand out because it has evolved into a more versatile machine. The HD8000 can be partnered with (and mounted on) all OD and HD series models (including the OD4012, HD7000, and HD7700) by purchasing the optional mounting kit.

"Onyx Line" Upgrades/Improvements:
New die technology makes punching 25% quieter than before.
Oval dies are considered "standard" and are therefore, less expensive and readily available.
Gone "green", the onyx line is 98% recyclable.

Onyx HD8000 Wire Closer Features:
Dual adjusting closing feature – left and right knobs to ensure even wire closing.
Reversible binding handle – for right or left-handed operation.
Exclusive reversible top closing bar – choose abrasive or smooth closing surface depending on operator preference or wire size.
Optional raised front feet – elevates front of machine, improving viewing and wire positioning.
Wire compatibility from 3/16 inch (5 mm) to 1 ¼ inch (32 mm) sizes.
Wide 14" (356 mm) throat, plus an open-ended design for even larger projects.
Stand-alone operation, or mounts on most Rhin-O-Tuff Punches (with optional Mounting Kit).
Durable all-metal construction.
Videos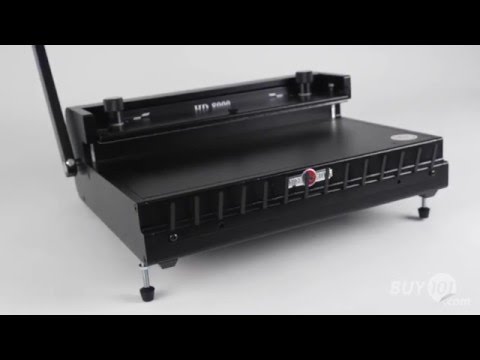 Rhin-O-Tuff® ONYX HD8000 Heavy Duty 14" Wire Closer Demonstration
Transcript:
This Rhin-O-Tuff® ONYX HD8000 Heavy Duty 14" Wire Closer video demonstrates how to use the closing machine with clear instructions, helping you gain the knowledge needed to produce a high quality and professional bind, every time.
This Rhin-O-Tuff® ONYX HD8000 Heavy Duty 14" Wire Closer video demonstrates how to use the closing machine with clear instructions, helping you gain the knowledge needed to produce a high quality and professional bind, every time.
Expert Reviews
HD8000 Expert Review by Mallory Morsa
About Our Expert • Mallory Morsa has worked in several different departments in her 10+ years at Binding101. Beginning in customer service and sales, she honed in her skills to provide the customer with professional, fast, and accurate information. Shortly after, she was promoted to sales supervisor and product expert, gaining hands-on and in-depth product research as well as training the team on new products. She now holds the position of content specialist, taking her extensive knowledge of our products and putting it on the web for you to access at any time. In her expert reviews, she outlines the good and the bad of products that she has handled herself, and uses her experience to identify the ideal users. If you have any questions or need more information about this product, please call our trained customer care team at (866)537-2244. Thank you for stopping by!




I RECOMMEND THIS FOR:
The HD8000 is the ideal wire closing module for mid to high volume users who may need to bind often, but not enough to warrant investment into an electric machine. It is the top-of-the-line solution and pairs perfectly with other Rhin-O-Tuff heavy duty punch machines. If you need something that is a step up, then consider the FlexiCloser electric wire closing machine, or if this is more than you need, look at the WBM-532 instead.

WHAT I LIKE ABOUT IT:
This wire closing module is an ultra heavy-duty machine, made in the USA by a world-renowned manufacturer, Performance Design / Rhin-O-Tuff. It is incredibly sturdy and strong, and really built to last through years of daily use. I am just as impressed with the ruggedness of this wire closer as I am with all of the punch machines they offer. Another perk here is that, if you already have or are planning to invest into one of their punches, it can be mounted onto the top of the system to make an all-in-one punch and bind machine. Or, just use it side-by-side with any other machine, which is also a great option as it allows for one user to punch and a different user to bind, speeding up the process.

On the front of the HD8000 the feet can be screwed out to create a tilt in the machine, which can help with a more convenient angle. The backing on the closer is magnetic, which helps with the fact that it is horizontal, and tilting the machine can help assist in that convenience further. It also has a wire hanger on the front, which is so helpful for speed and flow. You just hang your wire on the hooks and it is held firmly in place, making it easy to slide on your pages as you punch them.

The closing throat of this HD8000 is open on both ends, which makes it a great choice for anyone who may be binding sheets larger than the 14" width. The handle can also be installed on either the left or right side, so your user can choose their preference for more efficiency. Plus, a closing unit to offer a three year warranty is pretty much unheard of! We already know well that Rhin-O-Tuff is an amazing manufacturer of quality products, and that length of warranty shows that they really stand behind this wire closing machine.

THINGS TO CONSIDER:
A couple of features I think could have been perfected before releasing this machine to the market would be the wire size adjustments; because they are achieve using two separate closing depths, you can run the risk of one size not closing the same amount as the other. There is a guide that is visible when setting this, so you can line it up with that printed guide, but it would have been more convenient to make just a single adjustment for both sides.

The knobs to adjust the wire size on the HD8000 can be a little tedious to spin to get from a small size wire to a large one, but it does allow for real small micro adjustments, so there is a bit of give and take there. The fact that this is a horizontal closer can also sometimes cause irritation for users, as it does not use gravity to help keep the wire in place as a vertical closer would. You also want to keep in mind that, even though it is built for frequent use, this is still a manual wire closer, so it can become tedious and tiring to bind a lot of books at one time.

THE BOTTOM LINE:
The HD8000 is the perfect manual wire closing unit for users who need a heavy duty solution that is still in the manual-bind class of closers. It is made in the USA with the best materials, and looks pretty snazzy with that sleek black metal finish.