Swipe to the left
What Kind of Binding Sizes are Available?
If your'e wondering what kind of binding sizes are available, then you should know that it will vary depending on the actual kind of binding (or binding style) you are using. In general, however there are some common binding sizes across-the-board for most (if not all) document binding options.
• Letter Size (8 ½" W x 11" H)
• A4 Size (210mm W x 297mm H)
• Legal Size (8 ½" W x 14" H)
• Half Size (5 ½" W x 8 ½" H)
• Memo Size (4" W x 6" H)
• Tabloid Size (11" W x 17" H)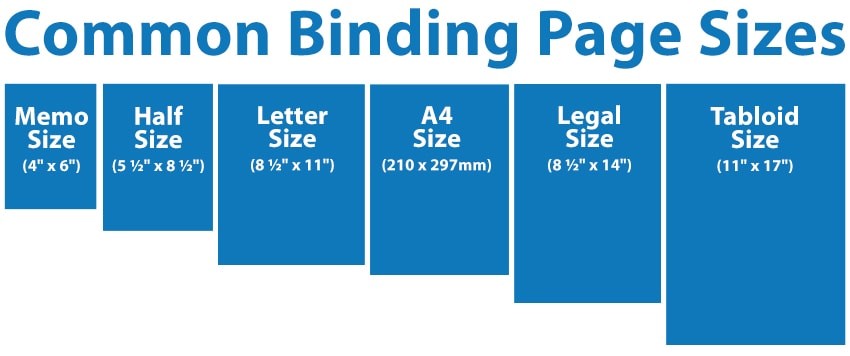 Letter Size: Letter size paper is 8.5 inches wide and 11 inches high. This is the industry standard throughout the USA, Canada, and many other countries. This means that it is the most readily available binding size, and can be found in any number of binding styles, including ring binders, ring mechanisms, plastic coil bindings, wire binding, GBC comb binding, and many more.
A4 Size Bindings: Very close to letter size is an A4 size paper, which is the terminology used in Europe and many other countries. A4 paper is only a tad bit longer, and a tad bit narrower. A4 is measured in millimeters and is 210mm wide and 297mm high, which converts to 8.267 inches wide and 11.693 inches high. Finding bindings in this size in the USA is difficult, and you will likely need to have custom bindings created.
Legal Size: Legal size bindings will be about 14" long for 8.5 inch wide and 11 inch high pages. Legal size sheets are very common in the USA, especially in the legal industry. Since velo binding is the most common form of legal binding, you can easily find velo binding strips in a legal size.
Half Size: Also called mini binding, half-size sheets are exactly one half of a letter size page, cut parallel to the 8.5 inch edge. This creates a 8.5 inch wide and 5.5 inch high sheet, which is then rotated to switch the height and width in most cases. Half size binding is becoming more popular, and is readily available in the form of half size ring binders, but would need to be custom cut or special ordered in most other binding styles.
Memo Size: Memo size pages are typically 4 inches wide and 6 inches high, though can sometimes be a tad taller at 6 ¾ inches high. They are the most popular size for what are called memo pads, or day planners, which most often have 6 holes. Since you can find these so easily in planner binders, the memo size ring mechanisms are pretty easy to find in the US, though can be more difficult elsewhere.
Tabloid Size: Tabloid size is a more unique binding page size measuring 11 inches wide and 17 inches high. It is called tabloid because it is the standard unfolded size of newspapers. It can also be used for activity books and other larger document binding needs. For the bindings themselves, some are available in extra long lengths that you can cut-down to fit the 17" edge, such as 36" spiral binding coils, but others will need to be custom ordered.

About the Author • Mallory Morsa is the product expert and content specialist at Binding101, and has been a valued team member since 2008. She started her career here in customer service, moved onto sales supervisor, product management, and then onto content. She takes a hands-on approach to products, and truly gets to know how every item works before she writes about them, with a goal to give you all of the honest information you need to make a confident buying decision. She has a bachelor's degree with a focus on management and marketing, and has been a writer, photographer, and videographer for many years. In her free time, she loves to read by the pool, volunteer at the local animal shelter in the kitten nursery, and snuggle her three furbabies while she binge watches Netflix.