Anyone can appreciate the beauty of a well-bound book, but few people understand the time and equipment it takes to produce reading materials of the highest quality. With the help of Binding101's broad selection of perfect binding machines, you can create catalogs, directories, and paperback books to be proud of with every production cycle you run. Find everything you need to bind professional-quality softcover books, manuals, and so much more.
With the right equipment and the supplies to match, binding paperback books with higher page counts will be consistent, faster, and more efficient overall. Perfect binding is a bookbinding method by which flexible adhesive attaches a paperback cover to the spine of assembled pages in a book or magazine. Once the adhesive binding machine collates all the signatures of a reading material, it roughens and flattens the edge of the spine area and applies the flexible adhesive.
One main advantage of perfect binding is that it can be used with publications that are as much as several inches thick. If your booklets do not have many pages or aren't suitable for perfect binding, a square back binding machine may be the best solution. Square back binding falls aesthetically between perfect binding and saddle stitching, offering both the security of a saddle-stitched spine and the enhanced look of a perfectly bound square spine.
Our selection of perfect binding machines includes top-of-the-line models made by Fastbind, Standard Horizon, Duplo, and other industry-leading manufacturers. Every adhesive binding machine we supply is competitively priced to suit every budget. Better yet, our softcover binding machines are easy to use and require little training, making them perfect for small and self-publishing companies in the on-demand publishing business. With a hardcover toolkit, you will also be able to bind photobooks, yearbooks, textbooks, and other hardcover publications.
Perform paper padding, tape strip binding, and soft-cover perfect binding with an all-in-one solution. Need help choosing the right machine for your business or self-publishing needs? Call (866) 537-2244 or email info@buy101.com today to receive further assistance from our helpful customer service team. Please let us know if you have any questions about our selection of perfect binding and square back binding machines today.
Read more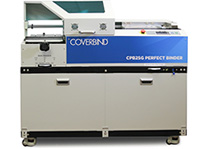 Make short-run perfect bound books in a flash
Pair Perfectback TA Strips, Creaser, Model 20, and In-House Printed Soft Cover
Make beautiful flexible covers with your graphics and bind quickly
Simple operation, easy for anyone to bind their own books
Hi there!
We want to give you $10.
Sign up for Exclusive Email Offers
Success! You're now on the list. You'll start receiving Exclusive Email Offers shortly.
Please copy and use promo code KLEMAILQ121 in your cart.*

* Offer valid once per customer on orders of $50 or more
$10 OFF your first order of $50 or more
Learn more about Perfect Binding
Shop By
Shopping Options
Price

Size

Suggested User
Signup For
Exclusive email offers