Fastback Binding Machines
Few people realize how much work goes into creating professional publications. That is why Binding101 is committed to helping schools and other organizations that need to produce high-page-count reading materials find the right equipment required to achieve desired results. When it comes to longevity, low maintenance, and quality of the bind, you simply won't find a better solution for your business than Fastback® tape binding machines. These cutting-edge document binders allow you to create tape-bound books, photobooks, image strips, and so much more.
Tape binding is a low-maintenance form of thermal binding that's ideally suited to making educational materials, technical manuals, mailers, and single-use publications. Although tape binding is an economical alternative to perfect binding and other methods, there is zero compromise on professional presentation. A tape binding machine creates a fine finish by applying a high-quality linen cloth binding strip to the spine of your assembled pages or signatures. Each strip comes pre-applied with a heat-activated adhesive that creates a strong bond once inserted into the binder.
With our selection of tape binding machines, you can find everything you need to improve your publishing processes once and for all. We proudly supply Fastback tape binding machines with capacities ranging from 10 to 350 sheets of 20-pound bond paper, allowing small to large offices like yours to produce presentations, proposals, reports, and more. These easy-to-use binding machines are some of the simplest, fastest, and most attractive models on the market. Best of all, tape binding is completely automatic and requires no paper punching on your part. Pair with our selection of Fastback binding supplies to start creating beautifully bound documents of all kinds.
All the tape binding machines we carry were designed with operators in mind, so you can count on minimal cleanup and trouble-free maintenance for many years to come. Leave a lasting impression on clients, business partners, and suppliers by investing in the best tape binding device available. Explore the machine models in our selection today to find videos, expert reviews, and other resources. Our expert staff is here to help if you need guidance choosing the best option for your individual needs; give us a call at (866) 537-2244 today.
Read more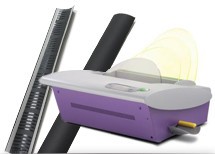 Featuring an LCD display screen that guides the users through each step using animated illustration.
Automatically adjusts the settings depending on the binding strip that is being used, so you don't have to hassle with manual machine adjustments.
Speed: 15-35 Seconds Binding Cycle
Warm-Up Time: 3 Minutes
Hi there!
We want to give you $10.
Sign up for Exclusive Email Offers
Success! You're now on the list. You'll start receiving Exclusive Email Offers shortly.
Please copy and use promo code KLEMAILQ121 in your cart.*

* Offer valid once per customer on orders of $50 or more
$10 OFF your first order of $50 or more
Shop By
Shopping Options
Price

Suggested User
Signup For
Exclusive email offers