Swipe to the left
What are the Best Kinds of Document Binding Machines?
Every day we get calls from customers saying something like "I am looking for a binding machine" and when we ask if there is a specific kind of binding they want to accomplish, often times they will respond with "what are the options?". Well, truly, there are a ton of options that you can find online, but the list is pretty intimidating, especially for someone new to binding, or someone who simply isn't sure what they want.
So instead of sorting through the hundreds of document binding choices, we've put together a list of the 12 best kinds of binding machines. I know that 12 does not seem like a condensed list, but it actually is. Many of the binding machine categories will also have various options for users of all kinds from small businesses / personal use, up to heavy duty and industrial machinery for high volume binderies. This versatility lets you know just how popular these binding machines are in many different industries.
① Spiral Binding Machines
Spiral coil binding, otherwise known as plastic coil binding, is a modern method by which continuous coils are spun through closely spaced holes. These plastic bindings will hold their original shape, even with heavy use, and are ideal for schools or other businesses or organizations that produce books to be handled on a regular basis. The coil bindings come in a huge selection of colors, and allow for document binding of books up to 1 ¾" thick with a 50mm coil. For plastic binding coil, we offer a few different kinds of equipment: coil punching machines, coil punch & bind machines, roller coil inserters (coil binding machines), and coil crimping machines. Coil binding machines are one of the most popular ways to bind books because they are easy, affordable, versatile, and durable.

② Wire-O Binding Machines
Wire binding is another one of the most popular document binding methods used, primarily due to the clean and professional metal finish. Some binding experts call this method as double loop or double-o binding, because it uses a continuous hinge of paired loops to bind books together, called a wire-o binding spine. There three basic kinds of wire binding machines: a wire punch machine, a wire-o punch and bind machine, and a wire closer. Often the punching machine has a wire closer included on the same unit, buy you can also buy an electric wire closer to automate the process. Wire-o binding machines are also available in automatic versions, built for high volume wire binding production that is seen in print shops and binderies.
③ Plastic Comb Binding Machines
There are economical alternatives to spiral or wire binding. Comb binding uses PVS plastic comb spines with round rings that are spread apart and closed around a stack of paper, binding the book in the process. Also called GBC combs, they are incredibly affordable and the preferred document biding method for cookbooks, reference manuals, schools, and more. Plastic GBC binding combs can also be personalized – we can custom print them with your school name, business contact information, the name of the document, and more!
④ Thermal Binding Machines
Growing more and more in popularity, thermal binding machines are the easiest and fastest way to bind documents. They are not a punch-and-bind option, and instead, utilize a thermal binding cover that has adhesive pre-applied into the spine. Literally all you have to do is place your pages into the cover, and place the cover in the machine. The adhesive is activated by heat, and pulls your pages in to create a strong bind. Another great thing about thermal binding covers is the variety that they come in – there are several different soft cover options that are perfect for presentations and reports for your business, as well as hard cover thermal binding options that are ideal for premium client presentations, school yearbooks, and more. There are two brands of thermal binding machines that we offer: Coverbind and Unibind. Both offer high quality binding that offers a lot of bang for your buck, as they will save you significant labor costs with their speed-of-bind.
⑤ Heavy Duty Tabletop Punches
This category of binding machines is especially popular with larger businesses, print shops, copy stores, and more. The machines feature disengageable dies, which means you can basically change the kind of punching they will achieve – from Wire-O binding, to spiral coil binding, to GBC plastic comb binding, to velo binding, and even to 3-hole ring binders – heavy duty binding punches will be able to achieve them all from one compact piece of equipment. They all fit on your tabletop, so don't require any additional floor spacing. The punching is electric, removing the manual hassle, and die change-outs is incredibly easy.
⑥ Tape Binding
Also called cloth binding or strip binding, tape binding is perfect for items that will be mailed, as there is no bulky spine. They are incredibly easy to use, requiring no punching or binding – you just place your pages into the machine, then insert the binding strip in the size the machine tells you. The thermal tape binder will do the rest. Fastback (by Powis Parker) is the most popular tape binding machine brand available. Easy, fast, and professional, tape binding will apply a high quality cloth strip to any stack of pages, wrapping around the spine and with overlap on both the front and back covers.
⑦ Staplers
We have a variety of staplers for businesses who want to staple bind their documents. Standard office staplers, as well as saddle staplers to achieve spine-staples are available. We also have flat clinch staplers that eliminate the extra bulk of a traditional staple.
⑧ Saddle Stitchers & Booklet Makers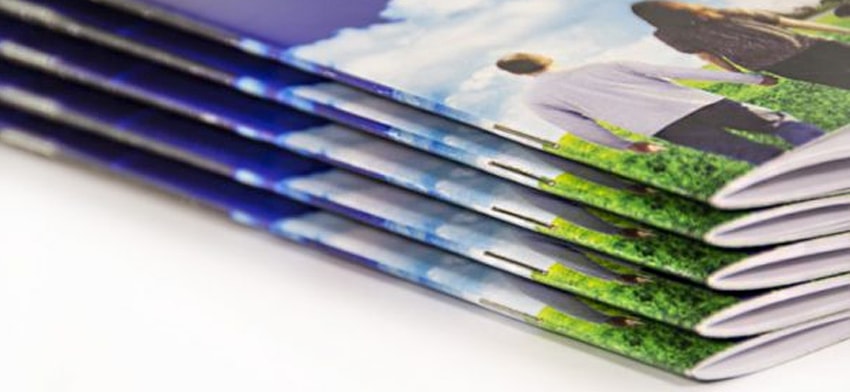 Saddle stitchers are machines that use a spool of stitching wire to produce booklets with a spine "staple". They basically sew the wire into the spine of a book, cut the wire, and fold it to finish the bind. Popular for print shops that produce magazines and catalogs, saddle stitching machines come in several different varieties. In addition to the actual stitchers, we have saddle staplers that use traditional staples instead of stitching wire spools. Saddle staplers can also have their table moved to produce flat stapling, making them versatile. Booklet makers also use traditional staples, but have the added benefit that they will also fold your booklets, turning the normally 2-step process into just 1-step.
⑨ Perfect Binding Machines
Perfect binding machines are found in print shops and binderies, and are used to make traditional soft cover bound books and novels (called perfect bound books). They allow for the use of any custom cover, will nip / texturize the spine of your book block, apply a strong binding glue, and then attach the cover. Perfect binding machines can also produce tape-bound books and padded notepads.
⑩ Padding Machines
Also called padding presses, a padding machine helps you make custom pads of paper. It is a vice that will hold your large stacks of paper in place, and when paired with the proper padding accessories and tools, can help you produce high volumes of notepads, very quickly.
⑪ Velo Binding Machines
Velo binding is often called legal binding, as the primary users are law firms and courts that bind documents together that require security. Using velo binding strips is considered a semi-permanent binding solution, as they can only be unbound with a special tool. They are hard plastic strips with 11-prongs that fit into another plastic strip with 11 holes. The prongs come in several capacities, and your machine will heat and cut them to fit your document perfectly. Velo binding machines are great for document binding up to 3" thick.
⑫ Automatic Punching & Binding Machines
For the business needing an automatic solution, consider our automatic punching and binding machines. These large binding equipment units produce professional quality bound books at unmatched speeds. They can be found in large print shops and binderies that produce hundreds to thousands of books, daily.
For help choosing the best spiral binding machine, wire binding machine, GBC comb binding machine, thermal binding machine, or any other document binding help you may need, be sure to call our binding experts at (866)537-2244 (866)537-2244 . click the live chat button on your screen, or email info@buy101.com. We can help eliminate that feeling of being overwhelmed by choices, difficult-to-understand terminology, and sticker shock.

About the Author • Mallory Morsa is the product expert and content specialist at Binding101, and has been a valued team member since 2008. She started her career here in customer service, moved onto sales supervisor, product management, and then onto content. She takes a hands-on approach to products, and truly gets to know how every item works before she writes about them, with a goal to give you all of the honest information you need to make a confident buying decision. She has a bachelor's degree with a focus on management and marketing, and has been a writer, photographer, and videographer for many years. In her free time, she loves to read by the pool, volunteer at the local animal shelter in the kitten nursery, and snuggle her three furbabies while she binge watches Netflix.