Specifications
Item #
WIREOBINDINGWH21-GRP
Manufacturer
James Burn
Binding Style
Wire-O Binding
Sheet Size
Letter Size [8 ½" W x 11" H]
Length
11"
Sheet Capacity
Varies Depending on Size
View the Chart in the Product Description for Details
Recommended Book Thickness
Varies Depending on Size
View the Chart in the Product Description for Details
Diameter
1/4" - 9/16"
Quantity
100 Pieces
Description
These White 2:1 Wire-O Twin-Loop Binding Spines are the most popular binding spine in offices and print shops looking for a professional and clean finish. Sometimes called twin loop wire binders, these binding spines offer a stylish metal finish in a variety of colors including black, white, silver, pewter, blue, green, red and more. Wire-O is a semi-secure binding method, meaning that the book cannot be unbound without cutting and discarding the spine itself. Books bound with Wire-O double-o wires lay flat and the sheets can flip a full 360° from front to back, making it an ideal solution for notebooks, journals, and calendars, when paired with our calendar hangers.
Wire binders are available in either a 2:1 pitch (pronounced "three to one" and with 3 holes per inch) or a 2:1 pitch (pronounced "two to one" and with 2 holes per inch) options. Depending on the capabilities of your wire binding machine, you can choose either pitch or both. 2:1 pitch wire binding options range in sizes from 1/4" up to 9/16". 2:1 pitch wire binding, however, is available in a wider variety from 1/4" up to the largest 1 ¼" size. Most 2:1 wires only come in sizes 5/8" and larger, however, we offer special smaller 2:1 pitch wires in select colors.
When you bind with wire o spines, you can create a professional, attractive, and clean book up to 280 sheets* thick. Use the capacity chart below to help determine the best size for your needs, and buy wire-o twin loop binding supplies online today.
Wire-O Binding Capacity Chart:
Simple steps to get the proper fit for wire binding.
Take the book being bound and lay it flat on a table
Don't compress the paper and measure the thickness of the binding edge
Take the measurement and add 1/8" - that will be the size of the binding element
* Note: the capacities listed below are approximations, determined using standard 20 lb. bond copy paper; the actual sheet capacity will vary depending on the materials being bound.
** Note: The smaller 2:1 pitch wires from 1/4" up to 9/16" are a special-made wire, and are not available in all colors.
| Wire Diameter | Pitch (Holes per Inch)** | Sheet Capacity* | Book Thickness* | Quantity / Box |
| --- | --- | --- | --- | --- |
| 1/4" | 3:1 or 2:1 | 11-25 Sheets | 1/8" | 100 Wires / Box |
| 5/16" | 3:1 or 2:1 | 26-45 Sheets | 3/16" | 100 Wires / Box |
| 3/8" | 3:1 or 2:1 | 46-65 Sheets | 1/4" | 100 Wires / Box |
| 7/16" | 3:1 or 2:1 | 66-80 Sheets | 5/16" | 100 Wires / Box |
| 1/2" | 3:1 or 2:1 | 81-100 Sheets | 3/8" | 100 Wires / Box |
| 9/16" | 3:1 or 2:1 | 101-120 Sheets | 7/16" | 100 Wires / Box |
| 5/8" | 2:1 | 121-145 Sheets | 1/2" | 100 Wires / Box |
| 3/4" | 2:1 | 146-165 Sheets | 5/8" | 100 Wires / Box |
| 7/8" | 2:1 | 166-185 Sheets | 3/4" | 100 Wires / Box |
| 1" | 2:1 | 186-210 Sheets | 7/8" | 100 Wires / Box |
| 1 ⅛" | 2:1 | 211-235 Sheets | 1" | 100 Wires / Box |
| 1 ¼" | 2:1 | 236-260 Sheets | 1 ⅛" | 100 Wires / Box |
Reviews
Expert Reviews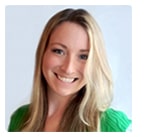 Wire Binding Review by Mallory Morsa
About Our Expert • Mallory Morsa has worked in several different departments in her 10+ years at Binding101. Beginning in customer service and sales, she honed in her skills to provide the customer with professional, fast, and accurate information. Shortly after, she was promoted to sales supervisor and product expert, gaining hands-on and in-depth product research as well as training the team on new products. She now holds the position of content specialist, taking her extensive knowledge of our products and putting it on the web for you to access at any time. In her expert reviews, she outlines the good and the bad of products that she has handled herself, and uses her experience to identify the ideal users. If you have any questions or need more information about this product, please call our trained customer care team at (866)537-2244. Thank you for stopping by!





INTRODUCTION:
Hi everyone, and welcome to another one of my expert reviews. In these, I delve deep into a product and get my hands dirty to really see the item from a customer's perspective, both for newbe's and experienced users. For Wire-O binding, I will not only be reviewing the wires themselves, but also the wire binding process as a whole.

I RECOMMEND THIS FOR:
Wire binding is a very popular choice among businesses of all kinds; all you have to do is walk down the notebook isle of any store to see wire-bound after wire-bound book. They are truly found on books of all kinds. But overall, wire binding is ideal for users who (1) want a professional look, (2) want to easily flip the book pages all the way around, and (3) have the time available to punch and close.

WHAT I LIKE ABOUT IT:
Wire binding is incredibly professional. The metal offers a clean look that emphasizes the elegance above plastic alternatives. When pages are flipped, they remain perfectly aligned with the entire stack of pages; this is called "perfect registration" and adds to the professional appeal.

Wire bindings also allow for easy lay-flat reading, which makes them great for presentations and reports where people need to follow along (or even if you're reading from a podium and don't want your book to be unmanageable). Plus, pages can turn all the way around to the back for a smaller surface, great for tight board rooms or events. Binding101 also stocks a lot of colors and sizes, so most users can easily match them with their business' branding; no mismatched presentations here!

Wire binding is fairly simple to accomplish. Just like other punch-and-bind solutions, it is a two-step process to make your book. First, punch all of your pages, and then close the wire around them. The wire bind machines are usually incredibly simple to operate, even the electric models, which means that there really isn't any special training or anything needed to make professional wirebound journals, notebooks, reports, or docs of any kind.

Binding101 also only sells the James Burn brand of cut wire, which is the best quality on the market. I am not just saying that; the various colors of wire will not scratch or rub off like some of the alternative brands out there. This means you are always assured the best-quality wirebind.

THINGS TO CONSIDER:
What I consider to be the biggest consideration with wire binding is the fact that there are two different "pitches" to choose from. This becomes a problem when your machine can only punch for one specific pitch/pattern (for example, 3:1), but you need to bind a thicker book which would require a 2:1 pattern; you would not be able to accomplish that project with your existing 3:1 machine. To solve this, there are machines out there that can do both pitch/punch patterns (like the WireMac Duo), however, they tend to be a bit more expensive (you're basically getting two machines in one), so check those out before you settle on wire binding as your solution of-choice.

Wire binding is also considered "permanent" in the way that it cannot be un-bound and re-bound if you spot a mistake in your proposal. To take it apart, you need wire cutters to actually cut the wire off (depending on the document size, some people even just pull the wire hard to take it off, though that risks tearing your pages). Although reviewing/editing a document is always a necessary step before a presentation, it is even more so when finding a mistake would mean you have to re-bind the entire batch of presentations.

Wire bindings are, you guessed it, made of metal wire. Which means that they can bend and become misshapen. This means they are not ideal for heavy handling, and can sometimes be a hassle when your user is attempting to close the wire in a perfect circle.

THE BOTTOM LINE:
Wire is ideal for professional users, but not so much for those who need a durable book to last the test of time. It is easy to work with, and there are several colors and sizes to choose from that make them quite versatile. The requirement for a multi-punch pattern to handle the full range of sizes, however, means it may not be the best choice for lower-end users who can't invest in the more expensive dual pattern machines.

FAQs
Cut Wire-O® FAQs:
Q: What size should I order?
Check out the chart in our product description to see the recommended size based on your number of sheets and book thickness.
Q: What does "pitch" mean?
The pitch refers to the ratio of holes per inch; so a 2:1 has two holes per inch, and a 3:1 has three.
Q: How many loops are in 2:1 and 3:1 wires?
2:1 wires feature 21 loops and 3:1 wires feature 32 loops.
Q: Can they be cut down to shorter lengths?
Yes! Binding101 offers custom-cut wires to order, just call (866)537-2244 for a quote. You can also cut them down yourself using standard wire cutters.
Q: Are your wires prop 65 compliant (2018)?
Yes! All of our wires are compliant with the new Proposition 65 standards for 2018.
Q: What kind of metal is wire-o made from?
Twin loop wire bindings are made of recycled steel (wire) with a PVC coating (color).
You may also be interested in the following product(s)
Top