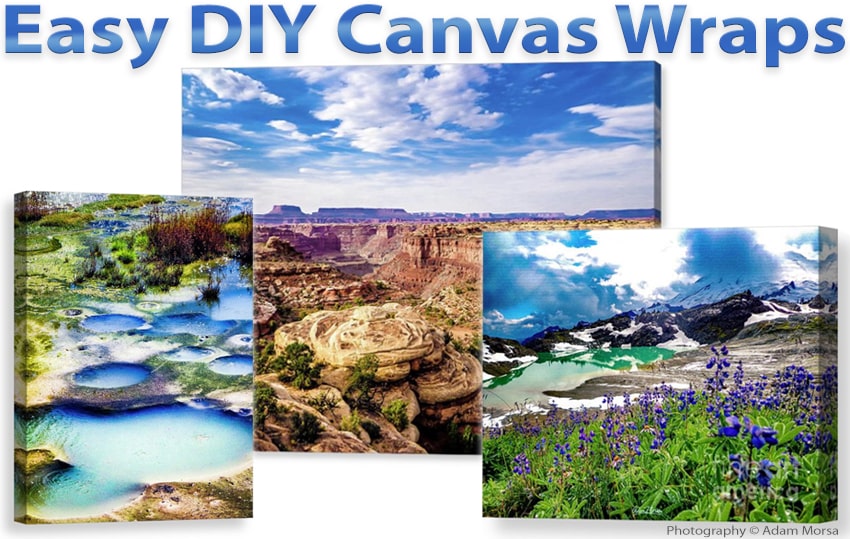 If you've been wanting to sell your photography at local farmer's markets and art walks, but don't want to pay the high price to have them made at a photo studio, check out these DIY photo canvas wrap kits instead. They have everything you need to turn your canvas or print into a beautiful stand-out hanging display. No complicated tools or expensive equipment is needed! Seriously! Fast, easy, and professional quality (without the professional price), these DIY canvas stretcher frame kits are the perfect solution for photographers and artists, as well as photo studios, fine art galleries, and print shops.
Here is how easy they are to make:
① Prepare your workspace by ensuring the table is clean and free of dust. Your print will be placed face-down onto your table, so it is important that it be clean. If available, you can also use photo gloves to prevent dust and fingerprints.
② Peel off the liners from the bars. Be mindful of the exposed adhesive, and limit anything from touching it. Adhesive will be present along one wide edge of the length of the bar, as well as the ends.
③ With the adhesive facing up, snap the bars into the corner holders, creating the frame shape.
④ Lift your frame and place your print face down on your work surface. Now flip your frame so the adhesive is facing down, and center it above your print. Once centered to your liking, press the frame down onto the print so the adhesive sticks.
⑤ Now that your print is attached, you can remove the corner holders. Make sure to hold onto the bars as you pull the corners off.
⑥ Using your trimmer, create a 45° angle cut on all 4 corners. Do this slightly spaced from the wood, not flush. Then trim your print edges flush to the bars.
⑦ Create a perpendicular cut to each of the corners (from the center, out), and fold the cut pieces over the bars.
⑧ Beginning about 1" in from the corners, apply a line of glue along each edge of your print beside the bars. That gap from the corner will ensure no glue seeps out.
⑨ Two sides at a time, fold the bars up so the corners touch, and secure them in place with fasteners.
⑩ Snap in the supports to each corner. And you're done! Admire your beautifully framed print.

So simple, right? Who knew making professional-quality wrapped prints would be so easy! Now let's go over everything you will need to get started. You can get everything you need right here.
• GOframe starter kit -- This kit includes the corner holders, the trimmer, and a 4oz. bottle of canvas glue.
• The frame sets -- Choose a set for whatever size print you want to make. You can choose from 11" x 14", 12" x 18", 16" x 20", 16" x 20", 18" x 24", and 20" x 30". The sets have enough bars to make 5 frames each.
• Your print -- You can have your print created at a print shop on nearly any material. Most customers use a 300-450gsm canvas, but photo paper will work fine as well. Make sure your print is at least 3 ½" larger on each dimension to allow for wrapping. For example, if you are making a 16" x 20" wrap, your print should be at least 19 ½" x 23 ½".

Whether you make them for family photos to display in your home, at your studio to auction your fine art prints, or at local art walks to sell your landscape photography, these easy mount photo frames are professional and fast! You can make them in less than five minutes.
The photography featured in this blog was courtesy of Rambling Adam Fine Art Photography and is © Adam Morsa.


About the Author • Mallory Morsa has been a part of Binding101 since 2008 and has experience in several departments within the company. She began in customer service and sales where she honed in her skills to provide the customer with professional, fast, and accurate information. Shortly after, she was promoted to sales supervisor and also took on the role of product expert, training the team on new products. Throughout this time, she also wrote content for the site, as well as contributed stock photography and videography. As the team grew, she moves to an official position as the content specialist and social media manager. Her skills in these variety of areas give her the unique expertise to not just create content for the web, but to create content for you, the customer. She has a Bachelor's degree in business management and marketing, was on the Dean's List each year, and graduated Summa Cum Laude. In her free time, Mallory's favorite things to do include volunteering at the animal shelter by bottle feeding neonatal kittens, reading at the park, cooking plant-based meals, playing board games, and binge streaming TV shows with her 3 furbabies and family beside her.