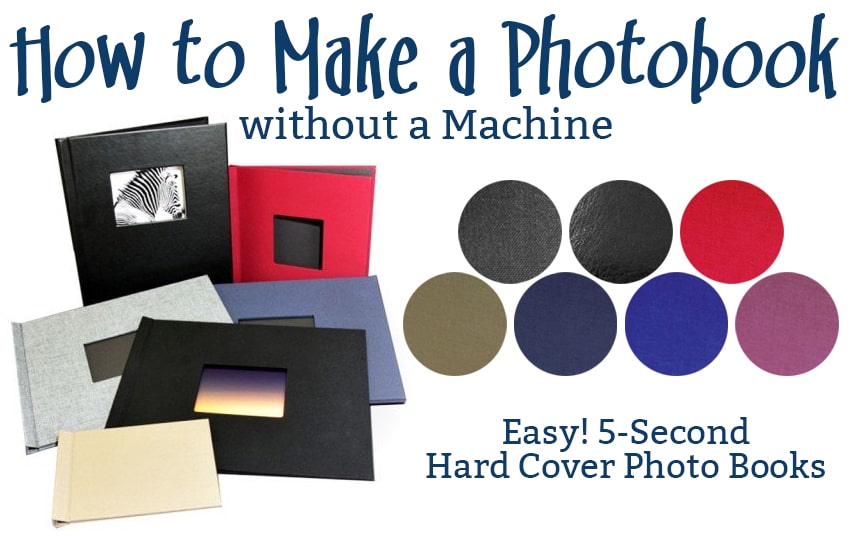 If you want to make your own photobooks, but don't want to use the scrapbook screw post method, and don't want to invest in a photobook making machine, then we have the perfect solution for you. Featured on the Today Show and available at many CVS Pharmacy locations for their 1-hour photobooks, our exclusive Pinchbooks are fast (they take about 5 seconds to bind) and easier than anything else out there.

Incredibly efficient, Pinchbook DIY photo books make a great gift, display, or even guestbook for a wedding or event. What's more, is they can be edited as many times as you want by just repeating the same steps. This makes it incredibly versatile and convenient.
Pinchbooks are sold in small boxes of just 5 or 10 books, depending on the size. This is perfect for photobook makers because it means you don't have to over-buy and store a bunch of photobooks. Instead, you can buy what you need and save on storage space.
And you would never know they are so affordable by the way they look! These hard cover photobooks come in either a premium linen wrap or a faux vegan leather. The look is impressive, and there are a lot of colors to choose from as well.
How to Use Pinchbooks
Open the Pinchbook covers so the pinching spine opens up.
Place your photos into the spine using the tab at the bottom to keep them straight.
Close the covers.
It is as easy (and as fast) as that! Here is a video showing how to make Pinchbook photo books.
Audio Transcript for above Video: Spiral's patented Pinchbooks are an incredible innovation in the photo book and presentation markets. Pinchbooks require no equipment to create beautiful, professional hard cover books. Pinchbooks allows your print shop to offer photo books on the spot with no upfront equipment costs. Pinchbooks are easy to make: just pull back the cover to open the spring clamp, insert the pages into the Pinchbook, close the cover, and you're done! The integrated stop at the bottom of the spine makes sure all the pages are perfectly aligned. Add a staple to the book block to make an even more secure binding. Create your own beautiful, professional hard cover books in seconds with Spiral's Pinchbooks, sure to get everyone's attention.
For more information or a quote, call us at (866) 537-2244 (866) 537-2244 or email info@buy101.com

About the Author • Mallory Morsa has been part of Binding101 since 2008 and she is the primary content creator for BUY101® information. She began in customer service and sales where she honed in her skills to provide the customer with professional, fast, and accurate information. Shortly after, she was promoted to sales supervisor and also took on the role of product expert, training the team on new products. Throughout this time, she also wrote content for the site, as well as contributed stock photography and videography. As the team grew, she moved to an official position as the content specialist and social media manager. Her skills in these variety of areas give her the unique expertise to not just create content for the web, but to create content for you, the customer. She has a Bachelor's degree in business management and marketing, was on the Dean's List each year, and graduated Summa Cum Laude. In her free time, Mallory's favorite things to do include volunteering at the animal shelter by bottle feeding neonatal kittens, reading at the park, cooking plant-based meals, playing board games, hiking, and binge streaming TV shows with her furbabies and family beside her.