/binding/binding-report-covers/clear-binding-covers/clear-punched-coversBinding report covers can vary quite a bit in price depending on the material they are made of, the size of the covers, the thickness, and even the quantity that you need to purchase. If you are able to buy in bulk, for example, you can almost always get a discounted or wholesale presentation cover price because it costs less per-sheet to produce larger quantities. A soft cover that is just a solid piece of material will also be less expensive than a hard cover that is made from two materials (chipboard hard cover with a material wrap). A single-piece cover will also usually be less expensive than a wrap-around cover that acts as a front and back with one piece. With all that in mind, we can't simply give a solid price saying "this is how much a binding report cover costs". But what we can do is compare some of the most popular presentation covers so you can (a) get a good idea of the kinds of options there are to choose from and pick what looks best for your business, and (2) easily compare the approximate pricing of each so you can choose what fits best with your budget. Here are some of the top-selling report covers and their starting prices*...
Clear / Transparent Binding Covers
Clear binding covers are incredibly popular as front covers, and sometimes also paired as back covers for a consistent look. Depending on the style, they may be available in different thicknesses so you can choose from super flexible and lightweight, a medium weight, or a heavier weight. All choices are flexible and see-through. The thickest clear cover is going to be the poly option. Some clear covers are textured while others are smooth, and some are super glossy while others are frosted or matted. It is difficult to properly portray the differences in the clear covers available by photo alone, so if you're having trouble choosing, you can request samples by calling (866) 537-2244.

Starting Price = $0.08

Starting Price = $0.13

Starting Price = $0.25

Starting Price = $0.21

Starting Price = $0.58

Starting Price = $0.58

Starting Price = $0.10

Starting Price = By quote only
Opaque / Colored Binding Covers
Our opaque binding covers come in a variety of materials and thicknesses. Some are made with a thick cardstock paper, and others with a vinyl material, and some with poly. These covers are most often used as backings when paired with a clear cover, but sometimes are paired together for a more matching look. If you're torn between any options, or having trouble picturing the thickness and textures, you can request samples by calling us at (866) 537-2244.

Starting Price = $0.33

Starting Price = $0.40

Starting Price = $0.13

Starting Price = $0.10

Starting Price = $0.33

Starting Price = $0.24

Starting Price = $0.26

Starting Price = By quote only
Hard Binding Covers
Hard covers are the ultimate solution. Sometimes these hard covers are called "turned edge" covers as well. They are rigid and considered the premium choice, as they can take a drab and cheap-looking presentation and make it stand-out. The Klassic hard covers are single-piece covers that can be punched for any binding of your choosing by most office-level binding punch machines, while the Pinchbook hard covers are wrap-around and don't require any punching at all. We can also custom make turned edge hard covers to meet your exact specifications or needs.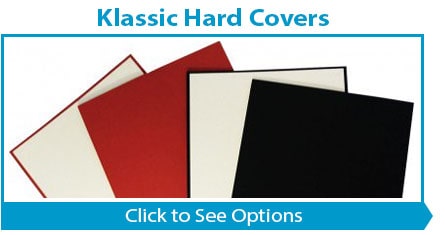 Starting Price = $2.50

Starting Price = $0.88

Starting Price = By quote only
* All prices listed are the starting prices and may vary depending on size, thickness, quantity, etc. Pricing is accurate as of the date of this blog post and may have since changed. Cover packaging and minimums will vary. Click the links to see the current pricing and packaging quantities for any of these covers.