Corner Trimmer and Replacement Blades for GOframe 1500
34.69
NewCondition InStock
Corner Trimmer and Replacement Blades for GOframe 1500
Overview
With the GOframe 1500 canvas stretching kits you can make your own wrapped canvases from the comfort of your home or office, without the high price of outsourcing, and without complicated tools and equipment. Perfect for gifts from individuals, or low-cost POP displays at your print shop, the 1500 stretcher bars are available in sizes from 8" to 36", so you can make any variety of canvas sizes you desire. They are also designed to allow for easy cutting, so you can even customize the print size you want. In only about 10 minutes, you can make a beautiful, professionally wrapped canvas print all on your own. Use them to create beautiful family photos, display paintings at your gallery, or to sell your beautiful photography at events. Whatever the print type and look, these canvas kits can help you create a beautiful display. They stick out 1½" from the wall for a premium look, adding texture and depth. They are made of the best grades of museum-quality North American basswood sourced from sustainable forest practice sawmills.
What you'll need to get started:
Stretcher frames in your chosen size
Starter kit (Includes corner clamps, 4 oz. glue, & staples)
Corner trimmer
Your own print
Corner clamps and glue are also sold separately from the starter kit for replenishing.
Optional collage clips are also available to attach multiple frames together.
Specifications
| | |
| --- | --- |
| Item # | GOFRAME-GRP |
| Manufacturer | GOframe |
| Manufacturer Part Number | GOFRAME GRP |
| Dimensions | Frame Bars are 1 ½" D x 3/8" W (Various Lengths Available) |
| Color | Tan |
| Sheet Size | Recommended 1.875" - 2" larger than intended print on each side |
| Material | North American Basswood (Museum-Quality Low Resin/Lignin) |
Description
Easily stretch your print or gallery wrap canvas with the GOframe 1500 canvas stretcher frames. Available in a range of sizes from 8" to 36", the 1500 stretchers are made from the best grades of North American basswood, sourced from sawmills that practice sustainable forestry. With museum quality, low resin, and lignin content, the stretcher bars are stable and durable. The wood is kiln dried to a moisture content below 8% which will insure that there will be no warp or shrinkage after the canvas is applied to the stretching frame.
The GOframe 1500 canvas stretching kits offer professional results, without the price tag and expensive equipment. It sits about 1.5" from the wall, creating a focal point that adds texture and depth to a wall. It is the premier choice for both businesses looking to sell photographs, museums and art galleries, and even individuals for making gifts and home decor.
The GOframe is easy to assemble with the addition of the starter kit. The high quality adhesive tape eliminates the need for pliers. The patented corner clamps are reusable and ensure that the frames will be perfectly square and prevent the adhesive tape from touching the canvas during assembly. U-Shaped staples/fasteners help to create those neat and perfectly folded corners. The tabs snap easily into place providing constant tension that creates a drum-like feel to your canvas.
How to Use GOframe Canvas Wraps:
These unique canvas frame kits let you create gallery wrapped canvas on-demand in small or large runs quickly and easily. Simple assembly is required. Click here to watch the assembly video or follow these directions.
Prepare your workspace. Make sure your table is clean and free of dust and wear photo gloves, if possible. Make sure you have everything you need, including 4 bars, 4 corner clamps, glue, staples/fasteners, a handheld trimmer, and your print. Your print should be at least 2" larger than your frame on each side (left, right, top, and bottom). For example, if you're making an 8" x 8" frame, your print should be at least 12" x 12" to allow for proper wrapping.

Peel off the liners from the bars.
With the adhesive facing up, attach the bars to the corners, creating your frame.
Place your print face down on your work surface, and center your frame over the print with the adhesive facing down. Once centered to your liking, press the frame down so the adhesive sticks to your print.
While holding the bars down, remove the corner holders.
Using your trimmer, create a 45° angle cut on all 4 corners (not flush to the bars), and then trim your print edges flush to the bars.
Create a perpendicular cut to each of the corners (from the center, out), and fold the cut pieces over the bar.
Beginning about 1" in from the corners, apply a line of glue along each edge of your print beside the bars.
Two sides at a time, fold the bars up so the corners touch, and secure them in place with fasteners.
Snap in the supports to each corner.
Please note: Canvas material and print are not included. These canvas wrap sets will work with most canvas materials, include even paper prints. We always recommend testing new materials before creating your print to be displayed. Most customers use between a 300 to 450 gsm canvas material and see beautiful results. Corner clamps may vary in color.
Videos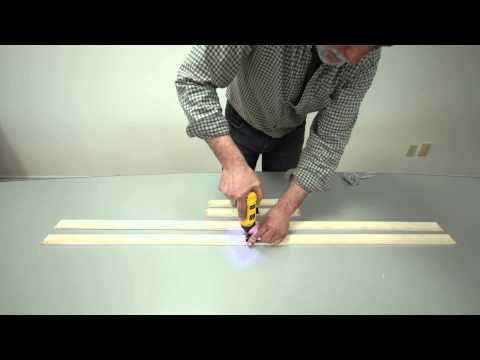 Goframe.com 1500 Stretching System Panoramic Canvas Wrap
Transcript:
This video demonstrates how easy it is to take 4 bars of the 1500 Goframe stretchers and make a 53 ½" x 14" panoramic gallery wrap.
This video demonstrates how easy it is to take 4 bars of the 1500 Goframe stretchers and make a 53 ½" x 14" panoramic gallery wrap.
Q
What are the pro joiner bars used for?
A
The Pro Joiner Bars are used to create custom-sized frames that the standard bars won't allow for. For example, you can use the pro joiner bars to make panoramic sizes prints that have a short height, but an unusually long width.