Before binding, folding, or mailing, most businesses prepare their loose sheets of paper by arranging them in a specific order. Collation is the process of placing printed and stacked sheets into the order in which they will be published. A collating machine is a tool that is widely used throughout the finishing industry because it eliminates the need to manually prepare pages and automates the process. Binding101 is the best place to buy collators because we combine the most competitive prices on the market with friendly service to ensure that you find exactly what you need to keep up with production without skipping a beat. Explore our selection today to find the ideal number of bins for your business.
We offer a wide selection of collating machine models made by some of the most reliable brands in the industry, such as Martin Yale, MBM, and Standard Horizon. Small businesses and print shops might find a manual collator to be ideal for low-volume workloads, whereas our automatic paper collators are designed for high-volume and continuous workloads. Even the most cost-effective models in our selection feature sheet length miss and double detection, a counting program that goes up or down and an analog display. We offer models with between six and 10 stations, so you can collate stacks of paper into sets and stay organized. Looking for extra collating bins? Look no further than the twin tower system we have in stock, with 20 collating bins total and a connecting transport unit to help them work in unison.
With the right collating machine at the ready, you can stop sorting paper by hand and greatly increase the efficiency of your office. Don't cut corners in terms of quality or performance. Shop from our assortment of collators today to find the perfect unit for your particular set of needs. If you have any questions or would like expert recommendations based on your industry and workload, please don't hesitate to contact one of our friendly representatives for further assistance or more information. Our experts are standing by! Email info@buy101.com or call us at (866) 537-2244. Spend $75* and get free standard shipping (click for details).
Read more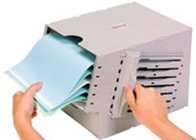 Price

Brand

Operation

Number of Bins
Speed: Up to 3,600 Sets / Hour
Paper Weight: 20lb. through 100lb.
Number of Bins: 10 Bins
Maximum Sheet Size: 12 7/8" x 18 1/2"

Simple to operate.
Bin Capacity (Each): 100 Sheets
Can handle up to 8.5" x 14" legal sized paper
Requires no set-up, adjustment or electricity
Hi there!
We want to give you $10.
Sign up for Exclusive Email Offers
Success! You're now on the list. You'll start receiving Exclusive Email Offers shortly.
Please copy and use promo code KLEMAILQ121 in your cart.*

* Offer valid once per customer on orders of $50 or more
$10 OFF your first order of $50 or more
Shop By
Shopping Options
Price

Brand

Operation

Number of Bins
Signup For
Exclusive email offers