Akiles CoilMac M Plus Manual Spiral Binding Machine
483.69
NewCondition InStock
Akiles CoilMac M Plus Manual Spiral Binding Machine
Overview
An upgraded version of the extremely popular CoilMac-M, the CoilMac-M Plus offers added efficiency and high-quality features that make it a step above the rest. Oval holes make for easy coil inserting, and 100% disengageable pins (53 total) mean you can use completely custom sheet sizes without worrying with half hole punches. Hole depth adjustment and side margins help you place the holes exactly how you want them. Perfect for small offices that need added versatility over a basic coil machine, buy the Akiles CoilMac-M+ manual spiral binding machine online today. Don't forget to add the cutter crimper pliers (not included) to cut and crimp-in the ends of the coils for a full coil binding solution.
Specifications
Item #
04AKCOILMAO
Manufacturer
Akiles Products Inc
Manufacturer Part Number
ACM-M41
Suggested User
Small Office
Binding Style
Spiral Binding / Plastic Coil
Operation: Punching
Manual
Operation: Binding
Manual
Capacity: Punching
17 Sheets
Included Supplies & Accessories
Diameter Guide
Margin Depth Guide
Compatible Supplies & Accessories
4:1 Pitch Spiral Binding Coils
Cutter Crimper Pliers
Dimensions
13" x 17.5" x 18"
Manufacturer's Warranty
1 Year Limited
Punch & Bind Capability
Punching Only
Open Ended Punch
Yes
Disengageable Pins
Yes, All 53 Disengagable Pins
Pitch / Hole Pattern
Spiral Binding 4:1 (.248) Oval Holes
Actual Machine Dimensions ( L x H x W)
13" x 17.5" x 18"
Shipping Length
18"
Shipping Width
21.5"
Shipping Height
11"
Shipping (Web) Weight
35 Lbs.
Description
The Akiles CoilMac-M Plus Spiral Binding Machine offers efficiency and productivity & features 53 disengageable punching pins. Because of its high quality components and full range of functions, the Akiles CoilMac M Plus is the most complete and durable piece of Plastic Coil equipment in its class.
53 Fully Die disengagement pins allow for a clean punch with multiple paper sizes. Simply pull the pin on the edge of your paper to avoid punching half of a hole on the binding edge. This feature is especially necessary for odd sheet sizes (smaller or larger than letter size). The Punching Margin Control provides the correct punch margin depth on you binding edge for each spiral binding coil size and maximizes the document's tear resistance. The deeper you set the holes to punch on the paper, the stronger they will hold. The Side Margin Control provides an evenly centered punch for all document sizes, every time. Simply adjust the guide so the holes are centered on your sheet. Remember to complete a test punch before punching your actual application to make sure it is perfectly centered. The CoilMac M Plus also features a Diameter Guide or Coil Selector that will make choosing the correct Spiral Binding Coil Supplies for your book thickness. The open punching throat and continuous punching guide make it easy to punch sheets larger that 14" long. The Coilmac M Plus also features an inserting table, which speeds the inserting of the coil, (if inserting manually) reducing costs and binding time. The Akiles CoilMac M Plus can be paired with the convenient cutter crimper pliers for a full finishing solution.
The Coilmac M Plus punches oval holes in a true 4:1 pitch, making Spiral Binding 50% faster & much easier! The CoilMac M Plus features 4mm x 5mm oval holes that make the coil insertion process easier & faster than ever before. Because a Plastic Spiral Binding Coil is a continuous spiral, the oval holes provide a clear path for the coil as it is inserted into the book. No more struggling over coil that is caught on a sheet in your book! The Akiles "Plus" machines are the first & only pieces of equipment in their class to offer this advanced feature. Scroll down below the specifications for a real-life diagram of the hole patterns. Another difference between the CoilMac M and the CoilMac M+ is the revolutionary 4:1 pitch with .248" hole spacing that is specifically designed to give you 44 evenly-centered holes in an 11" sheet, providing the most ideal hole to edge-of-sheet margins and easier coil insertion. This hole pattern is 100% compatible with the standard 4:1 pitch coils.
*May vary depending on paper stock and other factors.
Videos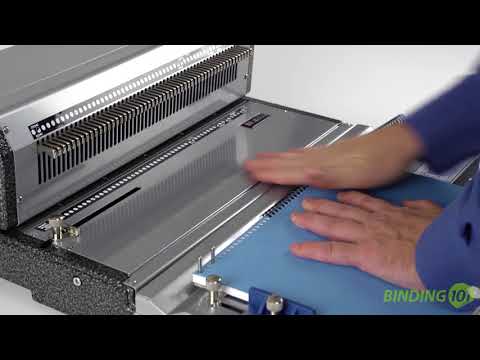 Akiles Coilmac-M Plus Spiral Binding Machine | Overview
Transcript:
Watch this CoilMac-M Plus video to learn all about the array of features it has to offer, and how it can improve your company coil binding needs.
Watch this CoilMac-M Plus video to learn all about the array of features it has to offer, and how it can improve your company coil binding needs.
Expert Reviews
Expert Product Review: CoilMac-M Plus by Mallory Morsa





Hi everyone! My name is Mallory Morsa, and I am the product expert at Binding101. I have been a part of the Binding101 team since 2008, where I started out in service and sales, learning our customers' needs and how to offer truly exceptional service. After a of couple years, I moved into a role of product management that required in-depth product research, as well as training of our staff. And in my honest expert reviews, I am proud to share that extensive knowledge with you. Take a look at the product review below, which will highlight both the pros and the cons, as well as identify the ideal customer. If you have any questions or need more information, please call our customer care team at (866)537-2244. Thank you for stopping by, and please check out our Binding101 social media channels by clicking the icons above.
I RECOMMEND THIS FOR:
I recommend the CoilMac-M+ for small offices that will punch and bind less than 15 books per month, but who may do thicker books, or books of varying sheet sizes. If you are looking for a small-office machine, but have higher-volume needs, consider the CoilMac-ECI spiral binding machine or the upgraded CoilMac-ECI+, which has a manual punch and an electric inserter. Or if you want something geared more toward an at-home user or an office with less then 5-10 books per month, or perhaps only very thin books are needed, check out the Rubicoil or the standard version of the CoilMac-M.

WHAT I LIKE:
The M+ spiral binding machine is manufactured by Akiles, who has been an above-par player in the binding machine industry for many years now, keeping their quality standards higher than many other manufacturers. The machines they create have proven to me that their goal is really to create higher quality machines for the lower volume markets. This has held true with the CoilMac-M Plus. First off, I like that they created the CoilMac-M standard version, and then created something only slightly more expensive that offers very valuable features… like the fully disengageable pins that let you punch all sheet sizes, as well as the slightly oval holes (instead of round) that make coil inserting (especially for those thicker books) so soooo much easier! So it has all the same quality pieces and components, but with that added value to make binding books less of a hassle and less time consuming, which is important for offices. Don't get confused by these additional features, though, and think that it is for higher volumes, per say… this "plus" version binder machine is for the same lower-volume workloads, but it just makes life a whole lot easier for that volume. I always recommend the plus version because even if the need for easier inserting or paper size variations is not something you need in the moment, the investment to add those features is miniscule compared to the time they save you if you needs or wants ever change.

THINGS TO CONSIDER:
The CoilMac-M+, just like the M standard version, is a completely manual machine; so the punching is done by pulling on a handle, the inserting is done by rolling the coil through each hole, (though it does have a handy removable u-channel table to make it a bit easier) and the crimping is done by hand with the optional hand pliers or a crimping machine. Keep this point in mind when considering your options because this completely-manual punching and binding procedure could be tedious and time consuming. With that observation, however, you should also consider the fact that this is rated as a low-volume machine, so as long as you work within those limits, it may be a good choice for you. You can also always add a separate electric inserter machine down the line if you decide the manual inserting is too difficult (the Roll-@-Coil electric inserter may be a good option for that).

THE BOTTOM LINE:
This spiral binding machine is a great choice for a small office that may do thicker books, or books of many different sheet sizes. It is sturdy, well-built, and has several features to make the book binding process easier. It is fairly simple to use, so many people in the office could use it with little training, or simple self-training by reading the manual and watching our CoilMac-M+ product overview video on YouTube.
Q
Hi. In looking at the coil diameter selector it shows a paper stack from 0-5MM is "green", from 5-17mm is "orange", and from 17-25mm is "grey". On the machine the margin settings are green, orange, blue and (kinda) red. Am I correct in assuming that the grey on the selector corresponds to the "blue" setting on the machine, and that for documents thicker than 25mm I should use the "kinda" red setting? Thanks!
A
You are correct. But that is only a general guide, meaning that if you do not want to constantly change depth margins, you can use green for small and medium-sized coils (6mm to 18mm) and gray for 20mm + coils.