Akiles CoilMac M Standard Manual Spiral Binding Machine
425.49
NewCondition InStock
Akiles CoilMac M Standard Manual Spiral Binding Machine
SWIPE FOR MORE IMAGES
0
1
2
3
4
5
6
7
8
9
10
11
12
Overview
The CoilMac-M by Akiles is one of the most popular manual spiral binding machines in the world. It is more durable than many other machines in the same price range, and offers the perfect blend of features that make it versatile and cost-effective. The five disengageable punching pins allow for more versatility of paper size, as you can stop the machine from punching a specific hole for perfect alignment. It also has a u-shaped channel to create the ideal spine shape to insert
spiral binding coils
, a feature to adjust the hole depth, a side guide to help with hole centering, and a large waste bin. Gain unmatched binding capability when you buy the Akiles CoilMac-M Spiral Binding Machine online today. Just add the
cutter crimper pliers
(not included) to finish the coil ends, and you have a full coil binding solution.
Specifications
Item #
04AKCOILMA
Manufacturer
Akiles Products Inc
Manufacturer Part Number
ACM-M41
Suggested User
Small Office, Medium Office
Binding Style
Spiral Binding / Plastic Coil
Operation: Punching
Manual
Operation: Binding
Manual
Capacity: Punching
17 Sheets
Included Supplies & Accessories
Diameter Guide
Margin Depth Guide
Compatible Supplies & Accessories
4:1 Pitch Spiral Binding Coils
Cutter Crimper Pliers
Dimensions
13" W x 17 ½" D x 18" H
Manufacturer's Warranty
1 Year Limited
Punch & Bind Capability
Punching
Open Ended Punch
Yes
Disengageable Pins
Yes, 5 Pins
Actual Machine Dimensions ( L x H x W)
13" x 17.5" x 18"
Shipping Length
18"
Shipping Width
21.5"
Shipping Height
11"
Shipping (Web) Weight
35 Lbs.
Description
The Akiles CoilMac-M Spiral Binding Machine offers efficiency and productivity & features 53 punching pins, 5 of which are disengageable to prevent those holes from being punched. Because of its high quality components and full range of functions, the Akiles CoilMac M is the most complete and durable piece of Plastic Coil equipment in its class.
5 Die disengagement pins allow for a clean punch with multiple paper sizes. Simply pull the pin on the edge of your paper to avoid punching half of a hole on the binding edge. This feature is especially necessary for odd sheet sizes (smaller or larger than letter size). The Punching Margin Control provides the correct punch margin depth on you binding edge for each spiral binding coil size and maximizes the document's tear resistance. The deeper you set the holes to punch on the paper, the stronger they will hold. The Side Margin Control provides an evenly centered punch for all document sizes, every time. Simply adjust the guide so the holes are centered on your sheet. Remember to complete a test punch before punching your actual application to make sure it is perfectly centered. The CoilMac M also features a Diameter Guide or Coil Selector that will make choosing the correct Spiral Binding Coil Supplies for your book thickness. The open punching throat and continuous punching guide make it easy to punch sheets larger that 14" long. The Coilmac M also features a removable EZ Inserting Table™, which speeds the inserting of the coil, (if inserting manually) reducing costs and binding time. Add the optional cutter crimper pliers for finishing your coils. Also consider the CoilMac-M Plus version of this machine, which features oval holes for easier inserting.
*May vary depending on paper stock and other factors.
Videos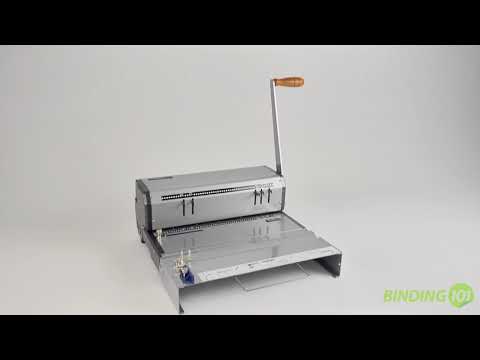 Akiles Coilmac-M Spiral Binding Machine | Product Overview
Transcript:
Watch this CoilMac-M video to learn all about the array of features it has to offer, and how it can improve your company coil binding needs.
Watch this CoilMac-M video to learn all about the array of features it has to offer, and how it can improve your company coil binding needs.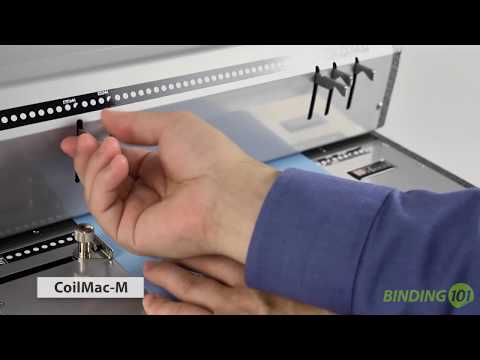 Differences Between the CoilMac-M and CoilMac-M PLUS Spiral Binding Machines
Transcript:
Learn the differences between the CoilMac-M and the CoilMac-M Plus spiral binding machines in this video.
Learn the differences between the CoilMac-M and the CoilMac-M Plus spiral binding machines in this video.
Expert Reviews
Expert Product Review: CoilMac-M by Mallory Morsa





Hi everyone! My name is Mallory Morsa, and I am the product expert at Binding101. I have been a part of the Binding101 team since 2008, where I started out in service and sales, learning our customers' needs and how to offer truly exceptional service. After a of couple years, I moved into a role of product management that required in-depth product research, as well as training of our staff. And in my honest expert reviews, I am proud to share that extensive knowledge with you. Take a look at the product review below, which will highlight both the pros and the cons, as well as identify the ideal customer. If you have any questions or need more information, please call our customer care team at (866)537-2244. Thank you for stopping by, and please check out our Binding101 social media channels by clicking the icons above.
I RECOMMEND THIS FOR:
I recommend the CoilMac-M for small offices, or even potentially individual users who scrapbook or bind their own little coil books. I would say that anyone that does more than 10-15 or so books per month may want to consider upgrading to the CoilMac-ECI coil binding machine. Or if you want something geared more toward an individual or at-home user, check out the Rubicoil.

WHAT I LIKE:
The quality of the CoilMac-M is something that sets it apart from other low-volume spiral binding machines. It is a great investment over cheaper machines, and can pay for itself quickly, as compared with paying to have your books bound at a binding or printing shop. It is sturdy and well-made with metal parts, (not like those cheapy plastic machines) and offers good value for the price. I love to use this for hand-made notebooks (click for fun spiral coil binding ideas), little scrap books, and other book binding craft projects.

THINGS TO CONSIDER:
The CoilMac-M spiral coil binder is a completely manual machine, so the punching is manual, (with a handle that you pull) the inserting is manual, (so you have to roll the coil all the way through the holes) and the crimping is manual (using the optional cutter crimper pliers). Keep that in mind when making your choice, because the all-manual process can be tedious. But in all reality, this is a low-volume machine, so as long as you work within those parameters, it should be pretty easy. And you can always upgrade and buy a separate electric inserting machine, such as the Roll-@-Coil, if you decide it is too difficult to roll in the coils by hand. This is also a "standard" punch, which has round holes, so if you make thicker books (I would say, right around 1/2" [12mm] or so), then you may consider the "plus" version with oval holes because it makes inserting the coil much easier and less likely to catch on the pages. This standard version also has just a few disengageable punching pins, whereas the plus version has fully disengageable pins; so if you are needing to do a wide variety of sheet sizes, then the plus version may be a better option as well.

THE BOTTOM LINE:
The CoilMac-M is a great machine for a small office… it is sturdy, looks pretty nice, and punches clean holes. A 1 year manufacturer's warranty only plays into the positives of this machine, as so many machines in the low-volume market have warranties worth 90 days or less. It is fairly easy to use, so multiple people in the office can bind without a lot of training or reading up in the manual. If you are doing less than 10-15 books per month, and the books are on the thinner side (less than 1" thick), and are all common sheet sizes, than the CoilMac-M is a great option.