Rhin-O-Tuff Coil Binding System 3000
1499.99
NewCondition InStock
Rhin-O-Tuff Coil Binding System 3000
Overview
The Rhin-O-Tuff Coil Binding System 3000 is the world's very first desktop coil binding machine that combines all three steps of binding --including electric punching, coil insertion and coil crimping-- into one compact and modernly designed machine that is the perfect choice for nearly any office with a medium volume binding requirement. The intuitive controls make the 3000 binding machine extremely user-friendly, and the perfect solution for creating professional bound books. See just how much this machine can streamline your office operations; buy the Rhin-O-Tuff Coil Binding System 300 online now.
Specifications
| | |
| --- | --- |
| Item # | 04PDICBS3000 |
| Manufacturer | Rhin-O-Tuff® |
| Manufacturer Part Number | CBS3000 |
| Suggested User | Medium Office, Large Office |
| Binding Style | Spiral Binding / Plastic Coil |
| Operation: Punching | Electric |
| Operation: Binding | Electric |
| Capacity: Punching | 20 Sheets |
| Compatible Supplies & Accessories | 4:1 Pitch Spiral Binding Coils |
| Power Voltage | 115V AC 60Hz |
| Dimensions | 18 ³/₁₀" W x 18" D x 12" H |
| Manufacturer's Warranty | 1 Year Limited |
| Country of Manufacture | USA |
| Punch & Bind Capability | Yes |
| Maximum Binding Edge | 11-7/10" [With Open Throat] |
| Open Ended Punch | Yes [Allows for up to 23.4" Documents with a 2nd Punch] |
| Throat Depth | Adjustable Margin Control |
| Disengageable Pins | 47 Disengageable Pins |
| Pitch / Hole Pattern | Spiral Binding 4:1 (.2475) Oval Holes |
| Product Weight (lbs) | 65 |
| Shipping Weight (lbs) | 75 |
Description
The Rhin-O-Tuff Coil Binding System 3000 is a step above anything else in it's class, with a variety of features and benefits that make it the perfect choice for any office environment that has medium-duty binding requirements. The sleek, black design fits well into any office and provides a premium look that other gray or multi-colored machines don't offer. A simple design means you don't have to be intimidated by a bunch of dials and buttons; the System 3000 offers an ease-of-use that no other machine in it's class has, making it great for an environment where they may be multiple users. The small footprint of the System 3000 means it doesn't take up valuable real estate in your office, and offers both punching and coil inserting in the same compact unit.
The Rhin-O-Tuff System 3000 offers vertical punching, which helps keep pages aligned with the use of gravity. An LED panel indicates the operation mode for the user and the open ended punching throat means that you are not limited to only letter size or A4 documents, you can actually use a sheet as long as 23.4" by simply flipping and aligning the sheets and punching a second time.
A unique feature of the 3000 coil binding machine is the two full-size coil rollers that are made of an extremely smooth material that doesn't just tear the coils through your paper, offering a gentle and accurate coil insertion. The bottom roller adjusts to fit whatever size coil you are working with, including even 50mm large coils, improve binding efficiency. The powered electric crimper is another feature that is rare in this class of binding machinery, and will cut and offer a strong crimp on all sizes of coil, including 50mm, eliminating the need for hand crimpers. Additionally, a special 0.2475" 4:1 pitch hole spacing with oval 4mm x 5mm holes make coil insertion even easier.
The Rhin-O-Tuff 3000 spiral binding machine features 47 fully disengageable pins, so you can deactivate specific holes for special sheet sizes and perfect hole alignment. A toggle switch can make the foot pedal activate either the punching or the crimping, allowing the operator to use both their hands to handle the document. The punch margin is adjusted with a control dial, so you can set the perfect depth for different size bindings.
Key Features:
Oval 0.2475 pitch spacing, for a perfectly spaced letter size document and making it extremely easy to insert even large coils
The only machine in it's class that features LED indicators for operation
The only machine in it's class that features a built-in electric crimper
Dual rollers that are extremely smooth and won't rip the coil through like some other coil inserters
Electric crimping of coils up to 50mm, which is very rare for any electric crimper
The crimper shield is coordinated with the rollers, so as the rollers are opened the shield is opened to accommodate the same size
Manual micro adjustments can also be made
Extra large waste drawer offers less emptying requirements and a clear window let's you see when emptying is needed
The small footprint and capability to electrically punch, bind and finish, along with the sleek look, make this perfect for any office with medium duty needs
No machine maintenance required
* Approximation based on standard 20 lb. bond copy paper. May vary depending on paper stock.
Videos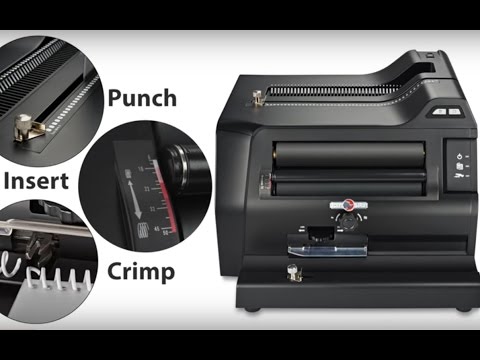 Rhin-O-Tuff® Coil Binding System 3000 (CBS3000) - Overview
Transcript:
Finally, the Truly All-In-One solution for binding documents with spiral coil. The Coil Binding System 3000. From Rhin-O-Tuff comes a single machine that is a puncher, inserter, and crimper. A powerful 20-sheet electric punch, a perfectly timed coil inserter, a fully adjustable power crimper, all in a compact 18 square-inch footprint. Let's take a look at the punch. The punch throat is top-loading and easy to use. The electric punch is initiated either by a push button on the front of the machin...
Read More
Finally, the Truly All-In-One solution for binding documents with spiral coil. The Coil Binding System 3000. From Rhin-O-Tuff comes a single machine that is a puncher, inserter, and crimper. A powerful 20-sheet electric punch, a perfectly timed coil inserter, a fully adjustable power crimper, all in a compact 18 square-inch footprint. Let's take a look at the punch. The punch throat is top-loading and easy to use. The electric punch is initiated either by a push button on the front of the machine or by foot pedal. With stacks of up to 20 sheets at 20-pound paper, you're free to choose the depth of margin best suited for your size document. The open throat design allows for all lengths of paper. A sturdy edge guide keeps all sheets of a single run consistent, and fully disengageable die pins allow for total customizable control. Inserting the coil can be the most tedious of endeavors, but no longer. This electronic coil inserter is built to accommodate six to 50 mm sized coils with ease. A push of a dedicated button starts the roller that has been precisely timed for optimal coil insertion. Not too fast, not too slow, with great grip.


Step three is coil crimping. Usually done by hand or a separate machine, it is now seamlessly a part of this one perfect system. Again, a solid metal edge guide allows you to set it and forget it. And along with fine tuning controls, it crimps perfectly every time. Coil binding has never been so simple, sleek, or convenient. The Coil Binding System 3000, by Rhin-O-Tuff.
Expert Reviews
Expert Product Review: System 3000 by Mallory Morsa





Hi everyone! My name is Mallory Morsa, and I am the product expert at Binding101. I have been a part of the Binding101 team since 2008, where I started out in service and sales, learning our customers' needs and how to offer truly exceptional service. After a of couple years, I moved into a role of product management that required in-depth product research, as well as training of our staff. And in my honest expert reviews, I am proud to share that extensive knowledge with you. Take a look at the product review below, which will highlight both the pros and the cons, as well as identify the ideal customer. If you have any questions or need more information, please call our customer care team at (866)537-2244. Thank you for stopping by, and please check out our Binding101 social media channels by clicking the icons above.
I RECOMMEND THIS FOR:
Offices with medium workloads, looking for a compact, all-in-one machine that will punch, insert and bind coils. It would be a great option for a newer print and bind shop to get them through their start-up workloads until their needs increase to something more like the heavy-duty tabletop punches. The System 3000 is also ideal for anyone with only a small space to work with, because all functions are in one compact machine, so no additional machines for inserting or crimping are not needed.

If you need a more heavy-duty machine, consider the Rhin-O-Tuff® OD4012 Onyx Punch Machine, built for a bit more volume than the System 3000 with a more powerful punching motor. If you are doing lighter workloads than this, consider the CoilMac ECI, which is a manual punch with electric inserter and manual crimper pliers.

WHAT I LOVE:
Everything! No seriously… I love everything about this binding machine (is that weird for me to say?). It has everything to do with the fact that there is no other all-in-one binder in the office-machines class that is able to punch, insert and bind in a single, fair-priced unit. The fully disengageable pins let you completely customize your punch to prevent half-holes on your books, so you can really get creative with your spiral bindings. The System 3000 also makes inserting coil much easier than it would normally be with full-length rollers that can be adjusted for large coils, small coils, and everything in-between. The oval holes only add to the ease of inserting, so there are no more coil jams or re-alignments needed. My favorite part about the System 3000 spiral binding machine is probably the fact that it has an attached electric cutter and crimper, which is unheard in this class of binding machines. I am sure many of you feel the pain I do when crimping multiple books; that cramping and soreness that comes from using regular crimper pliers for too long... well, this electric crimper eliminates that pain completely (what a relief). The style and look of this binding machine is also great, in a sleek black that fits in well with other office equipment. Lastly (and most importantly to anyone with a budget... which is everyone, right?), the price of this machine is unbeatable for the features you get. If you wanted to be able to electrically punch, electrically insert and electrically cut and crimp your coils, you would normally have to invest into two or three different machines, but with the System 3000 you get everything in one, attractive unit.

THINGS TO CONSIDER:
I would say that the only thing to consider when looking at the System 3000 machine is the warranty; Rhin-O-Tuff backs a 1 year limited warranty on this machine, as compared with a 3 year warranty on most of their other heavier-duty machines. But in reality, a 1-year warranty is very common for machines in this class, so it is right on par with other companies. It is also a little bit heavy at 60 lbs, (with all those feature in one unit, that is to be expected, right?!) but it has a compact square design, so is still pretty easy to move around. Just don't get confused by all the electric features... because they're so awesome, some people think the System 3000 is good for high-output, but it was not built for that and should only be used for medium-duty workloads.

THE BOTTOM LINE:
The Rhin-O-Tuff® System 3000 is the perfect machine for any office with medium coil binding workloads. The all-electric, all-in-one features (including oval hole punching, dual, adjustable roller inserters, and electric cutting and crimping) as well as user-friendly controls make it my favorite office binding machines out there. To top it all off, it has a clean and modern design that would fit well in any office. I want to send a personal thank you to Rhin-O-Tuff® for being the first to finally create a machine like this that does it all.