MBM Triumph™ 4300 16 ⅞" Stack Cutter
1209
NewCondition InStock
MBM Triumph™ 4300 16 ⅞" Stack Cutter
Overview
The Triumph™ 4300 stack cutter is built for precision, safety and ease-of-use.It features an adjustable clamp pressure, making it great for even sensitive paper stocks. It can power through a stack up to 3/4" thick and 16 ⅞" long with the pull of a handle. This manual tabletop stack paper cutter makes a perfect addition for offices with multiple users, as it features the MBM SCS "safety cutting system" to ensure operator protection. This safety system includes an array of features including a transparent cover on the front and back tables that, when open, will not allow the blade to be engaged, as well as blade depth adjustments being achieved from outside of the machine. A fairly small footprint for a tabletop cutter, the Triumph™ 4300 has a footprint of 22 ½" x 28" on any stable work space, but it can also be mounted to an optional stand. For an economically priced, but quality paper cutter, buy the MBM Triumph™ 4300 16 ⅞" stack cutter online.
Save more with the optional MBM Triumph™ 4300 16 ⅞" Stack Cutter Package. This package includes Triumph 4300 cutter, stand, knife, and cutter sticks (6pk).
Specifications
| | |
| --- | --- |
| Item # | 04MBM4300 |
| Manufacturer | MBM Corporation |
| Manufacturer Part Number | CU0449 |
| Brand Name | Triumph™ |
| Operating Method | Manual |
| Dimensions | 28" W x 22 ½" D x 18 ½" H [47 ½" H with Optional Stand, 46 ¾" H with Optional Cabinet] |
| Base Footprint | 28" W x 22 ½" D |
| Manufacturer's Warranty | 1 Year Limited Defective |
| Size | 16 ⅞" |
| Cutting Width | 16-7/8" |
| Cutter Capacity* | 7/10" Thick Stack (About 180 Sheets) |
| Narrow Cut | 1 ½" |
| Length Behind Blade | 13-3/8" |
| Cutter Memory | No Memory |
| Shipping Weight (lbs) | 95 |
Description
Like all MBM Triumph™ cutters, the model 4300 cutter is renowned world-wide for precision, safety, and ease of use. The safety cutting system "SCS" features guarantee user safety when operating this cutter. A hinged, transparent safety shield on the front & back tables features a locking device for the blade lever. The patented, lever-activated clamp provides an even supply of pressure on your paper stock. This pressure helps keep your papers from shifting or sliding, allowing for perfect square cuts.
The MBM Triumph™ 4300 is a compact cutting solution perfect for print shops, schools, and businesses with limited space. It is constructed of all-metal making it heavy duty cutter that will last for years. Add the optional stand for a free standing cutter. Or you can save more with the optional MBM Triumph™ 4300 16 ⅞" Stack Cutter Package. This package includes Triumph 4300 cutter, stand, knife, and cutter sticks (6pk).
*May vary depending on paper stock
Videos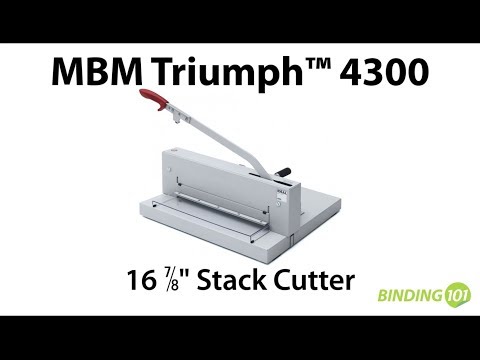 MBM Triumph™ 4300 Professional Paper CUtter
Transcript:
The Triumph 4300 manual tabletop cutter has a cutting width of 16 ⅞", and a cutting height (capacity) of 3/4". The 4300 features a transparent safety guard on the front table and a locking device on the blade lever, which is part of the safety cutting system. The measurement scale on the side guide ensures precise back gauge setting. The patented lever activated manual clamping system allows the clamp pressure to be easily adjusted for different paper qualities. High quality blades made of sol...
Read More
The Triumph 4300 manual tabletop cutter has a cutting width of 16 ⅞", and a cutting height (capacity) of 3/4". The 4300 features a transparent safety guard on the front table and a locking device on the blade lever, which is part of the safety cutting system. The measurement scale on the side guide ensures precise back gauge setting. The patented lever activated manual clamping system allows the clamp pressure to be easily adjusted for different paper qualities. High quality blades made of soligen steel ensure a perfect cut, every time.

For more information or to place an order, call Binding101 at (866)537-2244 or visit us online at https://www.binding101.com/mbm-triumph-4300-16-7-8-manual-paper-cutter