Martin Yale J1811 Padding Press
204.96
NewCondition InStock
Martin Yale J1811 Padding Press
Overview
An economical option, the Martin Yale® J1811 padding press is a simple and convenient tool that will help you create perfect pads of paper. It will secure stacks of paper evenly, and keep them firmly in place while you apply padding glue to the exposed edge. Two clamps and a clamping bar provide even pressure for consistent pad results, and the removable back helps you square your stack perfectly prior to lifting it out of the machine and applying the adhesive. Ready to DIY pads of paper in small to medium volumes? Buy the Martin Yale® J1811 padding press online.
Specifications
| | |
| --- | --- |
| Item # | 04MYJ1811 |
| Manufacturer | Martin Yale Industries, LLC |
| Manufacturer Part Number | J1811 |
| UPC/EIN | 11991018110 |
| Operating Method | Manual |
| Capacity* | 11" High Stacks |
| Dimensions | 19" W x 11" D x 13" H |
| Manufacturer's Warranty | 180 Day Manufacturer's Warranty (Extended Warranties Available) |
| Quantity | 1 |
| Sheet Size | 5 ¾" x 17 ¾" (Maximum) |
| Product Weight (lbs) | 18 |
| Shipping Weight (lbs) | 20 |
Description
The affordable Martin Yale J1811 Padding Press makes it easy to create professional carbonless forms, notepads, business forms, and scratchpads. With a height capacity of 11", the J1811 model is best for smaller padding jobs. This press is contructed of metal for durability and is slightly angled for creating an even and straight edge.
The main function of a padding press is to hold stacks of paper evenly and firmly in place while the operator applies the padding compound (glue) to the exposed edge. The Martin Yale J1811 requires no assembly. Simply remove from the box, slide the back panel in and you are ready to begin. Start by adding your stacks of paper on the table, flush against the back panel. Place the clamp plate on top of the stack, slide down the wing screws and fully tighten them by hand. Remove the back panel exposing the edge to be glued. Apply the appropriate padding compound with a brush and let it dry. Once dry to the touch, you can remove the stack and if needed, use a padding knife to separate individual pads.
When padding carbonless forms (ncr paper), a special padding compound, Fan-A-Part Padding Glue, is used. This glue automatically seals each set of carbonless sheets together, eliminating the need to separate them using a padding knife.
For regular papers, our standard fast dry or extra fast dry padding compounds can be used.
Expert Reviews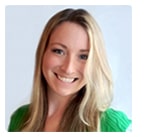 J1811 Review by Mallory Morsa
About Our Expert • Mallory Morsa has worked in several different departments in her 10+ years at Binding101. Beginning in customer service and sales, she honed in her skills to provide the customer with professional, fast, and accurate information. Shortly after, she was promoted to sales supervisor and product expert, gaining hands-on and in-depth product research as well as training the team on new products. She now holds the position of content specialist, taking her extensive knowledge of our products and putting it on the web for you to access at any time. In her expert reviews, she outlines the good and the bad of products that she has handled herself, and uses her experience to identify the ideal users. If you have any questions or need more information about this product, please call our trained customer care team at (866)537-2244. Thank you for stopping by!




I RECOMMEND THIS FOR:
The J1811 pad press is the perfect entry-level pad machine for those just starting out, or for small businesses that want the ability to make notepads on demand, without having to hassle with high minimums or expensive upcharges from outsourcing.

WHAT I LIKE ABOUT IT:
This little tabletop padder has all of the essentials, without extra bells and whistles. That makes it super easy to use. Lay your stacks up against the back board, clamp them down, slide the backboard up (the handle makes it easy to grip and slide up) and apply the glue; easy peazy! Plus, for the fairly small footprint, you can pad quite a lot of pages at one time; two 11" high stacks, to be exact. The single full-width clamp is great whether you're doing one or two stacks, and the little glue catcher will catch any drips or runoff once you apply your glue, so you don't have to worry about glue dripping on the floor or your work table

THINGS TO CONSIDER:
Because this is a basic unit, you may need a few additional accessories to make higher volume padding simpler. A paper jogging block, for example, can help you align the stacks properly. Some other units out there have a tilt feature that can be a major benefit to assist jogging the tall stacks, but they are quite a bit more expensive, so those particular units don't fall into the same class of machine. Other than that consideration, I really thing this little system is a great choice.

THE BOTTOM LINE:
There really isn't too much to say about this simple machine except that it makes creating your own pads of paper, in a huge variety of sizes, easy as pie. It is affordable so even small at-home businesses can work it into the budget, while still offering the functionality and capacity of a larger operation. It is one of the most popular padding systems available with our customers, and it is easy to see why.

Q
Do you have a glue remover or a suggestion on how to remove glue from the machine?
A
You can use a product such as rubbing alcohol or GooGone to remove dripped glue on the machine. To make the glue easier to remove in the future, you can also spray a coat of oil to the drip surface, such as cooking spray; just make sure not to spray anywhere where the paper may touch.