Akiles CardMac Plus Full-Bleed Electric Business Card Cutter
Akiles CardMac Plus Full-Bleed Electric Business Card Cutter
Overview
If you need an inexpensive electric business card slitter for your low volume card cutting needs, then buy the Akiles CardMac Plus business card cutter online. Featuring a gutter cut, this business card cutting machine can create full-bleed business cards so you can have ink that goes all the way to the edge of your card, without worrying about the ink from one card appearing on the card next to it. A 10-up cut format, the CardMac Plus will cut a total of ten standard 2" x 3 ½" cards per sheet of paper, and can cut at speeds up to 30 cards per minute. This desktop business card cutter is simple to operate and requires two passes through the machine to create your cards. First, print out your sheet onto letter size paper up to 350 GSM thick using the appropriate
template
. Center your page in tray 1 and feed it through. Once your sheet exits, place one of the two strips of cards into the second tray and make sure the red arrow is lined up between the 3rd and 4th cards. Press the sheet flush against both back stops, and aligned to the right of the tray, then push the tray in to make the final cut. Repeat this step for the second strip of cards, and you're done. The Akiles CardMac Plus is an affordable solution for professionally cut business cards, and fits comfortably on any desktop for use in an office or at home.
Specifications
| | |
| --- | --- |
| Item # | 04AKCARDMACPL |
| Manufacturer | Akiles Products, Inc. |
| Manufacturer Part Number | ACM-PLUS |
| Brand Name | Akiles |
| Operation | Electric |
| Operating Method | Electric |
| Power Voltage | 110V |
| Speed | 30 Cards / Minute |
| Dimensions | 15" W x 12" D x 7" H |
| Manufacturer's Warranty | 90 Day Limited |
| Can Cut Materials | Paper [Maximum of 350 GSM Card Stock / 120 lb. Cover] |
| Sheet Size | 8 ½" x 11" [Letter Size] |
| Capacity* | 1 Sheet |
| Cut Format | 10-Up [10 Cards per Sheet] |
| Gutter Cut [For Full-Bleed Cards] | Yes |
| Finished Card Size | 2" x 3 ½" [Standard Business Card] |
| Actual Machine Dimensions ( L x H x W) | 17" x 12-1/2" x 7" |
| Shipping Length | 20" |
| Shipping Width | 11" |
| Shipping Height | 10" |
| Shipping (Web) Weight | 18Lbs. |
Description
Known as the most affordable electric business card cutter available, the CardMac Plus from Akiles is built to handle standard letter size 8 ½" x 11" paper and will cut a traditional 10-up format, which creates ten cards per sheet. It can handle paper stock up to 350 GSM, cutting one sheet at a time with strong, heat-treated steel blades, and will make the perfect addition to any office with low to medium-volume on-demand cutting needs. This means your employees can print and cut their own business cards whenever they are needed, so you can stop spending time and money outsourcing.
One huge reason why the CardMac Plus is so popular is the gutter-cut feature, which allows for the ability to create full-bleed business cards where the ink runs to the edge of the card. The gutter cut creates a thin strip between each card, which stops the design from one card, running over to the next one. Without this feature, your card designs can overlap each other; but with the gutter cut, your cards come out clean and professional.
With this full bleed business card cutter, you can create professional business cards from the comfort of your home or office. It is so simple to use that anyone in your office can do it. Just follow these easy CardMac Plus instructions:
① Use one of the CardMac Plus templates to create your business card design. You can download the template in either PDF, Microsoft Word, or Microsoft Publisher formats.
② Print your designs onto the card stock or paper of your choice, up to 350 GSM thick, and place it onto tray one of the CardMac Plus.
③ Adjust the side guide knob to fit the sheet properly. The center point of your sheet should line up with the red arrow. If it doesn't, then adjust the tray by using the knob below the tray.
④ Once aligned correctly, feed the sheet through the tray. Discard the three waste strips, and you will have two strips of paper with five cards on each.
⑤ Place one of these strips onto tray two, and line up the red arrow between the 3rd and 4th cards on your sheet. If needed, you can adjust the side margin guide to align them correctly.
⑥ Place the sheet flush against the two back stops, and the right side of the tray.
⑦ Once aligned, use both of your thumbs to press the tray into the machine. Repeat this step for the second strip of cards, and you will have a stack of finished business cards ready for distribution.
If you are ready to start making your own business cards quickly, efficiently, and affordably on-demand, then buy the Akiles CardMac Plus online. It offers simple card cutting of up to about 30 cards per minute and is so easy to use, anyone can do it.
Videos
Expert Reviews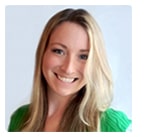 CardMac Plus Expert Review by Mallory Morsa
About Our Expert • Mallory Morsa has worked in several different departments in her 10+ years at Binding101. Beginning in customer service and sales, she honed in her skills to provide the customer with professional, fast, and accurate information. Shortly after, she was promoted to sales supervisor and product expert, gaining hands-on and in-depth product research as well as training the team on new products. She now holds the position of content specialist, taking her extensive knowledge of our products and putting it on the web for you to access at any time. In her expert reviews, she outlines the good and the bad of products that she has handled herself, and uses her experience to identify the ideal users. If you have any questions or need more information about this product, please call our trained customer care team at (866)537-2244. Thank you for stopping by!




I RECOMMEND THIS FOR:
The CardMac Plus fits well into an office environment where you want to achieve professional business card cutting results for your entire staff. The electric action makes it fast and hassle-free, while the gutter cutting allows for full bleed cards, so you don't have to limit your designs. Incredibly affordable, this machine is much more efficient than others on the market.

WHAT I LIKE ABOUT IT:
Let's start with the sticker price! The CardMac Plus is priced to sell at only a few hundred dollars. Other electric machines are sold for nearly one thousand (or more), so this unique machine brings electric cutting to a new market of users. With it, smaller and mid-sized offices can print and cut their own business cards on-demand.

Along those same lines, it is rare to find a card slitter for less than a thousand dollars that is also a gutter gut. The gutter cut feature creates a small strip of waste between each card, which essentially allows you to have full-bleed printed cards, without the possibility of registration issues that cause one card design to overlap onto another.

THINGS TO CONSIDER:
I had some trouble getting the machine set up to cut. The guides could use a re-design to make it easier. But the reality is that this is just an "assembly" problem; once you set it up once, it is good-to-go.

THE BOTTOM LINE:
For a fast, hassle-free, and affordable way to cut full bleed business cards in-house, the CardMac Plus from Akiles and Binding101 is an awesome choice. It is a great quality machine, built with strength in-mind, that (as Akiles always manages to do) fits into a group of clientele that didn't have an appropriate option in the past.

Q
can this cut cards into the size of 54*86mm ?
A
This card cutter only cuts business cards in the standard 10-up format/size, which is 2" x 3.5", so no, it will not cut cards measuring 54mm x 86mm (approx 2.13" x 3.39"). The CardMac PRO, however, does have adjustable slitter heads, and you can learn more about this cutter here: https://www.binding101.com/cardmac-pro