Swingline™ GBC® CombBind® C800pro Electric Comb Binding Machine
3004.39
NewCondition InStock
Swingline™ GBC® CombBind® C800pro Electric Comb Binding Machine
Overview
The Swingline™ GBC® CombBind® C800pro is a rugged, heavy duty electric binding machine that makes a great addition for high volume binding locations, such as large offices and commercial print shops. An industry trusted brand and model, the C800 pro has been a premium choice among heavy volume offices for decades, offering the power and durability that your office demands. Disengageable punch pins allow for a variety of sheet size opportunities, giving you full control over the punching pattern. The premium electrical motor will punch through up to 25 sheets at a time*, activated with a foot pedal to leave both of your hands free for document handling. There are no limitations with the C800pro binder, as it can handle the full range of plastic binding comb sizes with ease.
Specifications
| | |
| --- | --- |
| Item # | 04GBCC800P |
| Manufacturer | Swingline GBC |
| Manufacturer Part Number | 27170 |
| UPC/EIN | 013465271700 |
| Suggested User | Large Office |
| Binding Style | Plastic Comb Binding |
| Operation: Punching | Electric |
| Operation: Binding | Manual |
| Capacity: Punching | 25 Sheets |
| Compatible Supplies & Accessories | Plastic Binding Combs |
| Power Voltage | 115V |
| Dimensions | 18.50" D x 19.31" W x 14.88" H |
| Certifications | CE |
| Manufacturer's Warranty | 1 Year Limited |
| Punch & Bind Capability | Yes |
| Maximum Binding Edge | 12" |
| Open Ended Punch | No |
| Throat Depth | Adjustable |
| Disengageable Pins | Yes, All [21 Pins] |
| Pitch / Hole Pattern | Plastic Comb [Rectangle Holes] |
| Product Weight (lbs) | 52 |
| Shipping Weight (lbs) | 54 |
Description
The Swingline™ GBC® CombBind® C800pro Electric Comb Binding Machine is designed for heavy use, perfect for commercial print shops or large office environments. The C800pro has been sold for decades and has always delivered power and durability. This machine will punch sheets up to 12" long. With fully disengageable pins, both standard and unusual sheet sizes can be punched without any partial holes on the ends. The motor powers through up to 25 sheets in one punch. A Depth Margin Control feature allows the operator to select the optimal margin depth for each book size. The C800pro is capable of binding with all plastic comb sizes from 3/16" up to 2".
Videos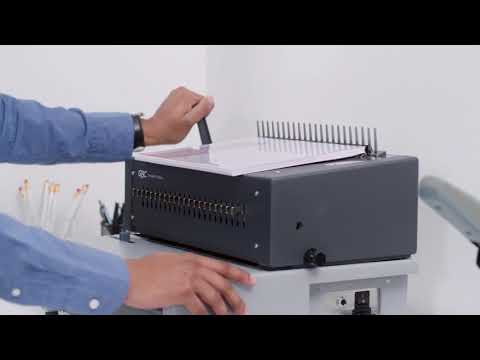 GBC CombBind C800 Comb Binding Machine
Transcript:
This finishing powerhouse delivers the capacity and durability you need. Designed for heavy binding users, the C800pro features adjustable pins to allow punching of any size document up to 12" wide. The CombBind® spine design allows pages to lie flat and edits can easily be made.
This finishing powerhouse delivers the capacity and durability you need. Designed for heavy binding users, the C800pro features adjustable pins to allow punching of any size document up to 12" wide. The CombBind® spine design allows pages to lie flat and edits can easily be made.
Expert Reviews
CombBind C800 Pro Expert Review by Mallory Morsa
About Our Expert • Mallory Morsa has been with Binding101 since 2008, where she started out in customer service and sales, perfecting her already prevalent skills to provide customers with professional, accurate, and fast information. Shortly after, she was promoted to sales supervisor and product expert, gaining hands-on and in-depth product research and training the staff. She now holds the position of content specialist, taking her extensive knowledge of our products and putting it on the web for you to access at any time. In her expert reviews, she outlines the good and the bad of products that she has handled herself, and uses her experience to identify the ideal users. If you have any questions or need more information about this product, please call our trained customer care team at (866)537-2244. Thank you for stopping by!




I RECOMMEND THIS FOR:
The C800 Pro from GBC and Binding101 is a heavy duty machine that is ideally suited for daily users, or even for less-frequent users who need to make very thick or larger batches of documents at a time. Schools and businesses both rave about how simple this strong machine is to use.

WHAT I LIKE ABOUT IT:
The most received comment from users of the C800 Pro is about the durability of it; customers comment with things like, "this machine is a workhorse", and "we bind dozes of 300-page handbooks without any complaints". Needless to say, this is also my favorite aspect of this unit – it's strength that truly sets it apart from many other options in the same class.

The electronic punching is also a major benefit. Though for the price point, electric functionality is to be expected. Foot-pedal activated punching makes such a huge difference for users, alleviating back pain and arm strain; anyone who has ever used a manual punch will attest to that. Plus, it is always a key aspect of increased binding speed, since it leaves both of your hands free to prep and handle your documents before and after punching. This also means it is stronger to punch through the actual-specified sheet capacity (unlike other machines that may boast a high page count but, being manually controlled with a handle, can't actually handle it without great strain on your user).

Disengageable pins is always a great thing to ensure whatever machine you buy has. For anyone new to plastic comb binders, this may not seem like a big deal, but it can make a huge difference on your capabilities and professional finish. The ability to prevent the machine from punching any specific hole you need opens the realm of possibilities for sheet sizes, without risking mis-aligned edge margins and half-punched holes. This means it is great for standard letter size, as well as smaller half-size, memo, A4, and any other sheet size that is smaller than 12" long.

For frequent, large-book users who like to use standard binding combs, this is the ideal machine as it can handle the entire range of sizes. IN addition, it can also handle the specialty GBC ZipBind spines, offering more versatility. What may seem like an unimportant feature, the chip tray, is also a perk because of its enormous size so you can empty it less often.

THINGS TO CONSIDER:
One of the notable limitations of the C800 Pro is the binding edge size; it has a closed punching throat, which means that you will not be able to punch for any pages longer than the indicated 12". So if you need to work with legal size 11 x 14, or tabloid size 11 x 17, or any other oversized pages, this will not be the proper choice. Honestly, that is the only noteworthy limitation that may actually affect capabilities; some people comment on the look of the machine being… lets' say "vintage", but that doesn't change the power or simplicity.

THE BOTTOM LINE:
I stand behind the GBC C800 Pro Comb Bind machine when it comes to frequent., thick plastic comb document binding needs using common office sheet sizes. It is powerful and strong, truly built to last for years and years to come. It is a top-of-the-line GBC comb binding machine that offers best-in-class quality and output, alleviating strain and tiring handle-pulling for your operators.