Book-Aid® Corner Protection Cloth (Box of 96)
Book-Aid® Corner Protection Cloth (Box of 96)
Features a release back liner with adhesive.
Long-lasting 11.5 mil cloth.
Protection for book cover corners with no cutting or measuring required.
Add an attractive and protective look to your hard-cover books
Overview
These Book-Aid® corners have been uniquely designed to repair tears, as well as prevent them, onto the corners of your hard and soft cover books. They wrap around the exposed corners of your book, providing a durable shield against heavy handling. They are made of an 11.5 mil cloth that is durable and flexible. Simple to apply, these peel-and-stick book corners are just applied with the open end facing outward at a desirable angle on your corner, then folded around the cover, one side at a time. These one-size-fits-all corner stickers measure 1-11/16" high and 1-15/16" wide, and are available in a variety of colors. Buy Book-Aid® corner protection cloth online today, and start protecting and preventing further damage on your hard and soft cover book corners. They are a popular solution for libraries, universities and collectors.
Specifications
| | |
| --- | --- |
| Item # | CORNCLOTHBOOKAID-GRP |
| Manufacturer | Book-Aid® |
| Manufacturer Part Number | CORNCLOTHBOOKAID GRP |
| Quantity | 96 / Box |
| Size | One Size Fits All |
| Material | Cloth |
| Book Care & Repair Type | Book Care / Protection, Book Repair, Book Repair Tape |
Description
Book-Aid® Corner Protection Cloth features a release back liner with adhesive for easy and quick application to any book. The long-lasting 11.5 mil cloth offers protection for book cover corners with no cutting or measuring required. These on-size-fits-all corner protection cloth measures 1-11/16" high and 1-15/16" wide. Available in a variety of colors.
Videos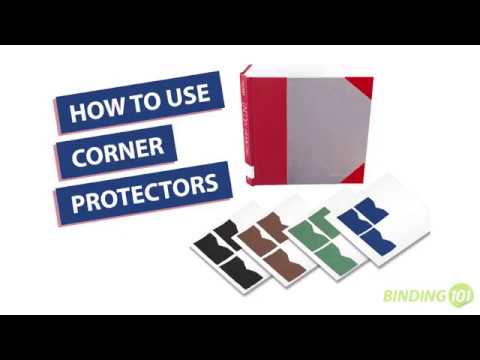 How to Use Corner Protection Cloth
Transcript:
Here's how to apply Corner Protection Cloth to your hard cover books:

First, peel off the adhesive liner.

Now position the cloth over your book with the point of the triangular cut-out lined up to the corner of your book.

Place the cloth down, and rub the adhesive smooth.

Now open your cover, and wrap the hanging edges around, one at a time, pressing them down and smoothing the edges. And that's it!

Pair corner protection cloth with cloth wings to support the spine edges.
Check the lin...
Read More
Here's how to apply Corner Protection Cloth to your hard cover books:

First, peel off the adhesive liner.

Now position the cloth over your book with the point of the triangular cut-out lined up to the corner of your book.

Place the cloth down, and rub the adhesive smooth.

Now open your cover, and wrap the hanging edges around, one at a time, pressing them down and smoothing the edges. And that's it!

Pair corner protection cloth with cloth wings to support the spine edges.
Check the links in the description for more, or visit Binding101.com