HIX HT-400 Digital Manual Clamshell Press
1075
NewCondition InStock
HIX HT-400 Digital Manual Clamshell Press
Overview
The HIX® HT-400 Clamshell Press machine sets the standard in the manual heat press industry because of its ruggedness, durability, and years of trouble free performance. The HT-400 has 15" x 15" heat platen that can apply all types of transfers on items up to 1" thick. The new and improved touch screen offers pre-set temperature and time combinations that can be easily programmed, as well as displays the current pressure, which is adjustable with the black dial on the ace of the heat press.
Specifications
Item #
04HIXHT400P
Manufacturer
HIX Corporation
Model
HT400P
Operating Method
Manual
Compatible Supplies
HIX Pad Protector
HIX PTFE Sheets
HIX Shirt Splitter Stand
HIX 4-Way Specialty Replacement Platen
Power Voltage
120 V
Certifications
CE, ETL, UL, CSA
Manufacturer's Warranty
1 Year (Parts), Lifetime (Heating Element)
Quantity
1
Heat Press Type
Clamshell Press
Platen Size
15" x 15"
Adjustable Pressure
Full Range Pressure Adjustment with Digital readout (0-9)
Heat Press Capacity
Up to 1" Thick
Temp Control
Adjustable to 450°F (232°C)
Temperature Read Accuracy
Displays Current Temperature
Heat Press Timer
Digital Timer (Adjustable up to 99 Minutes, 59 Seconds)
Product Weight (lbs)
72
Shipping Weight (lbs)
84
Shipping Information
Shipping Dimensions:23"H x 21"W x 33"D
Description
The graphics industry calls this machine "The Workhorse" for good reason – the HIX® HT-400 Digital Manual Clamshell Press is rugged, durable, and made to perform. A must-have for any serious start-up business, the HIX HT-400 has earned respect for its numerous capabilities and reliability. With over 100,000 units sold throughout the world, this machine is regarded as an industry standard. Many customers have used this heat press for over 30 years of worry-free service. If you're looking for high production capabilities, this is the heat press you need.
The secret to our success is in the casting. Every heat casting at HIX is manufactured in a permanent steel cavity mold using a HIX-exclusive aluminum alloy for maximum heat transfer. The HT-400 has a 15″ x 15″ heat platen that can apply all types of transfers on items up to 1″ thick. The floating lower platen helps provide even pressure on thicker items, no matter where it's applied. HIX presses provide completely even pressure from edge to edge, even at high temps.
The HT-400 features a touch-screen controller that is adjustable up to 999 seconds, shows time countdown on readout, beeps after elapsed time, and resets when the handle is raised. The calibrated digital temperature control is adjustable up to 450°F (232°C) and displays the current temperature.
The HT-600 now comes with a free Splitter Stand. This new feature holds the shirt over the lower platen in a way that keeps the back of the shirt away from the heat and compression. The splitter stand design is the perfect for avoiding double compression and heating of a previously applied transfer on the same shirt. It also avoids all ink migration to the back side of the shirt in the case of sublimation ink.
The easy-to-use open-and-close handle has spring assist and a full range pressure adjustment, provides even pressure on thicker items, and adds 20% more pressure over straight handle designs.
The HT-400 is ETL certified. It has a limited 1-year warranty and a lifetime warranty on the heating element.
Features
Easy integrated digital time and temperature settings – Touch-screen controller allows simple dialing in of time and temperature.
From the touch-screen controller, preset selections of temperature-time combinations can be easily programmed into the machine.
The current pressure is displayed on the touch-screen display each time the press closes. The pressure is easily changed with the black pressure dial on the face of the control housing (clockwise for more, counter-clockwise for less). There are nine settings: 0-3 for light pressure, 4-6 for medium, and 7-9 for heavy. This is a great feature if you need to press a lot of different thicknesses.
Tilting (floating) lower platen – The bottom platen tilts up toward the upper platen as the heat press closes. This equalizes pressure even when pressing thick items, like a quarter-inch thick 8×10" ceramic tile.
Top Pressure Plate – The handle attaches to a 4″x5″ pressure plate on the top platen instead of a single screw going into the top platen. This provides more even pressure on the outside edges of the press (think of it as pushing down with your entire hand, versus just your thumb).
Certified electrically safe (ETL) – The "Electrical Testing Laboratory" seal means HIX presses have passed a rigid and very demanding independent testing process, and have been certified electrically safe.
100% Made in the USA – HIX has its own 110,000 sq ft manufacturing facility with its very own fully integrated aluminum foundry, CNC mill operation, welding, metal forming, wiring, fabrication, assembly, and packaging departments.
A one-year general warranty and lifetime warranty on the heater element.
Videos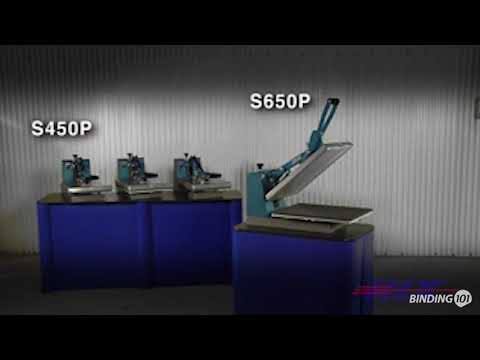 HIX Clam Heat Press Transfer Machines with Automatic Open
Transcript:
At Binding101 we are proud to be partnered with HIX, the largest manufacturer of heat transfer presses. In this video, we quickly overview our line of clam opening presses.

The HIX series clam heat press is the hallmark of rugged, durable, heat transfer machines. The clam opening style takes up the least amount of counter space and requires just one motion to quickly open and close the press for transferring. Automatic opening clam styles are also available so the top pops up once the transfe...
Read More
At Binding101 we are proud to be partnered with HIX, the largest manufacturer of heat transfer presses. In this video, we quickly overview our line of clam opening presses.

The HIX series clam heat press is the hallmark of rugged, durable, heat transfer machines. The clam opening style takes up the least amount of counter space and requires just one motion to quickly open and close the press for transferring. Automatic opening clam styles are also available so the top pops up once the transfer is complete, removing the guesswork; and there is no air compressor needed to operate.

With these swing-away heat press systems, you can achieve professional and clean printing transfers on a huge variety of items. They feature digital timers with alarms, calibrated digital temperature control and display of temperature, as well as full rage pressure control for items up to 1 inch thick. The floating lower and large underside clearance make for easy garment loading and unloading. Both heat press machines are UL, CE, CSA, and ETL standards for user safety.

All HIX Heat Presses are Made in the USA