Keencut Stand Packages for ARC Advanced Rotary Cutters
Keencut Stand Packages for ARC Advanced Rotary Cutters
Compatible with Keencut ARC cutters
Sizes: 42", 60", 80", 100", 120"
Stand package with waste catcher and roll feeder
Comfortable 36" working height
Overview
Add the Keencut ARC Stand Package to your Advanced Rotary Cutter to bring it to an ideal, comfortable working height of 36", which is about waist-height. This stand is incredibly strong, offering a perfectly stable work surface for your jobs, ensuring perfect accuracy; it features a combination of steel and high tensile aerospace aluminum alloy construction. This Advanced Rotary Trimmer stand is fitted with locking castors so can be moved and positioned quickly and easily alongside any wide-format printer or work area. It frees up table space, creating the ideal workstation for your professional trimming needs. The stand package also includes a roll feeder bar so you can cut roll media directly from the roll, as well as a waste catcher to conveniently store trimmed edges and keep them off the floor.
• Stand Package (STP3) for 42" ARC Cutter (ARC107)
• Stand Package (STP6) for 60" ARC Cutter (ARC152)
• Stand Package (STP7) for 80" ARC Cutter (ARC203)
• Stand Package (STP8) for 100" ARC Cutter (ARC254)
• Stand Package (STP9) for 120" ARC Cutter (ARC305)
Specifications
| | |
| --- | --- |
| Item # | 04ROTOST-GRP |
| Manufacturer | Keencut |
| Manufacturer Part Number | STP3 STP6 STP7 STP8 STP9 |
| Dimensions | 36" H |
| Country of Manufacture | England |
| Compatible Equipment | Keencut ARC Advanced Rotary Cutters |
| Product Type | Stands |
Description
Heavy duty stand with locking castors, waste catcher and roll feed bar that can be positioned quickly and easily where required. Stand is 90cm (36″) high and comes in sizes to match the size of your cutter. Please see the dimensions tab for more information.
ARC Stand Key Features:
Waste catcher is fabricated from a single piece of hard wearing plastic coated canvas.
Roll-feed bar is a single length of stainless tube to avoid rolls of material rotating and unwinding.
ARC Stand Package Key Features: All of the Above PLUS
Roll feeder bar between the legs lets you conveniently cut rolled media.
Waste catcher neatly catches trimmed edges.
Videos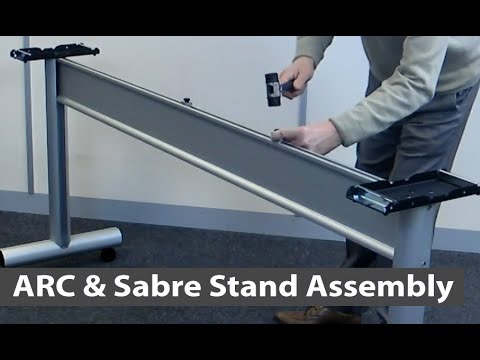 Stand Assembly for ARC and Sabre Cutters
Transcript:
In this video we show you how to assemble the stand and waste catcher kit with roll feed bar for the Keencut ARC Advanced Rotary and Sabre Cutters. A version of the stand without the roll feed bar is available, and assembly is the same up until that portion.

Stand Only Models Available: 42" Model 62362 | 60" Model 62365 | 80" Model 62366 | 100" Model 62367 | 120" Model 62368

Stand Package Models Available: 40" Model 62352 | 60" Model 62355 | 80" Model 62356 | 100" Model 62358 | 120" Model ...
Read More
In this video we show you how to assemble the stand and waste catcher kit with roll feed bar for the Keencut ARC Advanced Rotary and Sabre Cutters. A version of the stand without the roll feed bar is available, and assembly is the same up until that portion.

Stand Only Models Available: 42" Model 62362 | 60" Model 62365 | 80" Model 62366 | 100" Model 62367 | 120" Model 62368

Stand Package Models Available: 40" Model 62352 | 60" Model 62355 | 80" Model 62356 | 100" Model 62358 | 120" Model 62359