Specifications
| | |
| --- | --- |
| Item # | 04AKCOMBMACEX |
| Manufacturer | Akiles Products, Inc. |
| Manufacturer Part Number | ACM-EX19E |
| Suggested User | Large Office |
| Binding Style | Plastic Comb Binding |
| Operation: Punching | Electric |
| Operation: Binding | Manual |
| Capacity: Punching | 25 Sheets |
| Compatible Supplies & Accessories | Plastic Binding Combs |
| Power Voltage | 115 V AC |
| Dimensions | 19" W x 16" D x 10" H |
| Certifications | CE |
| Manufacturer's Warranty | 1 Year Limited |
| Punch & Bind Capability | Yes |
| Maximum Binding Edge | 14" [With Open-Ended Punch For Edges up to 28"] |
| Open Ended Punch | Yes |
| Throat Depth | Adjustable |
| Disengageable Pins | Yes, All [24 Pins] |
| Pitch / Hole Pattern | Plastic Comb [Rectangle Holes] |
| Product Weight (lbs) | 50 |
| Shipping Weight (lbs) | 55 |
Description
The CombMac-EX by Akiles is a new and innovative electric punch and manual comb opener. Built specifically for medium-duty workloads, this attractive new comb binding machine makes a great addition to any office that needs to bind books as frequently as every day, but not as consistently as throughout the entire day**. It has been manufactured with the same high quality parts and mechanics as the Akiles CombMac-24E, but has been built with a smaller motor, which greatly reduces the cost and provides an economical choice for anyone who wants the convenience of high-quality electric punching at a lower price point. This cost-effective electric plastic binder is considered a "plus" machine, which means that all of the 24 punching pins can be disengaged. This feature gives you complete control over which holes will punch and which do not, which is extremely important for anyone who does multiple sheet sizes; without this, you could end up with half-holes on the edges of your custom pages sizes.
Features:

Electric punching through up to 25 sheets* is activated by a foot pedal, leaving both of your hands free to handle your pages
Manual comb opener on front of machine, activated by a handle on the left side of the machine
Standard plastic comb pitch with 5/16" x 1/8" rectangular holes
Open punching throat for punching sheets up to double the length, taking your maximum sheet length from 14" to 28" by just flipping your book and punching your sheets a second time
Adjustable side margin control lets you perfectly center your pages
Punching margin control lets you choose how deep into the book you want your holes set
Large waste drawer, so you can empty it less frequently
All-metal construction and quality parts make this machine very durable
* Based on 20# bond copy paper. May vary depending on what paper stock is used. It is not recommended to punch the full capacity 100% of the time (this is true for all punching machines).
** The CombMac-EX is built with quality parts, but is not meant to run all day and needs to "rest" after every 3 hours of use to prevent overheating.

Reviews
Great little power house

Works very well. My staff calls it a power house.

Great little power house

Works very well. My staff calls it a power house.
Expert Reviews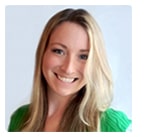 CombMac-EX Expert Review by Mallory Morsa
About Our Expert • Mallory Morsa has worked in several different departments in her 10+ years at Binding101. Beginning in customer service and sales, she honed in her skills to provide the customer with professional, fast, and accurate information. Shortly after, she was promoted to sales supervisor and product expert, gaining hands-on and in-depth product research as well as training the team on new products. She now holds the position of content specialist, taking her extensive knowledge of our products and putting it on the web for you to access at any time. In her expert reviews, she outlines the good and the bad of products that she has handled herself, and uses her experience to identify the ideal users. If you have any questions or need more information about this product, please call our trained customer care team at (866)537-2244. Thank you for stopping by!






I RECOMMEND THIS FOR:
The CombMac-EX is a great mid-level plastic comb binding machine for businesses and schools. It combines the heavy duty parts of the higher volume Akiles machines, with a lower-level motor that allows us to offer it at a much more attainable price point for those mid-level users. If you need a machine that can run all-day, consider the CombMac-24E instead.

WHAT I LIKE ABOUT IT:
The 25 sheet punching capacity is something not typically seen with machines in this price range. It punches with a foot pedal, so both hands are fee to handle the documents, which helps improve accuracy, increase speed, and eliminate mistakes. The attached comb opener means this is an all-in-one punch and bind system to complete your book from start to finish. With a price point under $1000, it easily fits into the budget of most offices, and offer a great value.

THINGS TO CONSIDER:
Before you invest in the CombMac-EX, think about the volume of books you produce. If you determine that you could use the workhorse power of this unit, without overloading it with all-day use, then this unit is a perfect fit. This machine also has clear-cut run times, so you never have to worry about over-working or wearing out the machine – just follow the instructions to let it rest after a maximum of every 3 hours of use.

THE BOTTOM LINE:
The CombMac-EX is a great machine, combining heavy duty features with more affordable components, making it a perfect mid-level punch and bind machine for GBC comb binding spines. Electric punching and manual closing, along with completely disengageable punching pins add to the value of this unit, making is a great choice.

You may also be interested in the following product(s)
Top