White Chicago Screw Posts
White binding posts are available in a plastic material, and two different styles; either standard snap-posts or snap-posts with loops. A bit different than traditional Chicago screws, these posts work best when they are snapped together instead of screwed. They are threaded, which allows them to lock securely in place once they are pressed closed. Though they can technically be pulled apart, they are considered semi-permanent bindings because of the effort required to unbind them. Pliers and force are needed to separate them, depending on the size (longer posts are harder to de-bind). Looped posts have an extended screw head with a hole through it that allows for hanging; this makes them a popular choice for retail signs and even foam boards and swatches. White book binder posts are available in sizes from 1/8" to 2" for the standard style, or 3/16" to 1" for the loop style.
| Style | Standard | Looped |
| --- | --- | --- |
| Sizes Available | 1/8" through 2" | 3/16" through 1" |
| Closure | Snap-Closed (Larger sizes can be screwed) | Snap-Closed (Larger sizes can be screwed) |
| Slotted | Flathead | Flathead |
White plastic book binder posts are a great choice for smaller swatches, school crafts, professional documents, and albums of many kinds.
Bulk pricing is available for most options, so if you need high quantities, remember to call us at (866) 537-2244 or email info@buy101.com.
Read more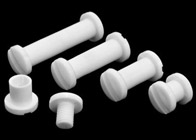 Hi there!
We want to give you $10.
Sign up for Exclusive Email Offers
Success! You're now on the list. You'll start receiving Exclusive Email Offers shortly.
Please copy and use promo code KLEMAILQ121 in your cart.*

* Offer valid once per customer on orders of $50 or more
$10 OFF your first order of $50 or more
Signup For
Exclusive email offers