15" Akiles OffiTrim Plus 1512 Guillotine Cutter (Discontinued)
88.09
NewCondition OutOfStock
15" Akiles OffiTrim Plus 1512 Guillotine Cutter (Discontinued)
Sorry, but 15" Akiles OffiTrim Plus 1512 Guillotine Cutter (Discontinued) is no longer available to buy.
We think you might like one of these instead:
Overview
Affordability meets quality with the Akiles OffiTrim Plus guillotine cutters. Available in a 15" or 18" length, these paper cutters are ideal for businesses and schools who need a simple way to cut through moderate amounts of paper. It can cut up to about 12 sheets at a time and features a guide on the table to allow for easy alignment and precise cuts. The magnetic paper stop holds your sheets in-place while you manually pull down the handle to cut. When not in use, lock the blade in the down position for safety. The hardened steel blade is strong, featuring a convex curve for a smoother and easier slice through pages.
• Model 1512 15" Cutter
• Model 1518 18" Cutter
Specifications
Item #
OFFITRIM-GRP
Manufacturer
Akiles Products, Inc.
Manufacturer Part Number
AOT1512 AOT1812
Operation
Manual
Dimensions
15" Cutter: 23" D x 15" W x 3" H [Table: 15" x 13"]
18" Cutter: 26" D x 18 ¼" W x 3" H [Table: 18" x 16"]
Manufacturer's Warranty
1 Year Limited
Cutter Capacity*
12 Sheets
Can Cut Materials
Paper
Actual Machine Dimensions ( L x H x W)
22.5" x 14" x 3"
Shipping Length
25"
Shipping Width
16"
Shipping Height
6"
Shipping (Web) Weight
9 Lbs.
Description
You can buy the Akiles Offitrim Plus guillotine style cutters online in either a 15" or 18" cutting lengths. They both have the ability to cut through up to 12 sheets of 20 lb. bond copy paper at a time, with a full-length arm that is manually pressed down to achieve the cut. A magnetic paper stop backs up to your stack and sticks firmly to the table so you can align it properly prior to cutting. Both of these features lend to helping you achieve a straight and square finish. When not in use, you can lock the blade down into a protected position to help keep employees safe when it is not in use. The Offitrim tabletop cutter makes the perfect addition to any office, with its durable stainless hardened steel blade featuring a convex curved edge for a smoother and easier-to-apply cut. Both the blade and the work table have been coated with an anti-rust treatment to keep your machine looking and performing like new.
OffiTrim Plus Key Features:
Paper Stopper Guide: With its built-in magnetic strip and locking screw, the paper stopper guide will stay in place after many continuous cuts.
Extra Wide Metal Table with Grid Ruler: Durable metal table with easy to read ruler guides guarantee a fast & precise alignment.
Non-Skid Rubber Feet Safety Lock: Innovative swivel lock system prevents the blade from opening by accident.
Premium Stainless Steel Knife: Refined anti-rust coating. Convex edge, for a more efficient cut.
Automatic Return - Blade returns to the upward position automatically.
* May vary depending on paper stock, operator, and other factors.
Videos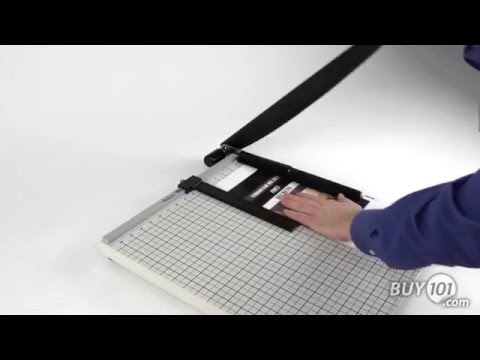 Akiles OffiTrim Plus Guillotine Paper Cutter
Transcript:
Watch the Akiles OffiTrim Plus video to see this guillotine cutter in action and learn about the features plus capabilities of the 15" and 18" models.
Watch the Akiles OffiTrim Plus video to see this guillotine cutter in action and learn about the features plus capabilities of the 15" and 18" models.