Whether you need a manual or electric hole puncher, or configurations for 2 or 3-holes, we have what you need here at Binding101. Our selection of hole punchers ranges from low-volume 3 hole manual punches, up to higher volume electric hole punches that remove the hassle and strain of traditional manual ones.
At Binding101, we carry a great selection of the best office hole punchers that work great for both 3-ring binders, 2-ring binders, 5-hole medical punched files, and more. We even have completely adjustable hole punches that allow you to add or remove holes, change their spacing, and other personalizations. We offer the full line of Martin Yale Master® hole punches, which are known for their quality and popularity with businesses of all kinds. We carry a selection of office-duty and heavy-duty desktop hole punch units that work great for businesses and individuals of many kinds. We also offer unique single-hole paper drills that are perfect for heavy-duty use through extra thick stacks of sheets.
Whatever your hole punch needs, let Binding101 help you achieve clear, easy punching through stacks of paper, laminates, and more. Browse the selection below, and call us at (866) 537-2244 or email info@buy101.com if you need help choosing the best option for you.
Read more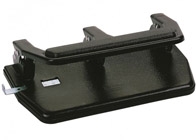 We can't find products matching the selection.
Hi there!
We want to give you $10.
Sign up for Exclusive Email Offers
Success! You're now on the list. You'll start receiving Exclusive Email Offers shortly.
Please copy and use promo code KLEMAILQ121 in your cart.*

* Offer valid once per customer on orders of $50 or more
$10 OFF your first order of $50 or more
Signup For
Exclusive email offers