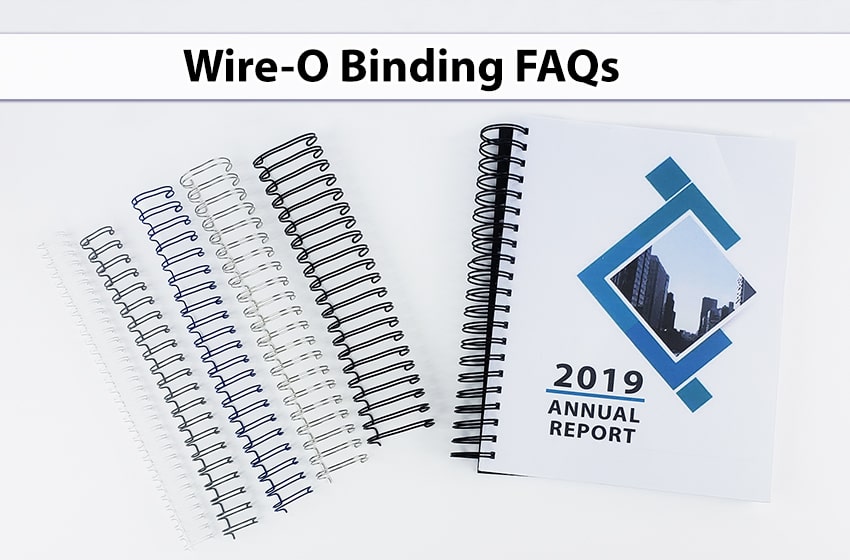 What is Wire-O?
Wire binding is the most popular binding solution for businesses who need to create professional-quality books. The Wire-O spines offer a clean and high-class appeal that is unmatched by any other traditional punch-and-binding method. Books bound with Wire-O double-o wires lay flat and the sheets can flip a full 360°. They offer a semi-secure binding method that can only be un-bound if cut off. Available in both 3:1 pitch and 2:1 pitch options for your Wire-O binding machines, these twin loop wire spines come in a large selection of colors including black, white, silver, pewter, blue, green, and several more. 3:1 pitch wire-o comes in sizes from 1/4" up to 9/16", which means it can be used for books from 2 to 120 sheets. 2:1 pitch wire-o is typically available in the larger sizes from 5/8" up to 1 ¼", perfect for books from 135 to 280 sheets, but we also offer unique special smaller 2:1 wires in the full range of sizes, offering more versatility.
What are the Benefits and Negatives of Wire-O Binding?
What Kind of Books are Wire-O Bindings Typically Used to Bind?
Financial and business reports
Professional presentations
Notebooks and journals
Marketing materials
Wall and Desk Calendars
Notepads, and more!
What do I need to Bind with Wire-O?
Wire Binding machine (in matching pitch to the wires; either 3:1 or 2:1)
Wire closer (sometimes included on the binding machine)
Wire-O binding spines
Presentation covers (optional)
What is wire bind pitch?
The pitch refers to the ratio of holes per inch; so a 2:1 has two holes per inch, and a 3:1 has three. You will need to be sure your wire binding machine has the same hole pattern as the wire spines you get, because a 2:1 punch machine will only work with a 2:1 binding wire.
How many loops do 3:1 and 2:1 pitch wires have?
2:1 wires feature 21 loops and 3:1 wires feature 32 loops.
How long are binding wires?
Binding wires are either pre-cut to 11" lengths for standard letter size paper, or continuous and wrapped around a spool.
Can custom lengths be ordered?
Yes! Binding101 offers custom-cut wires to order, just call (866)537-2244 for a quote. You can also cut them down yourself using standard wire cutters.
Are binding wires prop 65 compliant (2018)
Yes! All of our wires are compliant with the new Proposition 65 standards for 2018.
For more information or a quote, call us at (866) 537-2244 (866) 537-2244 or email info@buy101.com

About the Author • Mallory Morsa has been a part of Binding101 since 2008 and has experience in several departments within the company. She began in customer service and sales where she honed in her skills to provide the customer with professional, fast, and accurate information. Shortly after, she was promoted to sales supervisor and also took on the role of product expert, training the team on new products. Throughout this time, she also wrote content for the site, as well as contributed stock photography and videography. As the team grew, she moved to an official position as the content specialist and social media manager. Her skills in these variety of areas give her the unique expertise to not just create content for the web, but to create content for you, the customer. She has a Bachelor's degree in business management and marketing, was on the Dean's List each year, and graduated Summa Cum Laude. In her free time, Mallory's favorite things to do include volunteering at the animal shelter by bottle feeding neonatal kittens, reading at the park, cooking plant-based meals, playing board games, and binge streaming TV shows with her 3 furbabies and family beside her.