Swipe to the left
Wholesale Bulk Chipboard Sheets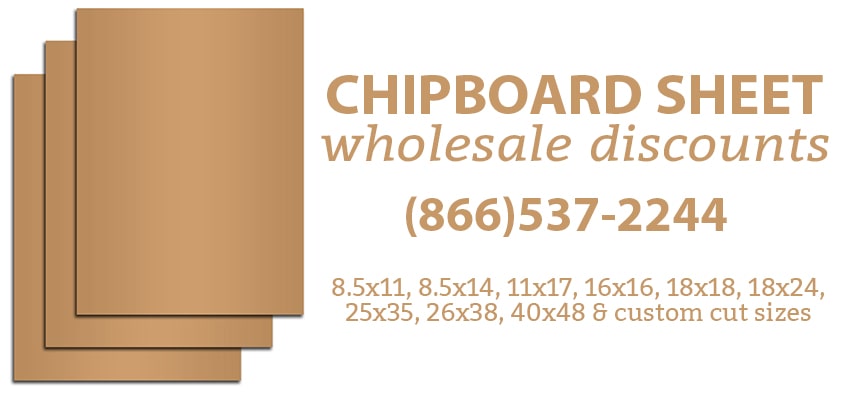 Whether you use chipboard sheets as backings when you're making pads of paper in bulk, or using them as a natural and eco-friendly report cover for binding, or using them for packaging or your products, if you use large quantities of chip board pages in your business, than you may qualify for wholesale discount pricing!
At Binding101 we already offer pretty amazing prices on our chipboard sheets. But if you need to buy in bulk, or if you are a dealer re-selling the sheets to your customers, or if you are using them in a product that you sell yourself, you may be able to get discounts on top of our online prices!
Call us at (866)537-2244 (866)537-2244 to discuss your needs and get a quote
You can also email us at info@buy101.com
Chipboard is certainly not a new idea; it has been around for many years and has been used in products of all kinds. It has, however, been growing in popularity as the world becomes more conscious of environmental impact. Chip board offers a more eco-friendly alternative solution for things like report covers, business cards, and much more. It is made of 100% recycled content, so uses no virgin materials. It is also completely recyclable and biodegradable, so when you are done wit your item, you can rest easy knowing that it will not end up in a landfill for all time. This eco-friendly material can vary in color from gray to brown, and often includes little speckles of darker and lighter product, which means that each sheet is 100% unique, which customers love; it is clearly a more natural product that looks great and has a better impact on the world than plastic alternatives.
We stock a huge selection of chip board sheet sizes in our warehouse for quick shipment and delivery. Some of the most popular sizes include letter size 8 ½" x 11", tabloid 11" x 17", square 16" x 16" and 18" x 18", 23" x 35", and 40" x 48" (and more!). In addition to those stocked sizes, we can also custom cut our master sheets down to nearly any size you may need. The smallest size we can cut to is a 2" on any side; so we can do a 2" x 2", a 2" x 1", or anything else as long as one of the dimensions is at least 2".
You can also choose from a large variety of board thicknesses. The stocked chipboards come in the most popular thinner options, which include 22pt, 24pt, 26pt, and 30pt thicknesses (what is a 'point' thickness?¹). We have many more options, including two and three ply points up to about 140, which is incredibly rigid and not-bendable.
Popular uses for chipboard:
• Backings for pads of paper and notepads
• Interior boards for ring binders
• Interior boards for hard covers and other turned edge products
• Report covers and binding covers
• Journal covers
• Business cards
• Wedding and event invitations and announcements
• Gift cards and tags
• Products tags
• Crafts & projects
• & much more!


Custom chip board options:
• Custom sizes
• Custom thicknesses
• Custom printing
• Custom embossing
• & much more!


¹ When it comes to a cover or sheet, "point" is sometimes used as a way to measure the thickness. It is simple to convert point to an inch measurement for better understanding; just move the decimal place over three places to the left. For example, a 24 point equates to a 0.024" thick board. Sometimes people may miscalculate and convert it improperly to a 0.24" (just under 1/4"), but if you want a fraction form, 24pt or 0.024" actually converts to 3/125".

About the Author • Mallory Morsa has been a part of Binding101 since 2008 and has experience in several departments within the company. She began in customer service and sales where she honed in her skills to provide the customer with professional, fast, and accurate information. Shortly after, she was promoted to sales supervisor and also took on the role of product expert, training the team on new products. Throughout this time, she also wrote content for the site, as well as contributed stock photography and videography. As the team grew, she moves to an official position as the content specialist and social media manager. Her skills in these variety of areas give her the unique expertise to not just create content for the web, but to create content for you, the customer. She has a Bachelor's degree in business management and marketing, was on the Dean's List each year, and graduated Summa Cum Laude. In her free time, Mallory's favorite things to do include volunteering at the animal shelter by bottle feeding neonatal kittens, reading at the park, cooking plant-based meals, playing board games, and binge streaming TV shows with her 3 furbabies and family beside her.