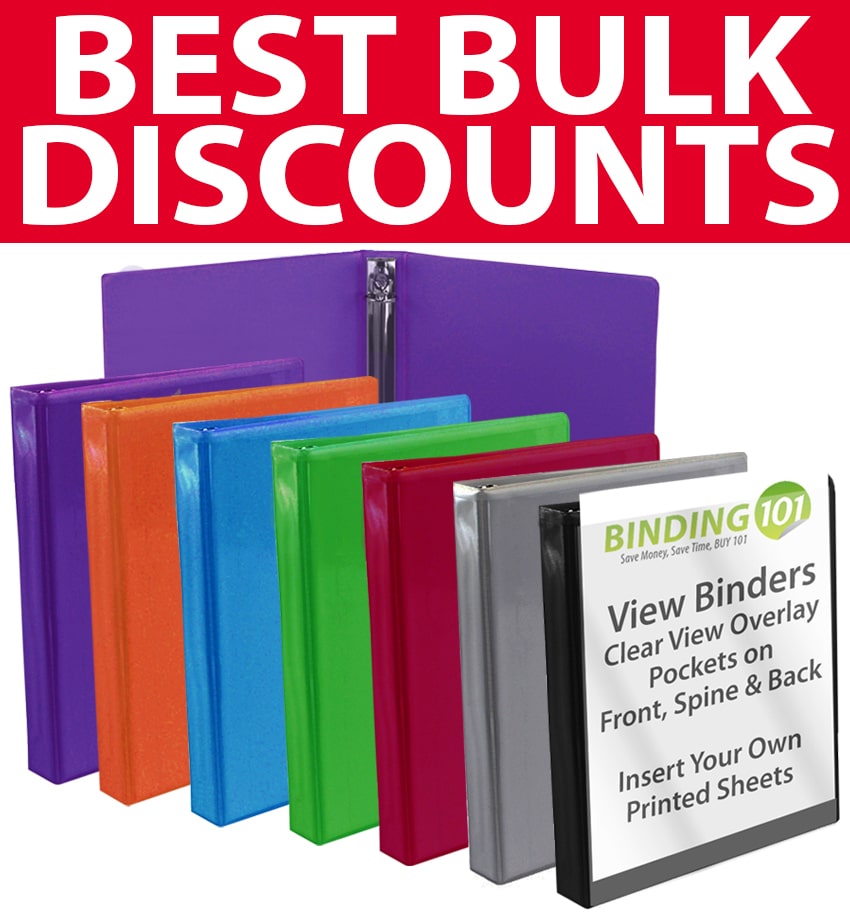 A great place to buy ring binders in bulk at unbelievable pricing is right here at Binding101. We have a huge selection of colored ring binders in clearview and poly styles, as well as the ability to customize any number of binder types. The best part, however, is that we only offer high quality ring binders for the same low price (and lower) than other suppliers. Our wholesale binder pricing keeps out top quality binders as low as $1.76 each. PLUS if you need higher quantities, we can offer you even better discounts. Just call us at (866) 537-2244 for a formal quote.
There are two different standard binders that you can buy in bulk for cheap...
With our extensive line of 3-ring binders, you can easily organize paperwork of all kinds for your business, classroom, or individual filing needs. We offer two different kinds of binders, in a huge variety of ring sizes and colors, as well as sheet protectors to help keep your pages looking like new, even through heavy handling. Pair them with index tabs for a complete filing solution. Probably equally popular, we offer both clear view binders and poly plastic binders. Both options come in either a letter size for standard 8 ½" x 11" paper, or a half size for smaller 5 ½" x 8 ½" sheets (a letter size page, cut in half). All of these ring binder options are available in a huge selection of colors, including multiple shades of blues, greens, reds, and grays (as well as yellow, orange, purple, and many more), in addition to the traditional black and white binders. Ring sizes range from small ½" round rings, up to 4" slant-d rings for the clear view binders, or from ½" to 2" round rings for the poly ring binders.
In addition to those, we also offer customized binders with bulk pricing in an extensive variety of styles and customization options. We offer a wide variety of binder styles, including vinyl, poly, entrapment, turned edge, chip board, paperboard, easel, and so much more. Minimum order requirements start at just 50 binders, depending on the size and style you choose. With several large production plants throughout the United States, we will fulfill your order quickly and ship fast to ensure that you receive your custom ring binders in no time. Explore our customization options today to find a unique way to brand your business or make document filing easy. Here are just a few of our customers' favorite custom binder styles...
Questions or ready for a quote? Call us at (866) 537-2244 to get the best pricing on bulk-quantities of ring binders.

About the Author • Mallory Morsa has been a part of Binding101 since 2008 and has experience in several departments within the company. She began in customer service and sales where she honed in her skills to provide the customer with professional, fast, and accurate information. Shortly after, she was promoted to sales supervisor and also took on the role of product expert, training the team on new products. Throughout this time, she also wrote content for the site, as well as contributed stock photography and videography. As the team grew, she moves to an official position as the content specialist and social media manager. Her skills in these variety of areas give her the unique expertise to not just create content for the web, but to create content for you, the customer. She has a Bachelor's degree in business management and marketing, was on the Dean's List each year, and graduated Summa Cum Laude. In her free time, Mallory's favorite things to do include volunteering at the animal shelter by bottle feeding neonatal kittens, reading at the park, cooking plant-based meals, playing board games, and binge streaming TV shows with her 3 furbabies and family beside her.