Swipe to the left
What kind of printer do I need for the Coverbind Print On-Demand thermal binding covers?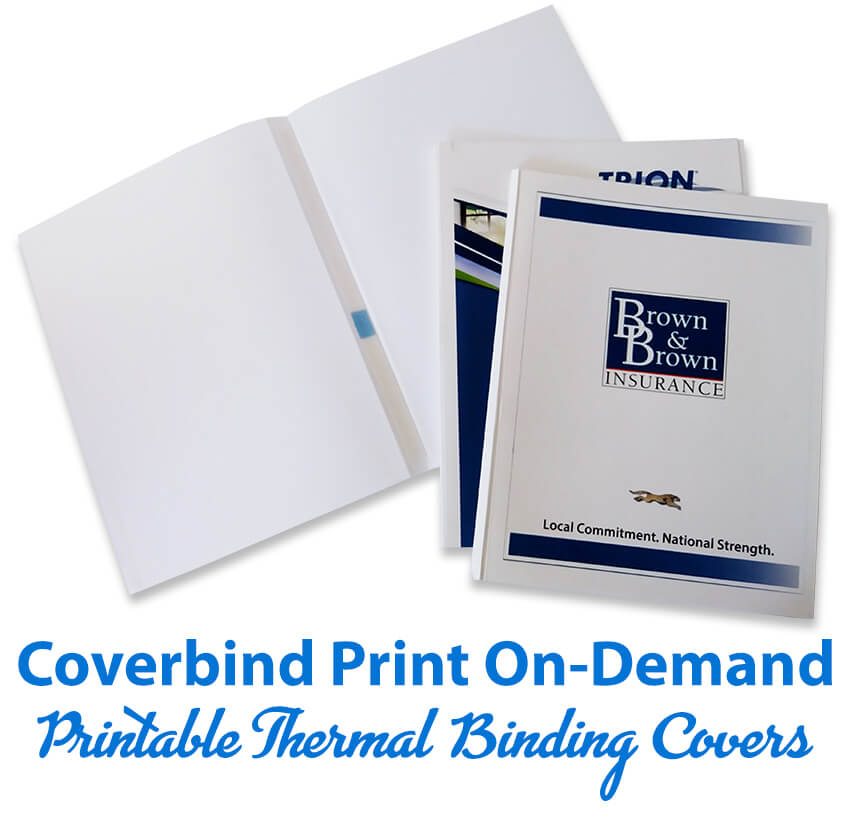 The unique Coverbind Print On-Demand thermal binding covers were designed specifically for businesses, which generally work with digital printers and copier machines. They also work fine with many Inkjet printers, although not all because of the paper size and material. Just keep in mind that there are tens of thousands of different printer models out there, and it would be impossible for us to test all machines; therefore, it is very important for you to check your specific machine compatibility before use*. Here are some specs for the covers that you can use to check compatibility with your printer:
• Paper Size - Printer must be able to handle 11" W x 18 ⅛" long paper size. Some printers are specifically rated to handle 11" x 17" paper, however, the 18 ⅛" additional length is due to the spine of the cover. Make sure your printer can handle this paper size before you buy.

• Paper Stock - These covers are made of an 80 lb. (210 gsm) glossy cover stock, so your printer will need to be able to handle not only the glossy coating, but also the 80 lb. minimum thickness.

• Test - If you are are unsure of the compatibility even after checking your printer specs for the above, you test a sample at your discretion* to see if the result matches your expectations. Call us at (866)537-2244 to see if samples are available.



About the Author • Mallory Morsa is the product expert and content specialist at Binding101, and has been a valued team member since 2008. She started her career here in customer service, moved onto sales supervisor, product management, and then onto content. She takes a hands-on approach to products, and truly gets to know how every item works before she writes about them, with a goal to give you all of the honest information you need to make a confident buying decision. She has a bachelor's degree with a focus on management and marketing, and has been a writer, photographer, and videographer for many years. In her free time, she loves to read by the pool, volunteer at the local animal shelter in the kitten nursery, and snuggle her three furbabies while she binge watches Netflix.
* If your printer does not expressly list that the above is acceptable, then please note that any use or consequence of use could potentially damage your printer or yield poor results. Binding101 and Coverbind accept no liability for these damages or results.