Swipe to the left
What kind of Coverbind Thermal Binding Covers are there?
Coverbind is a world-renowned brand name that is known for the highest quality of thermal binding, and the strongest / longest-lasting bind in the industry. They are more recently known as the only manufacturers of automatic thermal binding equipment; a speed and convenience that was never available for thermal binding before. So now, in addition the the huge variety of thermal binding covers that Coverbind has to offer, they also have the fastest and easiest way to bind your documents with unique Drop & Go technology. Coverbind has the BEST thermal binding covers and thermal binding machines in the industry -- bar none!

All of the Coverbind thermal binding covers feature the same exceptional binding strength, made possible by a combination of an incredibly strong EVA binding glue that also features a cotton mesh strip within the glue. As the adhesive is melted in your thermal binding machine, the mesh is exposed and actually helps pull your pages deeper into the glue, and create a grip that cannot be matched; your first and last pages are just as strong as your middle pages. Another unique benefit to using Coverbind thermal binding covers over the competition is that the glue is not poured into the spine, which means that it will never seep out of the edges when being heated, guaranteeing a clean bind with no residue.
Here is a list of the different kinds of Coverbind thermal binding covers available, so you can see just how versatile they truly are.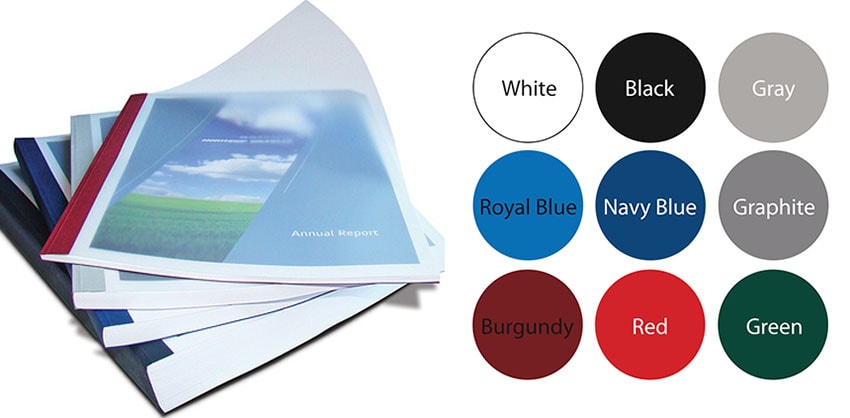 Clear linen thermal covers are one of the more popular stocked options for internal reports and presentations. They feature a medium weight 7 mil glossy front cover page, attached to a colored spine and 80 lb. back cover. The clear front means you can customize each individual presentation by just using a different first sheet in your document. The spine and back covers match, and have a classic linen texture that comes in several colors including black, white, gray, dark gray (graphite), royal blue, navy blue, burgundy, red, and green. The spine widths available start as small as 1/16", and go all the way up to 2" to bind even thicker presentations and proposals.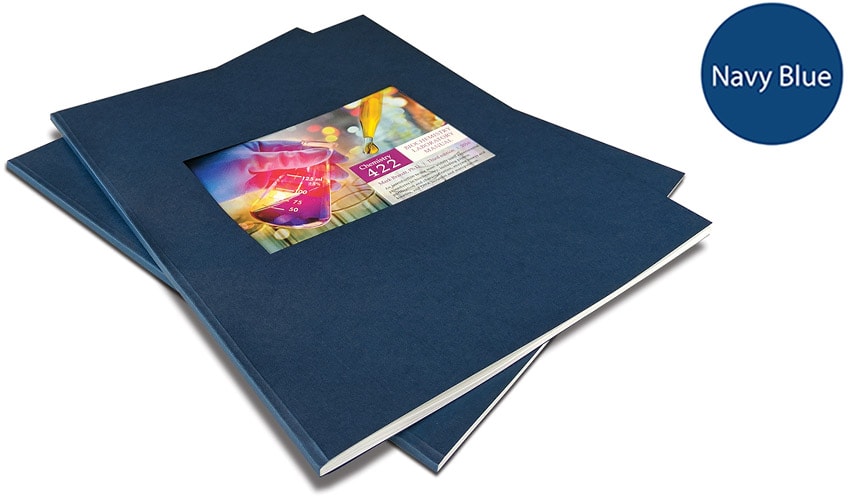 The Coverbind linen wrap-around covers with window have the same beautiful linen textured finish on the front, the spine, and the back. It offers an incredibly clean and seamless look that mimics the look of a perfect bound book (soft cover book, such as a novel). They have a window cutout on the front that lets you customize each presentation by just using a different first page. The window is 5 ³/₈" W x 3 ⁹/₁₆" H, which is large enough to allow for logos, company details, and more. Window linen Coverbind thermal binding covers are available in a navy blue color, as well as sizes from a 1/16" thick spine, up to 2", making it great for even your thick presentations or proposals.
Coverbind hard cover thermal binding covers look incredibly expensive, so are perfect for your high end clients as a way to make a stand-out first impression. They are popular for year books, high end real estate proposals, photo books, and art collections. They have a premium textured finish on the outside that is wrapped around a durable 1/10" thick board with a matte interior cover liner. They are stocked in black, and can be custom-made in any color you need, as well as even custom materials and patterns. Coverbind hardcovers are available in spine sizes from 1/8" to 1" thick.
Windowed hardcover thermal binding covers with windows are exactly the same as standard hard covers, but with a 5 ⅝" wide x 4 ¼" high window cutout in the front cover. This shows a portion of your first page through, allowing you to customize each individual book as-needed by simply using a different first page. Display an eye-catching photo, your businesses information, the name of the report, your company information, or anything else.
Print-on-Demand thermal binding covers are unique in that they actually allow you to create your own printed custom binding cover with any standard printer or copier. This means that anyone in your office can make custom presentations as-needed, without worrying about minimum orders or waiting for an outside print shop. They have a glossy white finish wrap-around on a heavyweight 80 lb. cover for a premium look that can still be run through any printer. Just print, fold along the creases, place in the included glue strip, and bind with your Coverbind thermal binding machine.
Design On-Demand thermal binding covers let you use your own printed cover, which means you can pair the ultimate in thermal binding strength with a linen cover, vinyl cover, grain textured paper cover, or any other custom cover you want! The spine and attached back cover are made of an 80 lb. heavyweight white matte coverstock. They do include a matching white cover that you can print with any standard printer, or you can use your own covers. Coverbind Design On-Demand comes in spine sizes from 1/8" to 1/2" for thinner document binding up to about 120 pages. The ability to custom print these amazing thermal binding covers in-house is unheard of in the industry, setting Coverbind printable covers apart from anyone else.
On-Demand Hardcovers are completely unique, as you can, once again, print these covers in-house with any standard printer! These hard covers have a debossed section on the front cover and include printable labels that fit perfectly into the depressed section, which gives the impression of a fully printed hard cover, without the need for specialized printing equipment. You can bind up to a 1" thick book with these thermal binding hard covers, and the thick 1/10" wrap-around hard cover board makes a premium presentation, no matter your document type.
--------------------------------------------------------------------
Coverbind Supply Comparison
Now let's compare the Coverbind thermal binding covers side-by-side in a handy dandy chart so you can see what options are available for each.
Supply Type
Hard or Soft Cover
Colors Available
Sizes Available*
Customizable
Clear Linen
Soft
White, Black, Gray,
Graphite, Royal Blue,
Navy Blue, Red
Burgundy, Green
1/16" to 2"
(Bind up to 500 Sheets)
Yes
Clear Front Cover
(Customizable by 1st Page)
Linen with Window
Soft
Navy Blue
1/16" to 2"
(Bind up to 500 Sheets)
Yes
Window on Front Cover
(Customizable by 1st Page)
Hardcover
Hard
Black
1/8" to 1"
(Bind up to 240 Sheets)
Yes
With Your Specialty Equipment
or We can Customize
Hardcover with Window
Hard
Black, Navy Blue
1/8" to 1"
(Bind up to 240 Sheets)
Yes
Window on Front Cover
(Customizable by 1st Page)
Hardcover On-Demand
Hard
Black
1/8" to 1"
(Bind up to 240 Sheets)
Yes
Includes Printable Labels
(No Special Equipment Needed)
Print On-Demand
Soft
White
1/16" to 1"
(Bind up to 240 Sheets)
Yes
Front & Back Printable
(No Special Equipment Needed)
Design On-Demand
Soft
White
1/8" to 1/2"
(Bind up to 120 Sheets)
Yes
Printable Front Cover
(Or Use Your Own Cover)
Don't settle for less than the best - choose Coverbind® for your thermal document binding. They can be used for literally any application you can think of; your imagination is truly the limit, but here is a list of some of the most popular users and books made with Coverbind thermal binding covers.

Popular Applications:
• Client presentations, proposals, quotes
• Business goals, updates, achievements
• Monthly, quarterly, & annual reports and financial summaries
• Real estate proposals and listing highlights
• Training documents, user manuals, and reference guides
• Thesis presentations
• School Yearbooks
• Photo Books
• Art collections


Coverbind thermal binding covers bind flush with your cover, creating a slim and clean finished bound thermal book that isn't bulky. Depending on the binding cover, you can bind just a few pages together, or a thick stack that is up to 2" of pages. The versatility of covers available, combined with the unmatched strength-of-bind, and the speed at which you can make these premium thermal-bound books make Coverbind thermal binding covers a far step above the rest. Click here to shop all Coverbind products today, or call us at (866)537-2244 (866)537-2244 with any questions, concerns, or to simply discuss your individual needs so we can help you choose the best options.

About the Author • Mallory Morsa is the product expert and content specialist at Binding101, and has been a valued team member since 2008. She started her career here in customer service, moved onto sales supervisor, product management, and then onto content. She takes a hands-on approach to products, and truly gets to know how every item works before she writes about them, with a goal to give you all of the honest information you need to make a confident buying decision. She has a bachelor's degree with a focus on management and marketing, and has been a writer, photographer, and videographer for many years. In her free time, she loves to read by the pool, volunteer at the local animal shelter in the kitten nursery, and snuggle her three furbabies while she binge watches Netflix.