Swipe to the left
What is Pre-Punched Paper?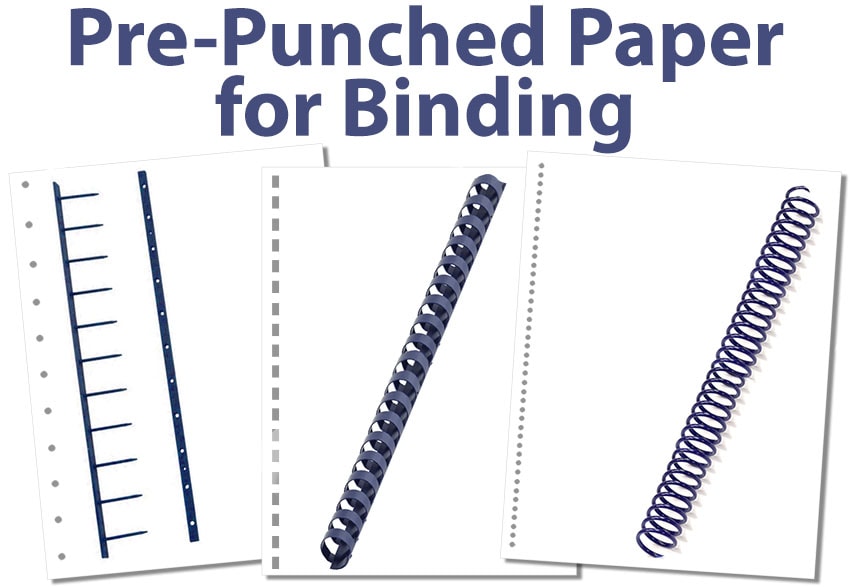 Pre-punched paper is simply paper that has been punched in a finishing facility before it is packaged and sold to the end user. Pre-punched paper is punched using the highest quality binding machines (we're talking production-level, industrial machinery for high volumes), which means the quality of punch and the cleanliness of the holes can be more consistent and neat than paper that is punched in-house. Punched pages are white, and available with several different punching patterns for different kinds of bindings. They can can run through most standard printers and copiers, so you can print them with whatever filler information you need for your bound document.
Depending on the kind of binding you use in your office, you can use pre-punched paper stock as a time-saver for your rush and on-demand jobs. We stock pre-punched pages in a 20 lb. bond weight, which is a standard copy paper thickness. The 97 bright white color offers optimum contrast once printed. They are standard letter size paper, measuring 8 ½" W x 11" H, with the punching along the long eleven inch edge. They are sold in a pull case of paper, which has 5,000 sheets.
Here is a bit more information about each different kind of pre-punched paper stock:
Spiral Binding Punched Paper
Spiral binding punched paper is available with two different punching patterns; either a 43 hole or 44 hole punch along the 11" edge. The spacing between the holes is the same, which is a standard 4:1 pitch (pronounced "four to one" and meaning there are 4 holes per inch), however, the margin from the first and last holes to the edge of the paper is what is different. So the 43 hole punched paper has slightly more space between those last holes and the edge of the page than the 44 hole punched paper. The holes are also available in either round or oval shape, both of which are perfectly compatible with any 4:1 pitch spiral binding plastic coils. The benefit of the oval hole version is that it makes it easier to insert your coils, especially when binding a lot of pages together to make a thick book. You can also find pre-punched clear acetate covers and pre-punched vinyl back covers for spiral bindings, so you can keep a full stock of spiral binding supplies on-hand.
GBC Plastic Comb Punched Paper
Plastic GBC Comb punched paper comes with the standard 19 rectangular holes along that 11" long edge of the paper. They are compatible with all standard 19-ring GBC binding combs, and are perfect for quick-fill job requirements where you just don't have the time to punch. They are also great for small businesses or even individuals who bind at home, that are not ready to actually buy a plastic comb punch machine. The only other thing you need are the combs themselves and a comb spreader (also called a comb opener). Pre-punched stock is also available in clear acetate binding covers or vinyl binding covers, so you can have a professional looking finished presentation.
Velo Bind Punched Paper
Our velobind pre-punched paper is a bit different, because it is available in either portrait or landscape format. Portrait format has 11 holes punched along the 11" edge, while landscape has 9 holes along the 8 ½" edge. They are compatible with standard hot knife velo strips that are placed into the holes, inserted into a velo machine, and then melted together. This creates a near-permanent bind, which makes it ideal for sensitive information, such as legal documents. Velo bound documents are not typically used with report binding covers, so we do not have pre-punched covers available in this punching pattern or for this kind of binding.
Custom Punched Paper
But we can always custom punch standard paper and any of our binding covers for you. We can get you a custom cut size if you need something other than standard letter, and punch them with as many or as few holes as you need. We can punch for all of the binding styles mentioned above, as well as many others; basically whatever you need, we can custom make it for you. Just give us a call at (866)537-2244 (866)537-2244 for a quote for custom covers and paper, or shop our stocked selection of punched paper and covers here.

About the Author • Mallory Morsa is the product expert and content specialist at Binding101, and has been a valued team member since 2008. She started her career here in customer service, moved onto sales supervisor, product management, and then onto content. She takes a hands-on approach to products, and truly gets to know how every item works before she writes about them, with a goal to give you all of the honest information you need to make a confident buying decision. She has a bachelor's degree with a focus on management and marketing, and has been a writer, photographer, and videographer for many years. In her free time, she loves to read by the pool, volunteer at the local animal shelter in the kitten nursery, and snuggle her three furbabies while she binge watches Netflix.