Swipe to the left
What is a Ring Binder Mechanism?
A ring binder mechanism is the spine part of a binder that actually has the rings attached. It is mounted onto a binder cover, either on the spine or on the back cover up against the spine. Typically ring binder spines are made of metal, but sometimes they will also have plastic components. Binder rings can come in different ring sizes and ring configurations / spacing, including the most common ring spacing in the USA, which is letter size 3-ring. Here are the different kinds of binder mechanism rings and sheet sizes available:
• 3-Ring Letter Size Binder Mechanisms
• 3-Ring Half Size Binder Mechanisms
• 2-Ring Letter Size (Short Side) Binder Mechanisms
• 6-Ring Memo Size Binder Mechanisms


Now take a look at the chart below, where we outline the different kinds of standard, stocked ring binder mechanisms i more detail, expanding some of the different options you can choose from. We compare the ring configuration, ring spacing, ring sizes available, and other important factors. Just click the name of the mechanism within the chart to go to that page. In addition to the stocked mechanisms listed below, we can special-order non-standard options; so be sure to call us at (866)537-2244 (866)537-2244 with your specific needs, because we can help!
Kinds of Ring Mechanisms
Binder Mechanism Type
Intended Sheet Size
Number of Rings
Ring Sizes Available
Ring Shapes Available
Ring Spacing
Letter Size
8 ½" W x 11" H
3 Rings
1/2", 3/4", 1", 1 ½", 2", 2 ½", 3", 4"
Round & Slant-D Rings
4 ¼" Between Rings
[Center to Center]
Letter Size
Plastic
8 ½" W x 11" H
3 Rings
1"
Round Rings
4 ¼" Between Rings
[Center to Center]
Letter Size
Short Side Bind
8 ½" W x 11" H
Short 8 ½" Binding Edge
2 Rings
1", 1 ½"
Round & Slant-D Rings
3 ⅛" Between Rings
[Center to Center]
Half Size
5 ½" W x 8 ½" H
3 Rings
1/2", 3/4", 1", 1 ½", 2"
Round & Slant-D Rings
2 ¾" Between Rings
[Center to Center]
Memo Size
4" W x 6" H
6 Rings
1/2", 3/4", 1"
Round Rings
3/4"→ 3/4"→ 1 ½"→ 3/4"→ 3/4"
[Center to Center]
In addition to the ring binder spines themselves, you will also need binder rivets and a rivet setter tool to attach them to a binder cover, or other material. Ring binder mechanisms are most commonly, of course, used in ring binders...but they can be used for a huge variety of other things as well. We have had customers create flip-charts, easels, clip boards, and more. You can check out our pin board collection here, or start shopping for your own binder mechanisms here.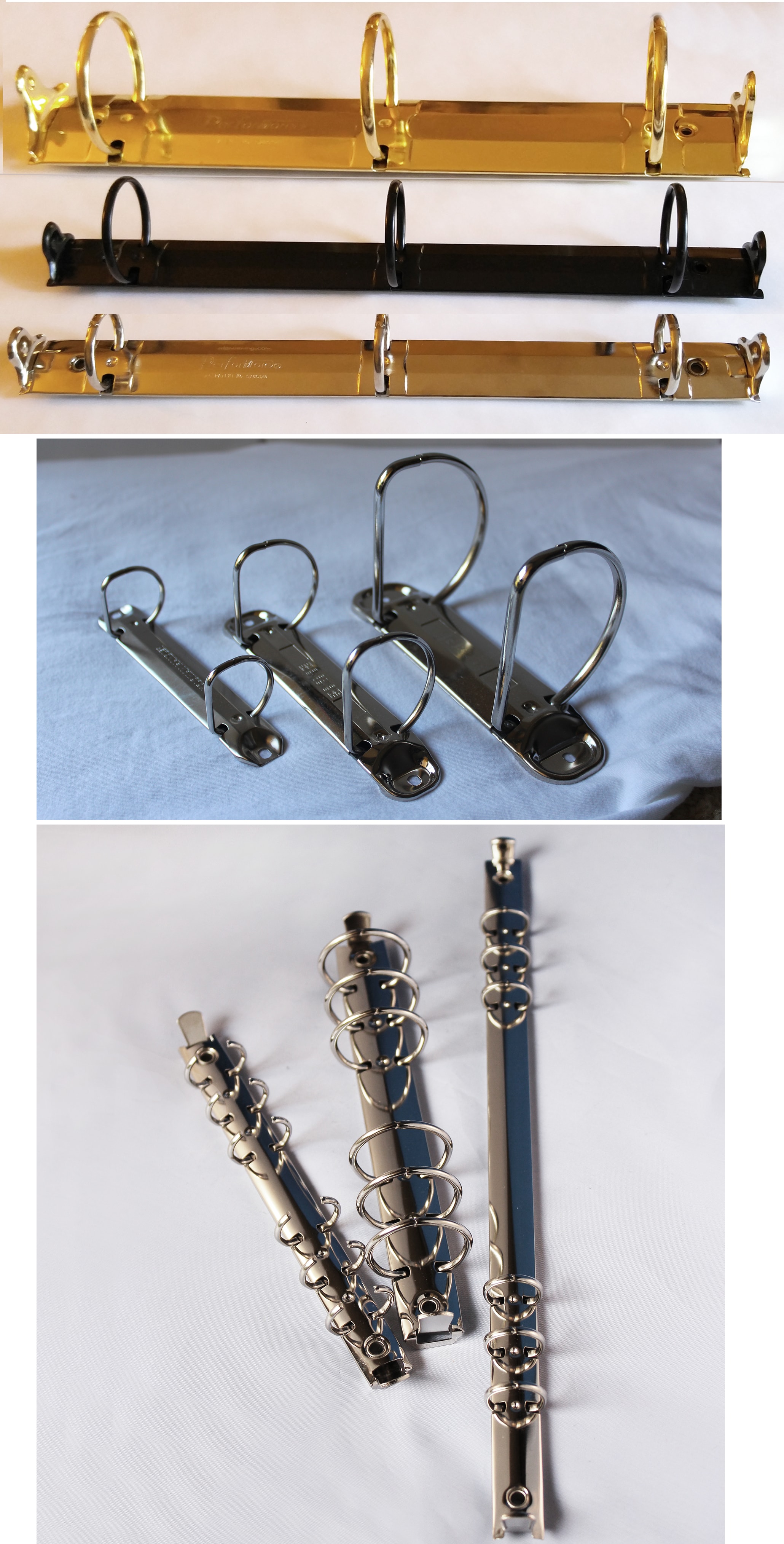 About the Author • Mallory Morsa is the product expert and content specialist at Binding101, and has been a valued team member since 2008. She started her career here in customer service, moved onto sales supervisor, product management, and then onto content. She takes a hands-on approach to products, and truly gets to know how every item works before she writes about them, with a goal to give you all of the honest information you need to make a confident buying decision. She has a bachelor's degree with a focus on management and marketing, and has been a writer, photographer, and videographer for many years. In her free time, she loves to read by the pool, volunteer at the local animal shelter in the kitten nursery, and snuggle her three furbabies while she binge watches Netflix.