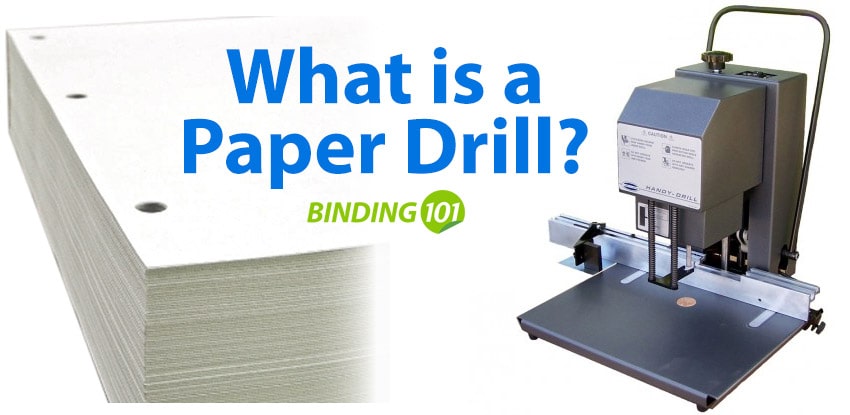 A "paper drill" is a name for a machine that drills holes through a thick stack of paper (and possibly other materials, like laminates and plastics).
Also called a paper drilling machine or a high capacity hole puncher, they typically have a drilling capacity of between 1 - 3" thick stacks, making them ideal for high volumes of paper punching.
Paper drills typically come in three different formats...a single spindle to drill 1 hole at a time, a double to drill two, or a triple to punch 3 holes simultaneously through your thick stack of paper.
They also come in either manual, electric, or pneumatic models, as well as either tabletop or floor standing drill machines.
Paper drills use a press-type action that spins a hollowed out drill bit (sharp, removable hole puncher die tool) through your stack. The rotating action of the tool helps reduce the amount of friction needed as well as produce an even and clean punch through the entire stack.
The process is as follows:

1. Install a drill block or pad into the press. This is an inexpensive wearable part that should be flipped and changed out frequently, as it is essential to the hole quality, and so affordable.
2. Install a drill bit. You can often choose a capacity and a hole diameter, depending on your machine.
3. Place a stack of paper onto the table and clamp down. Align it to the hole-punch location.
4. Pull the handle (or push the foot pedal) to drill the hole.


Paper drilling is simple, and can power through huge amounts of paper in a very fast amount of time. This is why a paper drill machine is a common tool you will find in print shops, sign shops, production facilities, paper manufacturing plants, casinos, and even offices.
Still have questions? Click here to see all the FAQs about paper drills, or call us at (866) 537-2244 to ask a question.

About the Author • Mallory Morsa is the product expert and content specialist at Binding101, and has been a valued team member since 2008. She started her career here in customer service, moved onto sales supervisor, product management, and then onto content. She takes a hands-on approach to products, and truly gets to know how every item works before she writes about them, with a goal to give you all of the honest information you need to make a confident buying decision. She has a bachelor's degree with a focus on management and marketing, and has been a writer, photographer, and videographer for many years. In her free time, she loves to read by the pool, volunteer at the local animal shelter in the kitten nursery, and snuggle her three furbabies while she binge watches Netflix.