Swipe to the left
What are the Best Binding Machines for Universities?
What are the Best Binding Machines for Universities? Here is a list of some of the best document binding machines for Universities and colleges. The machine you need will depend on the volume your school produces (i.e. the size of your university) as well as the variety of kinds of books you want to bind in-house (welcome packets, student handbooks, textbooks, yearbooks, etc). So we have created a list of some of the most popular binding machines used by schools and universities, including popular wire-o binding machines, plastic coil binding machines, plastic comb binding machines, and thermal binding machines.
Best Spiral Binding Machines for Colleges & Universities
Spiral binding (also called plastic coil binding) is a popular punch and bind solution for schools and universities. It is easy, able to bind even very thick documents, and very flexible / durable, so the documents last a long time. The plastic binding coils are also stocked in a large selection of colors, so you can easily match the binding spine to your school colors. If you can't, there are special-order colors available as well.
The CBS 3000, or Coil Binding System 3000, from Rhin-O-Tuff is the first of it's kind -- an all in one punching, inserting, and crimping machine that is perfect for your university binding volume needs. It is easy to use so anyone in the administrative office, including teachers and student aides, can use the binder machine as-needed. It is even often called one of the best binding machines for schools. Some of the key features that make it the best include:
• Fully disengageable punching pins - this allows you to stop specific holes from punching. If you are familiar with plastic coil binding, then you know how valuable this feature can be. It lets you completely customize the binding edge for any size document while also making sure you don't end up with partially-punched holes on the edges of your pages.

• Open ended punching feed - this means you can punch sheets longer than the actual machine, allowing for over-sized books up to 23.4" long.

• Foot pedal control - leaves both of your hands free to handle the documents, speeding up the process for more efficiency.

• Adjustable roller inserters - this features lets you adjust the spacing between the plastic coil binding inserter rollers, which allows you to have the optimum spacing for different coil diameters and book thicknesses. Anyone who has ever worked with a machine that has stationary rollers knows that working with larger coils becomes more difficult. This adjustment will make it easier and quicker to insert the plastic binding coils.

• Oval holes - The CBS 3000 punched slightly oval holes, instead of the old round holes. This is another improvement on older round-hole spiral binding machines, as it makes it faster and easier to insert the rounded coils through the holes. The look is just as clean and professional, and the increase in speed and efficiency is 10 fold -- anyone who has used both would attest!

• Electric crimper - If you have used the hand crimping pliers before, you know what a relief it will be to have an electric crimper on your plastic coil binding machine. No more hands cramping from crimping books over and over again - the electric action gets it done fast, and without hassle or pain.


Side Note: The CBS3000 is my favorite punch and bind machine, period. Over all wire o binding machines, all other coil binders, and all comb binding equipment...the System 3000 is my absolute personal favorite binding machine ❤
The CoilMac EX Plus is a great choice for a school coil binding machine that has lower volume binding needs. It is compact, affordable, and combines the ease of an electric punch and electric coil inserter. It does not have anywhere near the features as the CBS3000 discussed above, but is a great alternative for smaller colleges and universities who may need to bind less often, not need all the bells and whistles, and looking to save a buck.
• Fully disengageable punching pins - Gives you the customization you need for a variety of document sizes, without the hassle of half-hole punches on your edges.

• Oval holes - For the fastest and easiest coil insertion, no matter the coil binding diameter.

• Reverse function - This prevents jams and damage to the machine, allowing you to easily remove a paper jam. Hint: prevent jams by emptying the waste tray before it overloads and putting less paper into the punching feed.

• Foot pedal activation - Keeping both of your hands free to easily handle documents throughout the punching and binding process.

• Open-ended punch - For longer documents up to double the punching length, 26".


Best Wire-O Binding Machines for Colleges & Universities
Wire-O binding is a popular options for universities because of the professional look, and the various colors that allow for each brand-matching with many schools. It is a traditional punch-and-bind method of document binding, but is a bit more expensive than coil binding. The perk is that you can close the wire around your books, rather than having to toll in and then crimp the ends (such as with coil bindings) so it tends to be a bit faster.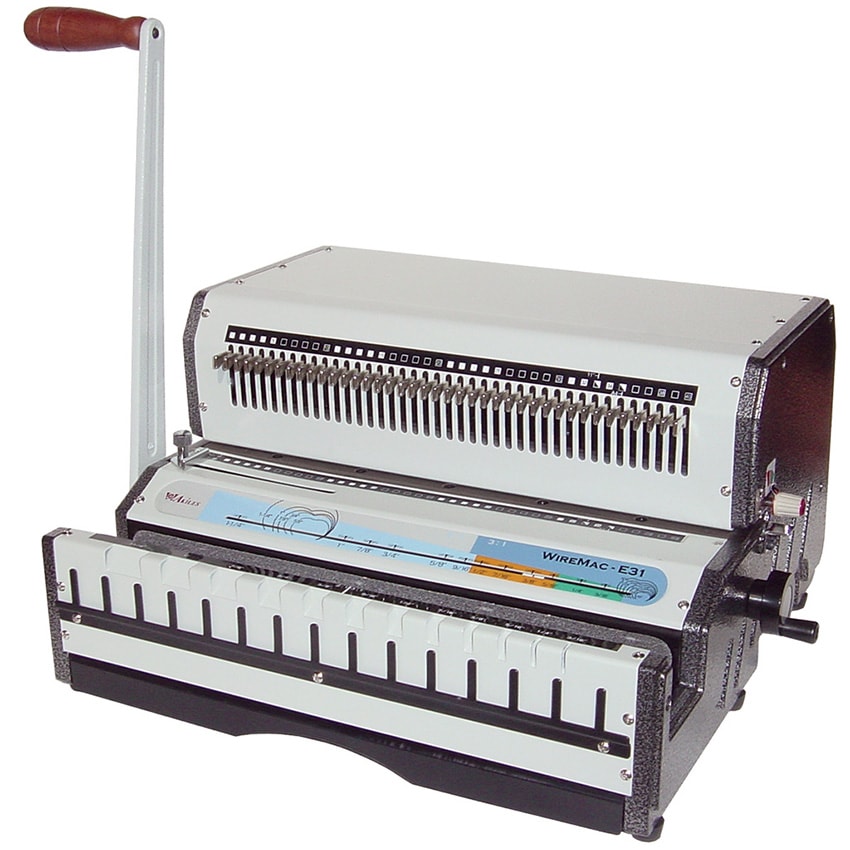 The WireMac-E is a popular choice for schools and universities of all sizes. It can handle the larger workloads, but is far less expensive than automated options. The punching is electric, however, the binding (wire o closing) is manual (but very easy).
• All pins can be disengaged - This lets you stop the half-hole punches that can end up on the edges of your pages when they are not perfectly aligned. It also lets you customize your punch pattern so you can do unique books such as a 2-piece wire bound spine.

• Open punch - Lets you punch sheets up to 28" long for extra large wire books.

• Reverse anti-jam function - Helps you reverse paper jams

• Size guide- Size guide is printed onto the machine for quick reference and help choosing the best wire binding for your specific book thickness.


The FlexiCloser is a 5-star electric wire closing machine that fits comfortably on your tabletop. It brings automation to a previously tedious task, and a perfectly round close for any wire o binding size. As someone who has used manual closers many times, I can tell you that it can be hard to achieve a perfectly finished wire shape -- but the first time I used the Akiles FlexiCloser I got the perfect wire o binding...finally! I love this unit, it is a great one for universities and colleges who have a punch machine and want to make the finishing of the books faster, more efficient, easier, and perfect.
• Automatic adjustments - Automatic settings mean you input the wire size and the machine adjusts. NO more dial spinning or bar moving...the automatic adjustments go exactly where they need to be.

• Magnetic backing - Magnetic backing holds the wire in place, so you don't have to fumble with wire falling out of your book before you close it.

• LCD controls - Simple controls so anyone can use it without special training.

• Safety sensor - Protects your operators.


Best Thermal Binding Machines for Colleges & Universities
Thermal binding machines are growing more and more popular within the education industry, and the reasons why are clear...they are easy, incredibly fast, offer a lot of bang for their buck, are small, and pay for themselves quickly. My personal favorite way to bind books, thermal binding machines are paired with thermal binding covers to make either soft cover documents or hard cover books, such as yearbooks.
The Accel Ultra is the best of the best -- without an outlandish price. It is fast, easier than anything else on the market, and versatile enough to allow for binding hard covers and soft covers. In fact, the Coverbind Accel Ultra is my personal FAVORITE binding machine (and binding method) as compared with anything else. This machine is seriously cool, and so simple, anyone can use it to make the most professional bound documents possible.
• Automatic - No more manually punching, inserting spines, and binding. Just place your sheets in the cover of your choice and place it into the machine...the Ultra will do the rest of the work!

• Fast - A unique Drop&Go process lets you bind books as quickly as 1 per second...no, that is not a typo...1 per SECOND with continuous loading.

• Versatile - A large variety of Coverbind thermal binding covers are available for you to work with, including several types of soft covers, hard covers, and even customizable covers with your university logo and more.

• Easy to use - Drop your pages into a cover, drop the cover into the machine, and walk away...it's the easiest binding machine you will ever use!


The Accel Cube is basically a mini version of the Ultra. It has the great automatic binding and versatility of binding types, but in a smaller footprint and a slightly smaller volume. It is a less expensive version of thermal binding machine that will still be the easiest document binder you've ever used.
• Automatic - Drop&Go technology so you don't have to stand around, or hassle with manual functions. Place your pages into a thermal binding cover (which has pre-applied uniquely formulated adhesive) and place the cover into the Cube to begin.

• Fast - 45x faster than punch-and-bind methods, the Accel Cube thermal binding machine is surpassed only by its big sister machine (Ultra)

• Versatile - Binds the same variety of soft and hard covers as the Coverbind Ultra, including custom binding covers too

• Easy to use - The easiest you will ever use


BONUS - At Binding101 we offer educational discounts! Just call (866)537-2244 (866)537-2244 to speak with an expert about your specific binding machine needs and budget restrictions, and we will do our best to get you an education discount on your binding machine (and other supplies / equipment needed). Whether you are a purchaser working within a specific budget set forth by your school or university, or you are a professor or teacher buying for the use of your school, we want to hear from you.

About the Author • Mallory Morsa is the product expert and content specialist at Binding101, and has been a valued team member since 2008. She started her career here in customer service, moved onto sales supervisor, product management, and then onto content. She takes a hands-on approach to products, and truly gets to know how every item works before she writes about them, with a goal to give you all of the honest information you need to make a confident buying decision. She has a bachelor's degree with a focus on management and marketing, and has been a writer, photographer, and videographer for many years. In her free time, she loves to read by the pool, volunteer at the local animal shelter in the kitten nursery, and snuggle her three furbabies while she binge watches Netflix.