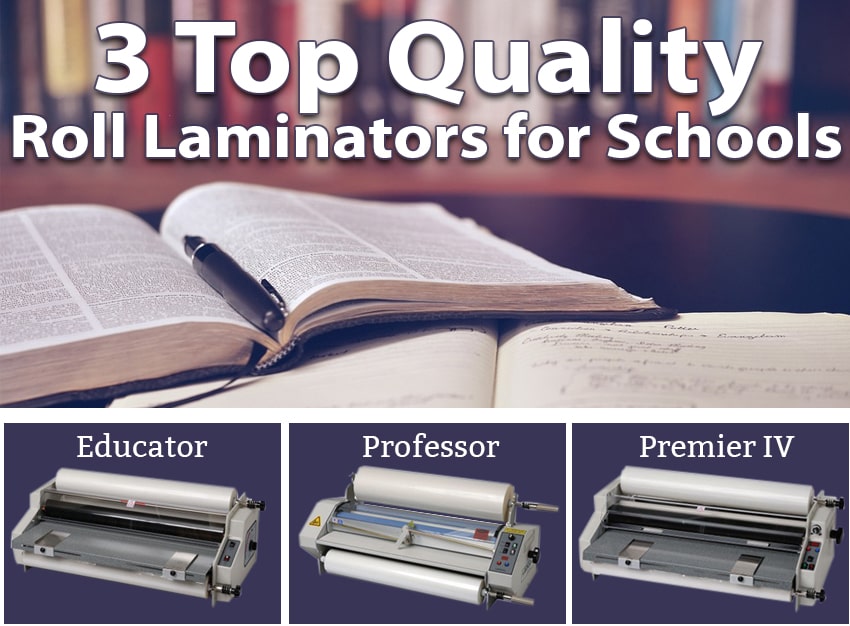 Looking for a top quality roll laminator for your school? Check out our picks for the 3 best school laminating machines on the market. We'll dive into each to discuss the most important points that matter to you as an educator, and tell you how easy it is to pay for your order with a PO. Questions along the way? Call our expert team at (866) 537-2244 for assistance.
The Educator was manufactured by Ledco, (a world-renowned lamination company) specifically for the education industry (hence the name). It has a 1" core mandrel for compatibility with a huge variety of lamination films, including the most desirable option, aptly called "school film". It features a 25" wide maximum roll width, which easily allows for the most common laminate sizes used by pre-K and K-12 schools. This same principal applies to the mil thicknesses it will accept, which include the 1.5 mil school film, 3 mil, and 5 mil lamination rolls.
The Educator roll laminating machine has an approximate laminate speed of 5 feet per minute, which is a fixed speed. This eliminates confusion and adjustments, and just keeps the speed consistent at the average preference of users that work in the education system. The heat, however, is adjustable from a low temp 100° F to a thermal 350° F. This gives you the versatility to set it lower for heat-sensitive items that laminate easier, or higher for more difficult-to-work-with prints.
The Educator roll laminator sits comfortable on most worktables or desktops, measuring about 32" wide, 17" deep, and 16" high. It is safety UL certified, and comes with a 2 year limited manufacturer's warranty.
The Professor was also manufactured by Ledco, and is equipped with additional features that make it ideal for the higher education fields including colleges, universities, trade schools, graduate schools, etc. It has a 1" core mandrel and allows for the full range of laminate mil thicknesses, including 1.5, 3, 5, 7, and 10 mil laminates, as well as the added ability to handle even mount boards up to 3/16" thick. The width is also extended to a 27" maximum, so wider sheets can easily have lamination added.
The speed on the Professor roll laminator is adjustable with two settings: 15 feet per minute for laminating, and 1 foot per minute for mounting. The fixed speeds are perfect middle-grounds, making the machine simpler to use, while still providing a professional finish. The heat is adjustable from 100° F up to a very hot 400° F, which makes it easier when working with harder materials, including foam mounting boards where the heat has to travel through thicker materials.
The Professor is still compact enough to fit easily for colleges of all sizes, whether using in a multimedia room or a dedicated print room, it measures only about 34" wide, 11" deep, and 16" high. It features the same 2 year warranty, backed by the manufacturer.
The Premier IV laminator (Premier 4) blends features from both of the above, offering a more middle-road. Though designed more for a print shop environment, the mixture of cost-saving features with versatility-features make it ideal for schools and universities as well. The Premier 4 laminator can handle the full range of mil thicknesses up to 10 mil and has the same versatile 1" core mandrel for the greatest flexibility with lamination roll compatibility. It has a 25" width for the most popular lamination sizes.
The Premier IV roll laminating machine has an adjustable speed setting that allows for up to 10 feet per minute. The heat is also adjustable from the low 100° F up to a hot thermal 400° F. These adjustments give you more versatility with applications, and can help you perfect the finish, no matter the material you use. The Premier 4 also has edge slitter trimmers for quick trimming of your materials.
The Premier laminator measures right around the same, at 34" wide, 17" deep, and 18" high. It also has a 2 year manufacturer-backed warranty.
- - - - - - - - - -
Model
Educator
Professor
Premier IV
Max Laminating Width
25"
27"
25"
Max Laminate Thickness
5 Mil
10 Mil
10 Mil
Compatible with Mounting Boards
No
Yes
No
Core Size
1"
Speed
5 Feet / Minute
(Fixed)
15 Feet / Minute (Laminating)
1 Foot / Minute (Mounting)
(Fixed)
10 Feet / Minute
(Adjustable)
Temperature Settings
100° - 350°
(Adjustable)
100° - 400°
(Adjustable)
100° - 400°
(Adjustable)
Manufacturer's Warranty
2 Years, Limited
Dimensions
32" W x 17" D x 16" H
34" W x 11" D x 16" H
32" W x 17" D x 18" H
- - - - - - - - - -
How to Pay with a Purchase Order
At Binding101 we understand how the process of purchasing for your school goes. You often need to obtain multiple bids, and your chosen vendor needs to offer your payment method, and that is why we proudly accept school purchase orders on Net 30 terms for payment without credit checks. Submitting your PO is easy; just follow these steps:
Obtain an official PO from your school. Make sure your PO includes...

- Current product price
- Any promo codes or coupons that you have
- Any applicable shipping
- Best contact person for questions & the order confirmation

Email a copy of that PO to info@buy101.com or fax it to (866)440-8669
Wait for your invoice. Once invoiced, you have 30 days to submit the payment.

About the Author • Mallory Morsa has been a part of Binding101 since 2008 and has experience in several departments within the company. She began in customer service and sales where she honed in her skills to provide the customer with professional, fast, and accurate information. Shortly after, she was promoted to sales supervisor and also took on the role of product expert, training the team on new products. Throughout this time, she also wrote content for the site, as well as contributed stock photography and videography. As the team grew, she moves to an official position as the content specialist and social media manager. Her skills in these variety of areas give her the unique expertise to not just create content for the web, but to create content for you, the customer. She has a Bachelor's degree in business management and marketing, was on the Dean's List each year, and graduated Summa Cum Laude. In her free time, Mallory's favorite things to do include volunteering at the animal shelter by bottle feeding neonatal kittens, reading at the park, cooking plant-based meals, playing board games, and binge streaming TV shows with her 3 furbabies and family beside her.