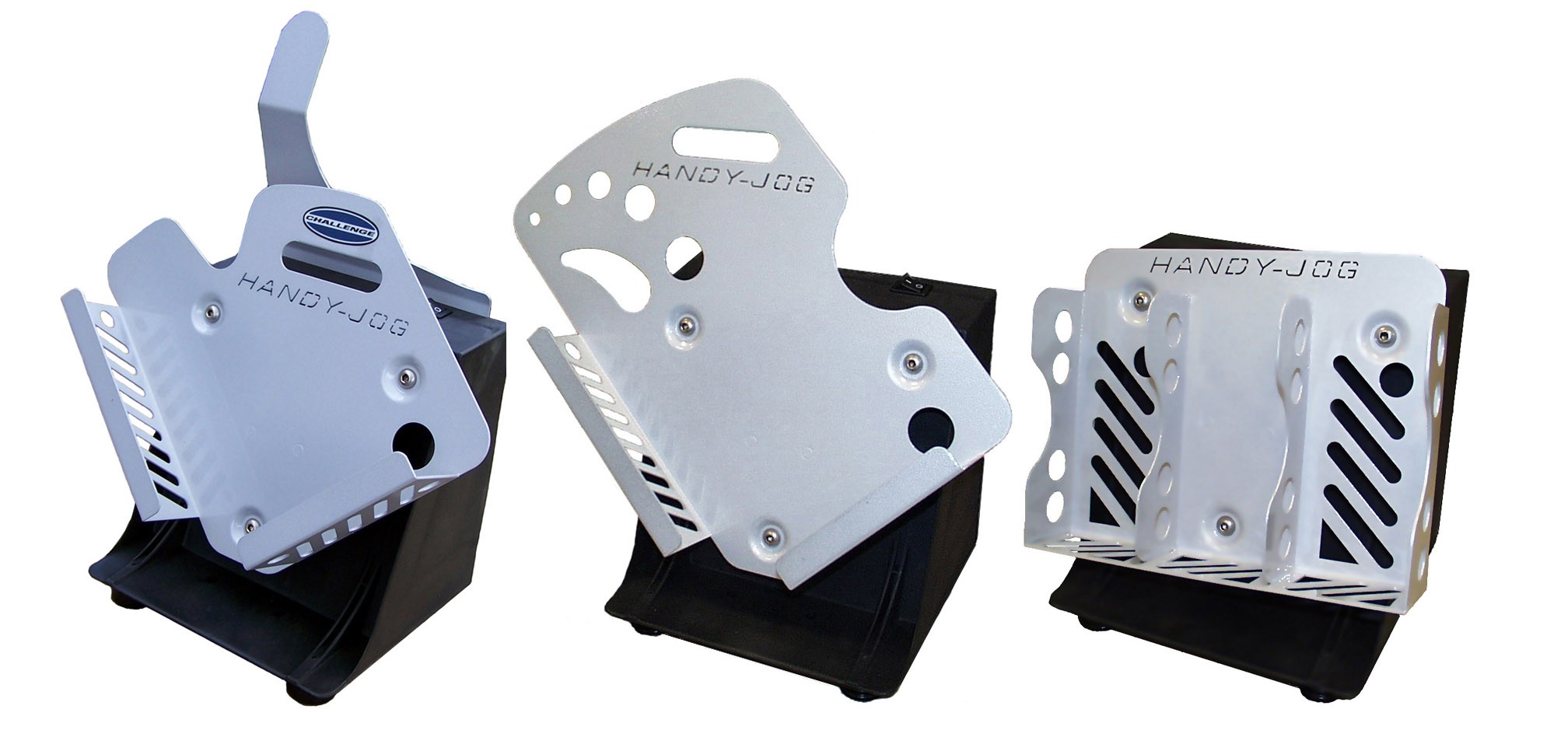 A paper jogger is a document-handling machine that mechanically lines up a stack of paper or envelopes so that all the edges line up perfectly. Paper joggers use vibration to aid in the removal of static as well as to align sheets preparing them for collating, folding, binding, cutting, and more. Paper joggers help save time and make your job much easier and less tedious by quickly squaring-up unorganized stacks of paper. Simply place the paper in the machine and the paper jogger does the rest.
Paper joggers are a very popular for copy centers, print shops, binderies, mail rooms, and any office handling medium to large amounts of paper. If your office creates a lot of documents or deals with bills or other mailings, that need to be neatly stacked, a paper jogger will make those tasks much easier and significantly faster.
The Challenge Handy-Jog is a low-cost, highly effective paper jogger that even fits into the most cost-conscious budget. There are three jogger trays for the Handy Jog available, including the standard tray, the over-sized or large tray, and the check tray, which features three slots for three stacks of checks. The standard tray will accept stacks as large as letter size 8.5" x 11". The large tray paper jogger will accept stacks as large as 11" x 17". The three bin check tray will take standard check sizes.
They are front-loading paper jogging machines that provide powerful vibrating action with a maintenance free drive mechanism. The Handy-Jog jogger will use vibration to line up a stack of paper, envelopes, checks, and more so that all the edges line up perfectly. It will also remove that irritating static cling that makes grabbing individual sheets so difficult.
All models will accept a stack as thick as 3", which is virtually impossible to jog with just your hands, especially if the papers have staples and other thicker materials interspersed. They only weigh about 15 pounds and are relatively small in size, making them perfect for any office with limited space or mobility requirements.

About the Author • Hi! My name is Mallory Morsa, and I have been the product expert and content specialist at Binding101 since 2008 (I have practically grown up here!). Every day I push myself to learn new information, incorporating real-life experiences from myself and the entire team to create solutions to the most common problems in the industry, and then present those solutions in a way that is easy to understand for everyone, from novices to experts. I dive deep into products to figure out how they work from the core, and am always honest with my results, so that you know exactly what you will get, before you buy. Outside of work, I can be found snuggling my 3 furbabies, reading by the pool, or at my local animal shelter bottle feeding and volunteering for the kitten nursery.