Self-Adhesive Pockets protect inserts of all sizes by encapsulating them in a vinyl transparent pocket. They feature a strong adhesive on the pack so you can simply peel-and-stick them to presentation folders, covers and more. These pockets are also called Self-Stick Pockets. Pouches or Adhesive backed Pockets. Pouches. They are available in a variety of sizes as small as business cards and as large as legal documents. There are even photo-size pockets available!
Self-Adhesive Business Card Pockets will hold the standard card size of 3 ¾" W x 2 ⅜" H. They are available in top or side-load formats, and with or without a securing flap. Those with the flap have a little square of adhesive to keep it closed.

Sticky-Back CD and DVD Pockets will protect your valuable media from abrasive dust, dirt and scratches. They are 5" x 5", so the media stays secure, but is easy to remove and re-insert after use. CD Pockets are available in top-load format and feature a securing flap with adhesive closure. The flap adhesive is repositionable, so can be used many times, as long as it is kept clean.
Self-Adhesive Corner Pockets will hold documents of all sizes. Available in small 4" x 4" format, or larger 6" x 6" pockets, which are typically used for letter size sheets. They are sealed on two sides, making the insertion and removal of documents easy.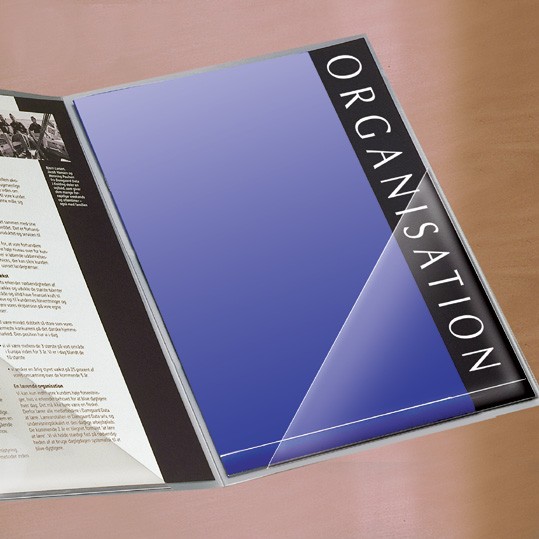 Self-Adhesive Document Pockets will hold letter-sized sheets. Depending on the kind of paper and thickness inserted, these pockets will stretch a little so multiple sheets can be inserted. Sealed on three sides for a firm hold. They are available in top-load format and do not have the option of a securing flap.
Self-adhesive label holders are perfect for the spines of binders, filing boxes, or anything else that needs quick referencing when on a shelf or stored somewhere. A half-hole at the bottom makes changing the labels easier. Choose from several different sizes from 3/4" wide and 3" long, up to 2 ⅛" wide and 3" long.

Self-adhesive filing pockets are 8 ¾" wide for standard 8 ½" wide sheets. They are 5 ⅛" high, and slanted on the top. The clear material is easy to see through, so your inserted pages are not hidden in any way.

About the Author • Mallory Morsa has been the product expert at Binding101 since 2008, and has grown up in the industry. Every day she pushes herself to learn new information, incorporating real-life experiences to create solutions to the most common problems in the industry, and then present those solutions in a way that is easy to understand for everyone, from novices to experts.