Magazines can be expensive! And if you are a physician's or doctor's office where the magazines are handled roughly on a daily basis, often times by children, then you know they don't last long. And when you're replacing magazines every week, you know it is a costly expense for your office -- but with these 4 simple tricks you can protect and preserve those magazines to make them last.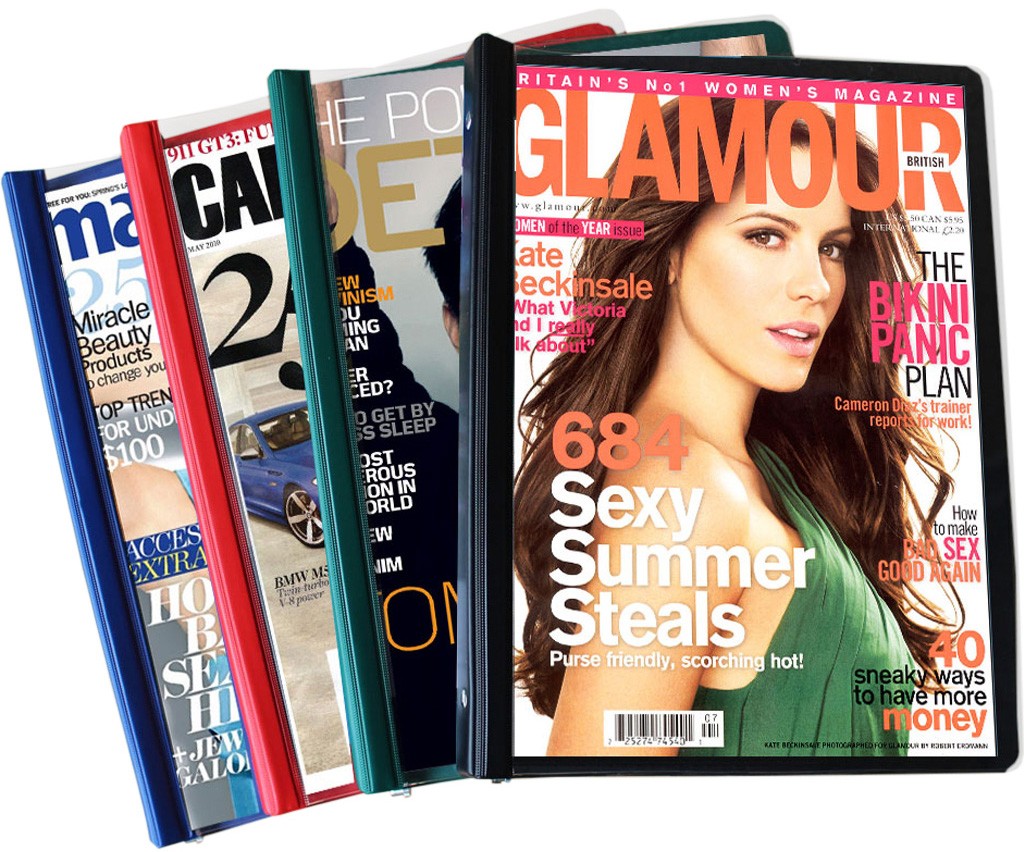 Magazine Binders are designed to protect and store your magazines, without covering the front so you can still see the cover. The back and spine are opaque, and are available in 4 different colors. If you want to get real fun,you can even color coordinate, using the green for garden and home magazines, red for glamour and beauty magazines, blue for real estate, etc. Each binder cover will hold 1 individual copy of a magazine, and clips over it easily, without punching holes or damaging the magazine integrity itself. Simply open up the binder, release the unique spring clamp bar and place it over the center of your magazine, then clamp it back into the binder. This easy application means you can change the magazines out when new issues arrive, without any hassle or time.
These Magazine Binders are the most widely used as a form of catalog storage and presentation. These pamphlet binders are excellent for waiting rooms, lobbies, libraries, individual collectors, and anywhere else magazines are handled on a regular basis or treated roughly. They are made with a heavy-duty flexible clear vinyl front cover and a stiff colored backing. The spring-loaded steel binding mechanisms let you quickly replace old issues. They will hold standard magazines with a sheet size of 8 ½" x 11" and the overall binder measuring 9 ⅜" x 12 ⅜" with a 1 ⅛" spine.
Plastic Magazine Covers will accomplish the same thing as the magazine binders, protecting, storing, and displaying magazines. These, however, use a slip-in design where the front and back magazine covers are slipped into a plastic cover. Place your front cover into the front pocket, slide the open magazine under the spine strip (should be open in half, or close to it), and place the back cover into the front pocket. These pockets, along with the spine strip, will hold your magazines firmly in place.
The benefit of these covers is that they not only protect the outside of your covers, but also the inside because of the pocket design. This help prevent tearing and bending of the covers more than a traditional magazine binder. They are also available in a ton of different sizes for smaller 8 ¹/₁₆" x 6 ⅛" magazines, up to large 14 ⅝" x 11 ½" magazines -- some with a "high capacity" feature for extra thick magazines, such as look books. Plastic Magazine Covers are made of a durable 7.5 mil polyester, are clear on the front and back, and feature a colored trim with metal corners. Black, blue, and red trims are available, and the brass or silver metal corners help protect the most delicate parts of your magazine covers.
Magazine Storage Boxes are a great way to organize a waiting room and keep magazines off chairs and tables. Plus, they allow you to categorize them to make it easier on your waiting room visitors -- you can categorize by age group (kids, teens, adults), by magazine type (home, beauty), or anything else you can think of.
They are available in a several different styles, including some that can completely cover your magazines, and others that leave them partially open and visible. You can choose front display or side display, and even flip-top or slide-out styles. Most catalog boxes feature reinforced edges making them perfect for stacking in storage rooms when not in use. They are acid and lignin free and, therefore, archival safe, making them popular for collectors as well, used for magazines, comic / graphic novels, catalogs, and more.
④ Protect them with a Custom Magazine Binder:
These stunning and unique magazine binders are multi-copy, meaning they feature several binding bars in the spine to allow for storing of many different magazines in one, customized display. They can be custom printed with a metallic foil stamp or silk screen, so you can brand it with your business information, the types of magazines included, and so much more. The unique spring metal rods that hold the magazines in place are easy to use, and allow for quick and simply removing / adding of catalogs. You can choose from 2" or 3" capacities, and choose from any of our many vinyl colors available. Custom magazine binders have a minimum order requirement of at least 50 and do require a lead time to be produced, so call us at (866) 537-2244 for a quote today.

About the Author • Mallory Morsa has been the product expert at Binding101 since 2008, and has grown up in the industry. Every day she pushes herself to learn new information, incorporating real-life experiences to create solutions to the most common problems in the industry, and then present those solutions in a way that is easy to understand for everyone, from novices to experts.