Introducing Satin Matte Foils
If you are in love with our toner reactive foil (I know I am!) but you want a little something different, then our brand new satin matte foils may be exactly what you're looking for!
These gorgeous new foil colors have a smooth matted look, which is much softer and more sophisticated than the metallic alternatives.
Satin matte toner reactive foils are currently available in seven colors, and we're preparing for more in the near future! These lovely foil colors include: soft matte gold, medium matte gold, soft pearl matte silver, medium matte silver, matte copper, matte fuchsia, and matte teal. Take a look at the below photos to really compare each, which is especially helpful to compare the multiple styles of gold and silver available.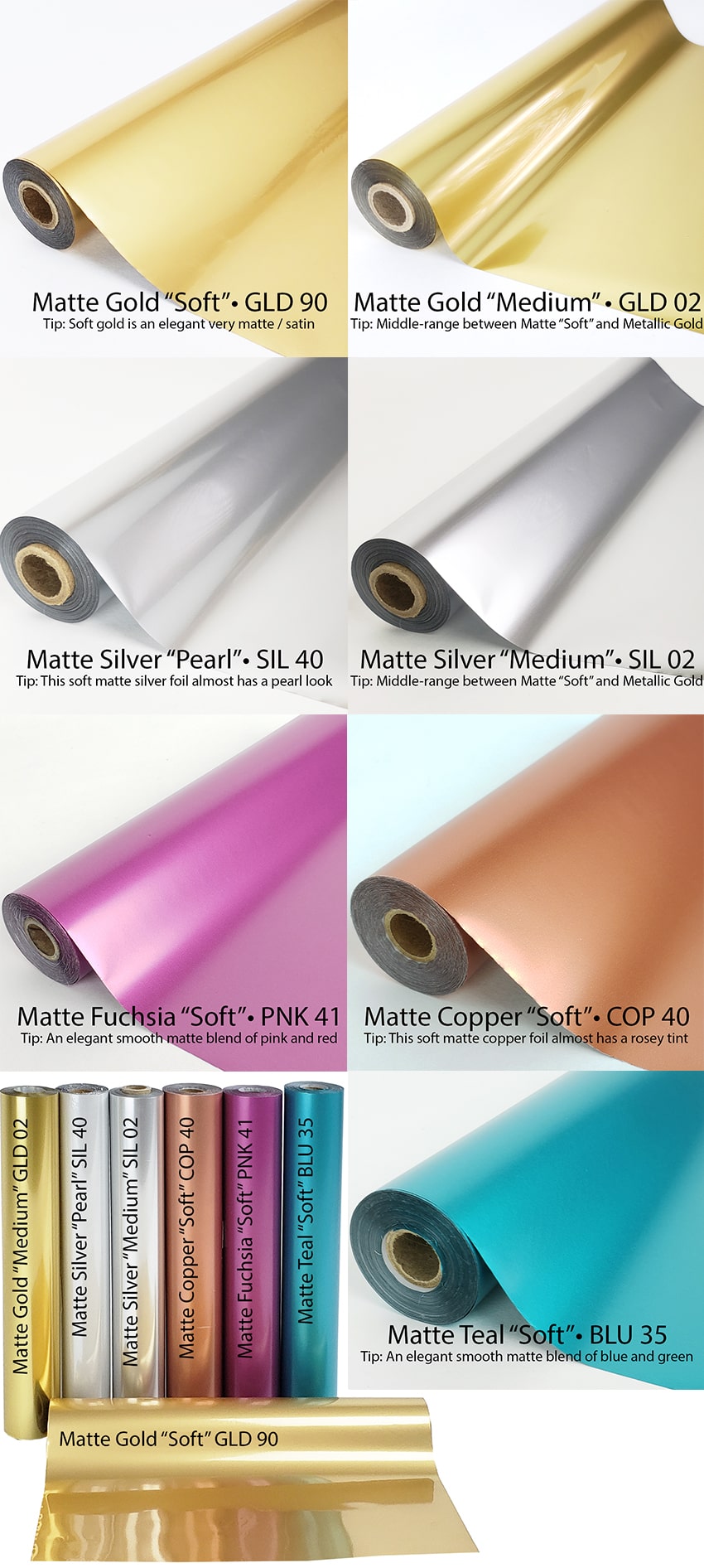 What is Toner Reactive Foil?
Toner reactive foil brings the fun and vibrant foiling process to the access of everyone without specialty equipment. The back of the foils has a specialty heat-reactive adhesive that will stick directly onto dry toner printed designs, while leaving the rest of your paper clean. With only a few tools, you can turn plain printed pages into gorgeous foiled prints.
To use Toner Reactive Foil, you will need...
Most of our foil rolls come in various roll sizes, including 8" or 12" wide with a 100' length (8 or 12 inches by 100 feet) and a 1/2" core, or a 24" wide and 500' length full-size roll (24 inches by 500 feet) with a 1" core. Our thermal reactive foils are top-quality and considered some of the best foil rolls on the market.
Foiling is a great way to create wedding invitations, award certificates, craft projects, framed prints, business cards, letterhead and anything else that could benefit from bright metallic, unique color accents.

Important Details & Considerations:
All of our foil rolls are toner-reactive and require a heat source to fuse. Toner-reactive means that they will only stick to the dry toner that is printed on your sheet. Dry toner can be found in most office copiers. It will not, however, work with wax-based inks, which are often found in laser and inkjet printers. Check your printer ink cartridge for compatibility with foil rolls. If you're not sure, call us at (866)537-2244 and we can test your printed pages in-house and mail back the results.
In addition, foiling is accomplished best on only smooth paper stocks with no coating. In order to achieve a solid foil across all of your print, the paper stock that it is printed on needs to be smooth and uncoated. Texture prevents the foil from going inside the crevices and will leave you with a spotty design. Sometimes C1S or C2s paper, the coating on some stocks blocks the foil from adhering. The thickness of your paperstock doesn't usually cause an issue, however, when using thicker paper you will need additional heat to compensate.
Heat is very important factor when it comes to foiling. Our selection of foil laminators all have some important functions that are needed to foil, the most important of which is heat (and/or speed). A minimum of 300° F is needed to foil, and the ability to get hotter is highly recommended, especially if you will be using transparent foils or holographic patterned foils, which require more heat (or more time in the heat) to properly fuse. This is why not all pouch laminators will always work, and why some will only work with certain foils. We have more information about what capabilities your pouch laminator will need to work on our foil laminators page (just hit "view more" on that page). If you want us to send you a sample piece of foil to test on your machine, just give us a call at (866)537-2244 and we would be happy to do so!
Want more information on foiling? Click here to check our our library of foiling blogs and resources.
For more information or a quote, call us at (866) 537-2244 (866) 537-2244 or email info@buy101.com

About the Author • Mallory Morsa has been part of Binding101 since 2008 and she is the primary content creator for BUY101® information. She began in customer service and sales where she honed in her skills to provide the customer with professional, fast, and accurate information. Shortly after, she was promoted to sales supervisor and also took on the role of product expert, training the team on new products. Throughout this time, she also wrote content for the site, as well as contributed stock photography and videography. As the team grew, she moved to an official position as the content specialist and social media manager. Her skills in these variety of areas give her the unique expertise to not just create content for the web, but to create content for you, the customer. She has a Bachelor's degree in business management and marketing, was on the Dean's List each year, and graduated Summa Cum Laude. In her free time, Mallory's favorite things to do include volunteering at the animal shelter by bottle feeding neonatal kittens, reading at the park, cooking plant-based meals, playing board games, hiking, and binge streaming TV shows with her furbabies and family beside her.