Ever wondered how to laminate AND mount a print to foam board in 1 step instead of 3? It is true, it is possible!
Pouch boards are perfect for mounting large fine art media, limited edition posters, photo prints, and more. Pouch boards are constructed from heat-activated or pressure-sensitive adhesive board with a film laminate hinged to the top of each board to form a pouch. You can mount and laminate in a single step, by sliding a print between the board and film, then feeding it through your mount board capable laminating machine or mounting machine. This method is quick, simple, and requires no training. Each board has a high-quality professional bond and rich finish. Choose from a variety of pouch board below to fit your exact needs.
The Old Way to Mount/Laminate
① Place your print in a laminating pouch and run through your laminating machine
② Add adhesive to your mount board and line up the laminate print on top
③ Run the board and print through your laminator/mounter

The New Way to Mount/Laminate - with Pouch Boards
① Place your print in a laminating pouch and run the entire pouch board through your laminating machine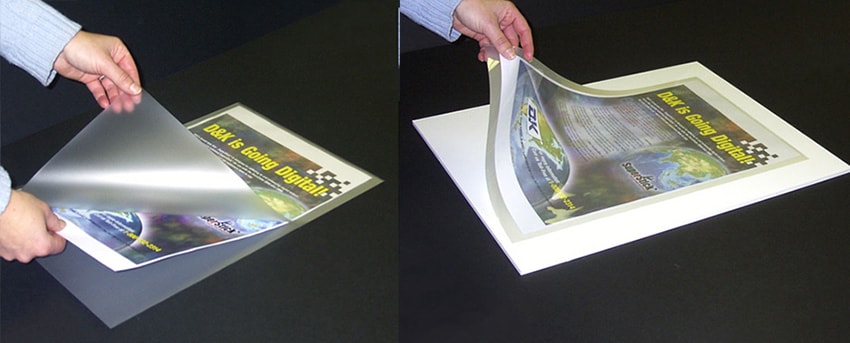 So why would you do it any other way?! Pouch mount boards make the mounting and laminating process faster, more efficient, and easier than ever before. We offer these unique foam core boards in several different materials and styles, as well as in either black or white. Here is a tip: try mounting your print to a larger board to create a nice border around it; a black or white border can help enhance your print and make it stand out.
Foam Board Pouch Boards
Foam pouch boards are made up of 3/16" thick foam board with low temperature adhesive that is safe for all inkjet and other prints. Choose from 6 different styles: White Gloss, White Matte, White Luster, Black Gloss, Black Matte, and Black Luster.
Gator Board Pouch Board
Gator pouch mounting boards are known for being heavy duty, in the same compact thickness as standard foam boards; 3/16" thick. Choose from 4 different styles: White Gloss, White Matte, Black Gloss, & Black Matte.
Paper Pouch Boards
Paper board is constructed of 30 Mil white paper board and features a low temperature adhesive and gloss pouch finish. One pass pouch boards are rigid enough to stand on an easel, but thin enough for transporting several pieces to a presentation with ease. Paper boards are a great solution for those with document size pouch laminators that are not designed for mounting.
Corrugated Pouch Boards
Corrugated pouch boards feature vertical fluting in the core, which makes them very popular for signs. They are available in white boards, and a few popular sizes. The adhesive is cold, or pressure sensitive, so all you need is pressure to mount your prints.

About the Author • Mallory Morsa is the product expert and content specialist at Binding101, and has been a valued team member since 2008. She started her career here in customer service, moved onto sales supervisor, product management, and then onto content. She takes a hands-on approach to products, and truly gets to know how every item works before she writes about them, with a goal to give you all of the honest information you need to make a confident buying decision. She has a bachelor's degree with a focus on management and marketing, and has been a writer, photographer, and videographer for many years. In her free time, she loves to read by the pool, volunteer at the local animal shelter in the kitten nursery, and snuggle her three furbabies while she binge watches Netflix.