Types of Paper Cutters
Have you ever asked yourself what kinds of paper cutters there are? No matter what kind of paper cutter you are looking for, we have the solution for you at Binding101, where paper finishing is our specialty. Let's discuss the variety of different kinds of paper cutters, what they are used for, and who should be using which paper cutters for their businesses uses.
Rotary Trimmers:
Rotary Trimmers use a round cutting blade, which slides along a rail. Rotary trimmers are preferred by graphic designers and photographers because they provide a very clean, accurate cut. Rotary trimmers work well for paper, photographs, and other materials. The rotary trimmer blades are able to cut in either direction, and are known for being incredibly accurate. The cutter base almost always has a grid with measurements, to help you achieve the perfect cut. Sometimes rotary trimming machines also have blades that can be changed out to achieve cutting, perforating, scoring, and more.
Guillotine Cutters: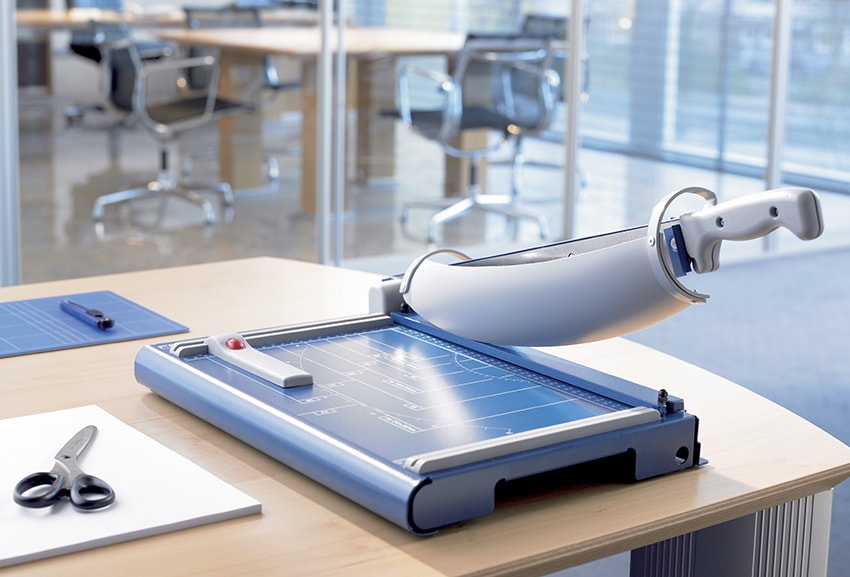 Guillotine Cutters are used to cut through thicker stacks of paper, up to about 15-20 sheets or so, depending on the cutter you use. They are very popular for businesses, schools, and other organizations. Guillotine style cutters have an arm with a blade that is manually pulled down to cut through a stack of paper. They have safety features to help keep your users safe while the cutter is not in use, as well as while it is in use. Certain brands and models will have more safety features than others.
Stack Cutters: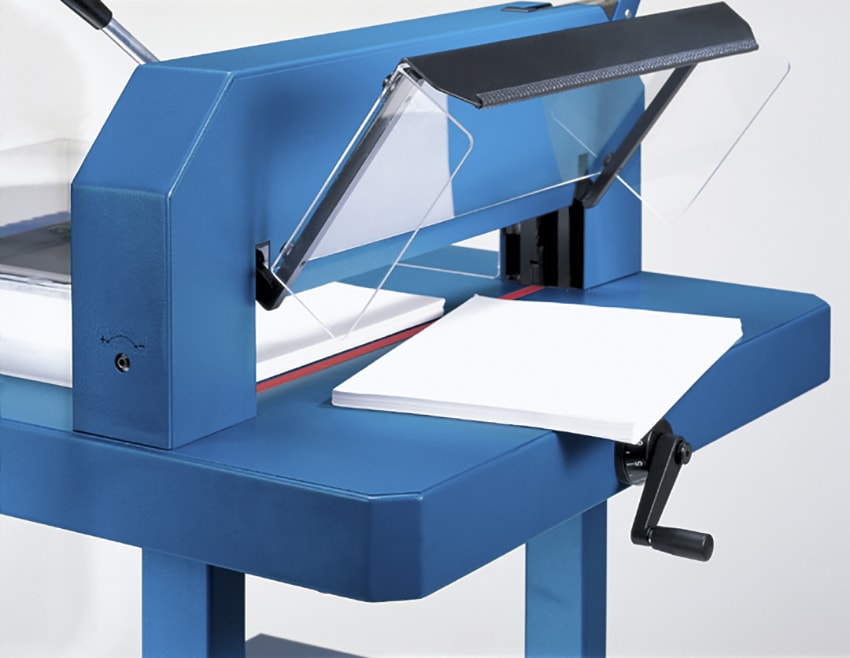 Stack cutters are used to cut through very thick stacks of paper. Stack paper cutters generally have a guide and a ruler to help you achieve the desired cut. In addition, they have a clamp that holds the paper down to prevent movement and tearing. Depending on the model, you can cut up to about a 3" thick stack of paper. One thing to note, however, is that stack cutters are still a manual machine that requires you to pull the handle to cut (electric stack cutters are below). Stack cutting tools are ideal for businesses, schools, and other organizations that must cut a lot of paper.
Electric Paper Cutters: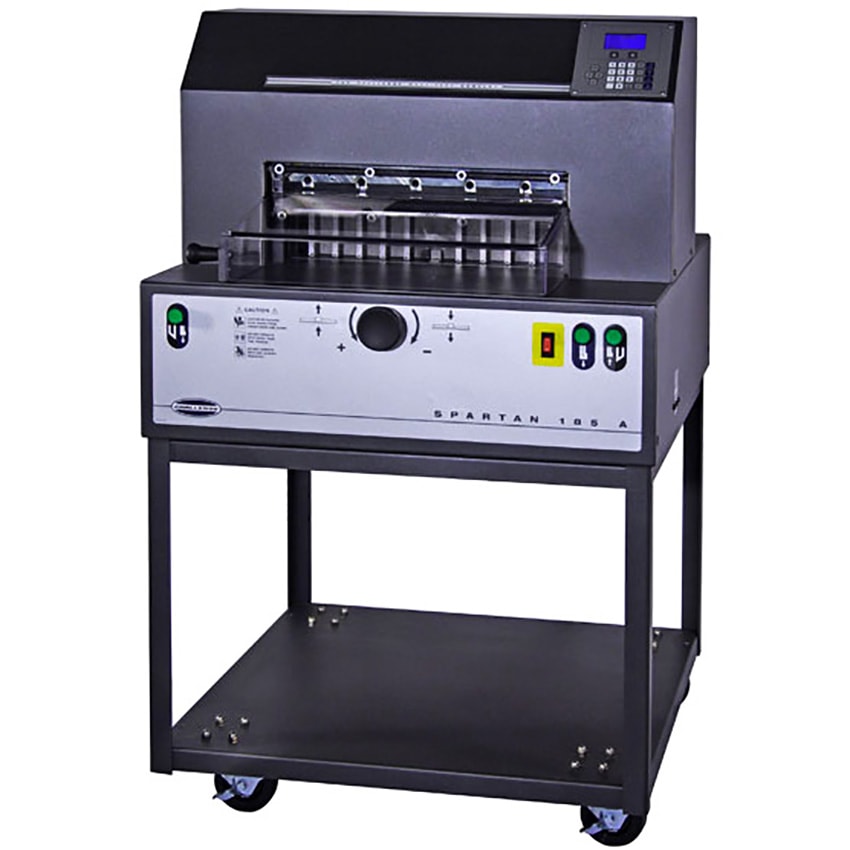 Electric Paper Cutters are the most efficient way to precisely cut very thick stacks of paper up to 4" quickly and easily. Electric paper cutters are heavy duty cutting machines and are ideal for high volume or industrial situations. They allow a user to power through stacks of paper without any effort, as they are controlled by a button or a foot pedal. Most electric paper cutters feature true two-hand operation for maximum safety and an optical cutting line for accuracy. These features combined with a ton of other safety features will ensure your users are kept protected. Fully automatic paper cutters and semi-automatic paper cutters are available. Whether your market is quick-print, copy shop, in-plant, offset, or on-demand, We have the ideal electric cutter for your needs.
Foam Board Cutters: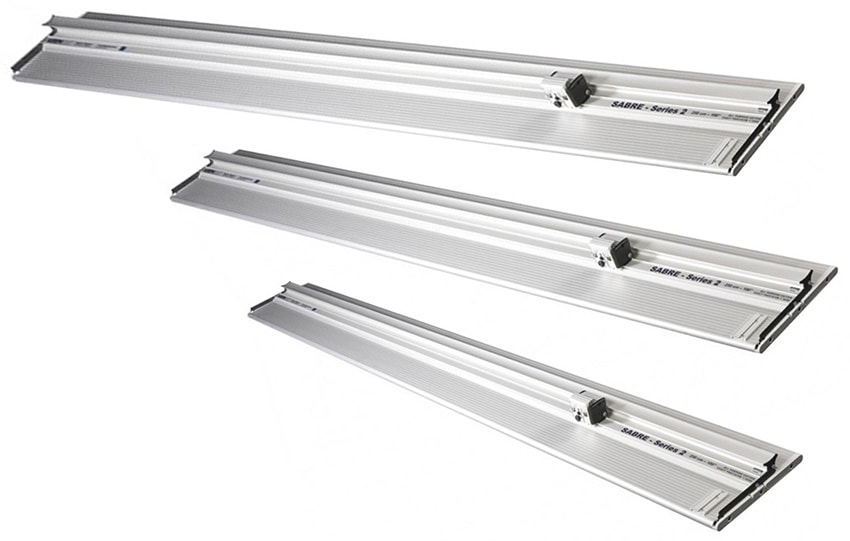 Foam Board Cutters are essential for every graphics studio and sign making workshop. They are designed to cut all the sheet materials used in the modern graphics industry, including paper, laminate, and several different kinds of graphic boards. These graphic board cutters have a larger cutting space than rotary trimmers or stack cutters, and are therefore quite a bit longer to handle even large foam boards. Most of them can also cut a variety of other materials, like mat boards, PVC, and even glass. All foam board cutters can be purchased with a stand, or mounted onto a work surface.

About the Author • Mallory Morsa is the product expert and content specialist at Binding101, and has been a valued team member since 2008. She started her career here in customer service, moved onto sales supervisor, product management, and then onto content. She takes a hands-on approach to products, and truly gets to know how every item works before she writes about them, with a goal to give you all of the honest information you need to make a confident buying decision. She has a bachelor's degree with a focus on management and marketing, and has been a writer, photographer, and videographer for many years. In her free time, she loves to read by the pool, volunteer at the local animal shelter in the kitten nursery, and snuggle her three furbabies while she binge watches Netflix.