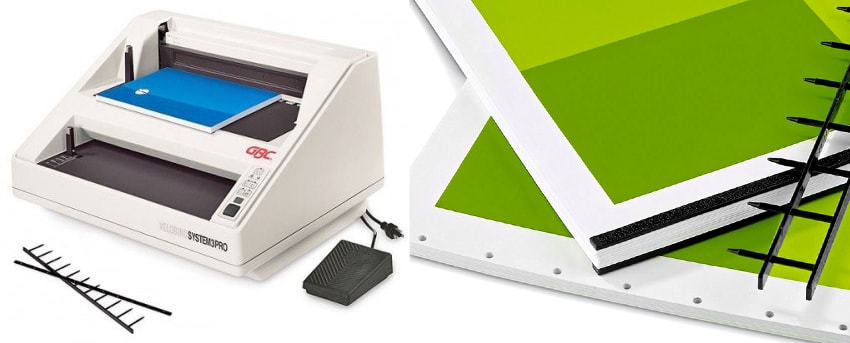 The VeloBind® System Three Pro by GBC® is the machine most big law firms and court reporters depend on for their professional binding. It offers maximum productivity in an easy-to-use desktop velo binding system. The System Three Pro is the best punch and bind machine for mid to high-volume users, as it will bind up to 3" thick documents in merely seconds using standard 11-pin velo binding strips. The timer beeps to indicate when binding is complete and is adjustable for faster turnaround on smaller presentations. You can now punch more efficiently with your choice of push-button, punch sensor or foot-pedal operation. Create professionally and securely bound documents in as little as 8 seconds with the VeloBind® System Three Pro.
Specifications:
• Bind Capacity: Up to 3" or 750 sheets (based on 20 lb. bond)
• Punch Capacity: Punches 25 sheets per lift (based on 20 lb. bond)
• Min Doc Size: Binds books as small as 8.5"
• Max Doc Size: Binds books as large as 14"
• Dimensions: 22.5" L x 13.5" W x 18" D
• Electrical: 120 Volt, 60Hz, 8.5 Amps
• Safety Agency Approval: Designed to meet UL and CSA safety standards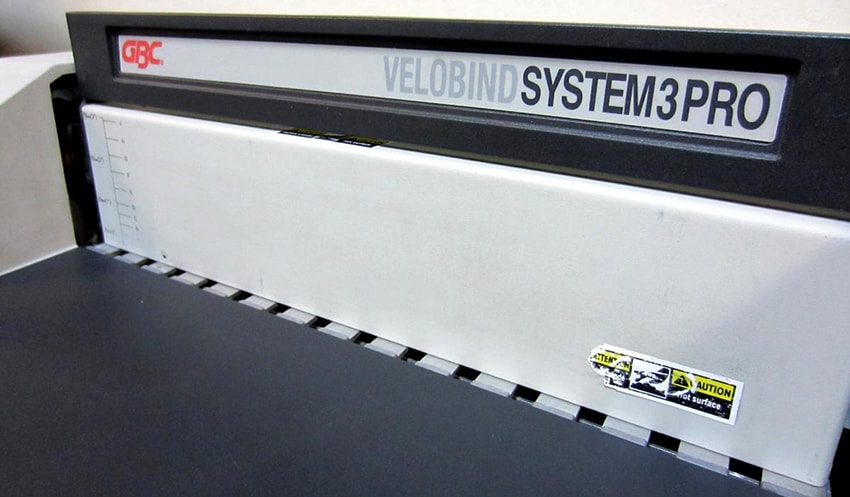 About the Author • Mallory Morsa is the product expert and content specialist at Binding101, and has been a valued team member since 2008. She started her career here in customer service, moved onto sales supervisor, product management, and then onto content. She takes a hands-on approach to products, and truly gets to know how every item works before she writes about them, with a goal to give you all of the honest information you need to make a confident buying decision. She has a bachelor's degree with a focus on management and marketing, and has been a writer, photographer, and videographer for many years. In her free time, she loves to read by the pool, volunteer at the local animal shelter in the kitten nursery, and snuggle her three furbabies while she binge watches Netflix.